AURORA, Colo. —
Illicit massage parlors suspected of operating as fronts for prostitution and human trafficking operate with little oversight in the Denver area -- and even in the rare cases where they are shut down, many simply move to a new city and reopen, a five-month 9Wants to Know investigation found.
Aurora instituted tough new rules aimed at shutting down parlors that offer sex for cash, closing 18 of the businesses in the past year.
But 9Wants to Know found that seven of them moved to new locations and are back in business.
The investigation also found that other cities -- and state regulators, too -- simply go after individuals accused of working as prostitutes and do little to stop the businesses themselves from operating.
At the forefront of the fight is the city of Aurora.
Aurora's effort to push out illicit massage businesses suspected of human trafficking began when Angela Lawson, an Aurora city council member, was getting her hair done at a local salon. A man approached her.
"'Are you part of the massage parlor?'" he asked, according to Lawson.
She then learned from her stylist, Stephanie Meeks, that a massage parlor suspected of selling sex was operating nearby.
"I was telling her that I don't think they're running a legitimate business," Meeks told 9Wants to Know.
This was one of countless "creepy" interactions she said happened after multiple massage businesses moved into the same complex as Style by Stephanie which is located near the corner of Parker Road and Havana Street. Men watched salon clients from their cars and prowled the hallways. The massage parlors operated at odd hours and Meeks suspected at least one person lived in the rented storefront.
"I believed she was living in the business because she would be making breakfast and walking out in her robe to her car," the cosmetologist said. "It kept bothering me because you can't live in an office building. That's strange."
Meeks told Lawson what she saw, prompting her to do something about the broader problem of illicit massage parlors. Lawson led the push to pass a citywide ordinance adding more requirements for massage parlors to operate in Aurora in an effort to limit prostitution and human trafficking.
And it's worked. The city has shut down 18 businesses in the last year.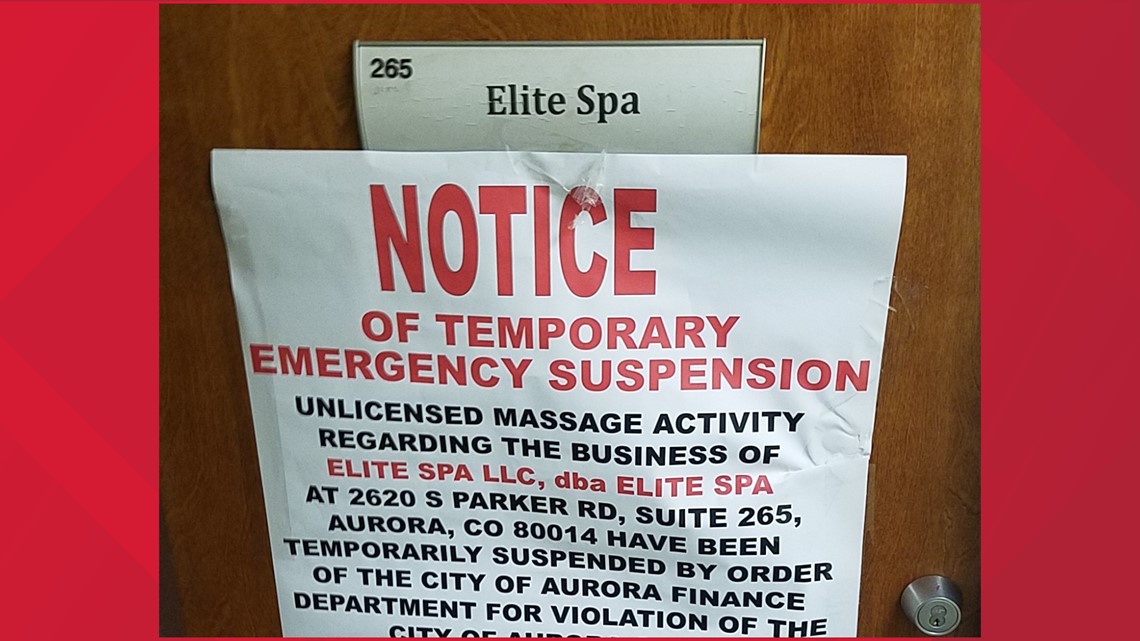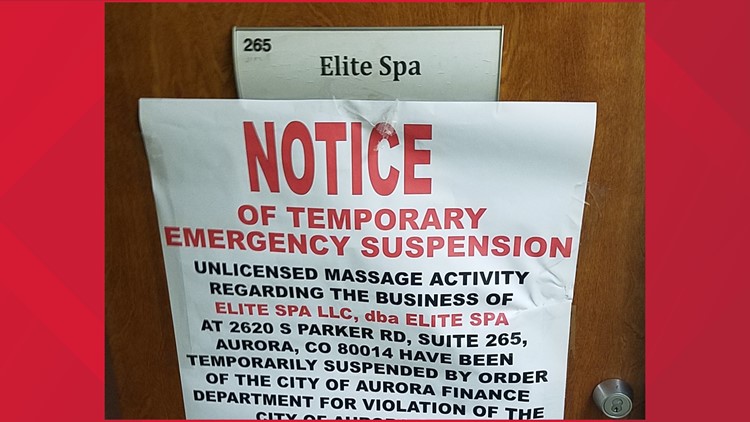 Keeping reading for a look at Aurora's ordinance.
9 takeaways from the full investigation:
Suspecting human and sex trafficking, the City of Aurora has been shutting down illicit massage parlors.
Aurora has been enforcing a new ordinance that targets illicit massage businesses.
Businesses that have been banned in Aurora have reopened in Denver.
A 9Wants to Know reporter went undercover and was offered sex at some of the reopened parlors.
Parlor owners who've been banned in Aurora still have active state massage therapy licenses.
Hundreds of illicit massage parlors in Colorado are profiled in a website that features sexual reviews.
Anti-human trafficking advocates say traditional prostitution stings revictimize the women.
The City of Denver relies on police to solve the migration of illicit massage parlors.
A massage parlor targeted in an undercover police sting last year is still open in Denver.
WATCH Part 2 of 9Wants to Know's investigation below
WATCH Part 3 of 9Wants to Know's investigation below
Aurora's Ordinance
Aurora's ordinance went into effect on May 21, 2018, which allows the city to inspect all massage businesses to ensure every masseuse has a state license. The new ordinance also requires parlors to keep detailed logs of massages and requires employees to be fully clothed.
Sexual acts and advertisements that imply sex can be bought during massages are also prohibited. The ordinance even restricts operating hours - shops have to close their doors from 10 p.m. to 5 a.m.
The Polaris Project, an international organization created to combat human trafficking, said in a 2018 report those activities are all indicators of human trafficking. Women living in the business, sexual advertisements online and massage availability at all hours are red flags, according to the report.
Aurora inspectors also look for tell-tale signs of human trafficking, which includes workers living inside the businesses.
"We're not going to be accepting of these types of illicit parlors in our community," Lawson said. "That's why I spearheaded it. It's a public safety issue. It's a global issue. It's a humanitarian issue. And it's a moral issue."
Trevor Vaughn, an inspector with Aurora's tax and licensing department, has found many locations where women were living inside.
"I would see beds," Vaughn said. "I would see luggage. I would see fully stocked refrigerators. Signs that people were living in there. We'd also see some people in less-than-professional attire."
PHOTOS | Evidence photos from Aurora busts
Just as Meeks watched massage businesses set up near her business, she also watched them close up after the city started enforcing its new ordinance.
"Once they found out the city was watching them or people were watching them, they just skedaddled," Meeks said. "If you were a legitimate business, having the city come and talk to you would be no big deal. Just produce your credentials and go back to work."
"We do what we can here in Aurora," Vaughn said. "It's what we have control over in trying to address this issue. We don't want human trafficking and we don't want to simply push the issue out into other locations, other cities."
After Aurora
9Wants to Know followed the paper trail of the 18 businesses shut down in Aurora and found seven locations have reopened in Denver and Greeley.
Lawson said she wants to encourage neighboring cities to pick up the mantle and replicate Aurora's massage ordinance elsewhere.
"We're getting it out of our community, but it's still not solving the problem," Lawson said. "So we've gotta get other municipalities to get on board with this, because it's all around."
In the City and County of Denver, city officials said they are waiting to see what police will do to address the problem. The District Attorney's Office recently announced the formation of a human trafficking unit that is expected to take on illicit massage parlors.
"Our approach is different than Aurora," Escudero said. "It doesn't mean Aurora's approach is bad. It doesn't mean Denver's approach is bad. We have a different approach towards this."
In 2018, police made 11 arrests in Denver during illicit massage investigations. Charges included prostitution and operating as an unlicensed massage therapist. Escudero said he wants to give Denver police a chance to succeed before recommending new regulations to the Denver City Council.
"We have to give an opportunity for enforcement to do their job," Escudero said. "We don't regulate just to regulate. We don't want to be a city that just checks the boxes to say, 'look at what we are doing.' We expect results."
Lt. Andrew Howard leads the Denver Police Department's Vice Unit that is responsible for illicit massage parlor investigations. He was unaware of massage businesses bringing illegal activity with them from Aurora.
"So, I have heard information from you that there are some locations that have moved from Aurora to Denver," Howard said. "Information that I haven't heard yet is that they're involved in illegal activity. If they are, I certainly want to know that, that certainly is a concern."
Part II
A 9Wants to Know reporter was repeatedly offered sex on visits to massage parlors that had recently reopened in other cities after being shut down in Aurora amid allegations that they were fronts for prostitution and human trafficking.
Altogether, Aurora has shuttered 18 massage parlors in the past year, the result of a tough new ordinance aimed at getting illicit businesses out of the city. Seven of those massage parlors later reopened in other cities, a five-month 9Wants to Know investigation found.
9Wants to Know investigator Jeremy Jojola visited all seven, asking for prices for a massage.
In three of the businesses, he was offered sex.
In every case, Jojola left before getting a massage, a decision 9NEWS management made out of a desire not to further harm women who may have been victims of human trafficking.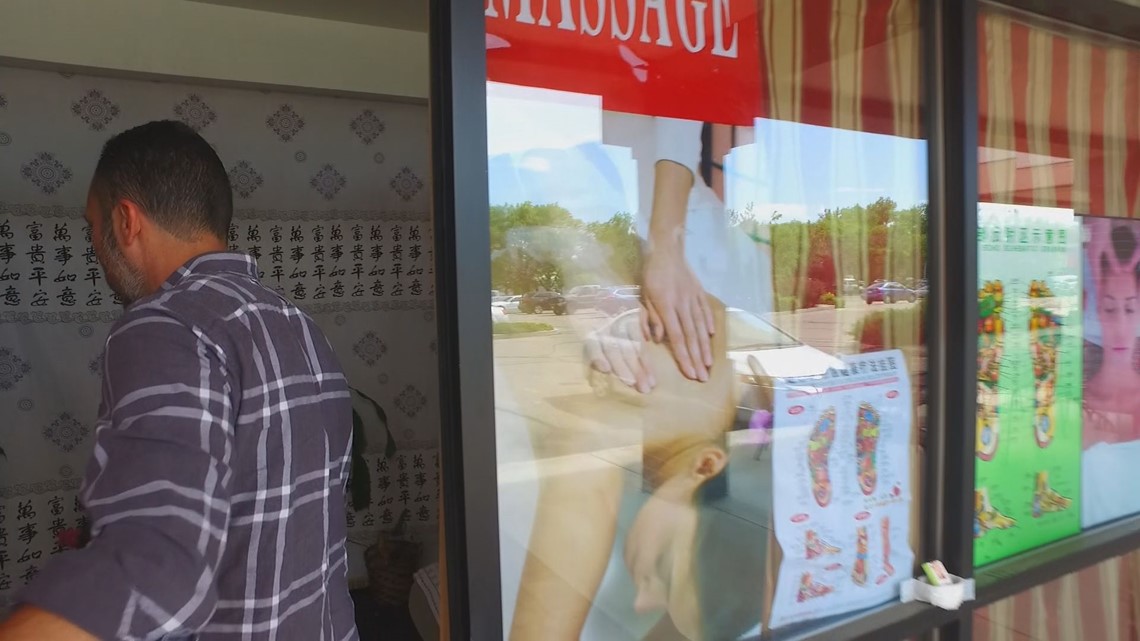 Chimes tinkled as a Jojola opened the door of Elite Spa in Denver for a 2 p.m. appointment. 9NEWS went undercover to see if the massage entities were up to the same practices that got them shut down in Aurora.
Aurora city inspectors said in the emergency summary suspension order that the owner of Elite Spa offered massages from unlicensed employees.
Advertisements placed by the business offered "privacy" for those getting a massage from "all young and the most beautiful girls working here." A slew of vulgar reviews on a website for patrons of illicit massages suggested the illicit activity has continued since they reopened in Denver in March 2019.
During an undercover visit to the business the reporter asked the masseuse if the regular massage included something extra.
"Is there anything additional, besides a regular massage?" Jojola asked.
The masseuse replied with a sexual hand gesture and emphasized that Jojola would be "very happy" at the end. The reporter did not follow through with a massage and left.
Julee Bellar, chairman for the Human Trafficking Task Force of Southern Colorado, said these kinds of offers stem from American culture where the practice is "laughed off."
"The unfortunate joke that comes about and has been accepted in our culture for a long time is that we refer to these places is where you go for a massage with a 'happy ending' or a massage 'with benefits,'" Bellar said. "But we don't realize the undercurrent of the lives of the people who are there, and that they can be victims."
Public records show seven businesses banned in Aurora have continued to operate in Denver and Greeley.
A 9Wants to Know reporter was offered sexual acts via hand gestures at these three businesses.
Elite Spa

Massage Me

Denver Apple Spa
At four of the locations visited by 9Wants to Know, the reporter was not offered sex.
Wonderful Massage

Fashion Chinese Spa LLC

Tulip Massage aka Wang's Spa LLC

Golden Massage aka Golden Spa LLC
Five of the seven massage businesses advertise sexual services online. 9Wants to Know is declining to name the exact websites because law enforcement officials said the same illicit reviews found are used as investigative launching points.
"There is a demand for this illicit service and because of that, we see it frequently," Christian Gardner-Wood, chair of the Colorado Human Trafficking Council, said. "We see it in strip mall after strip mall."
Then-Gov. John Hickenlooper appointed Gardner-Wood to the council in 2017, and he was elected by its members to lead it in 2018. It is focused on anti-human trafficking policy. Gardner-Wood said the migration of illicit massage parlors are typical.
"When they get caught, they shut down. It's easy enough for them to move down the street or move across the street to another city and begin it all over again," Gardner-Wood said.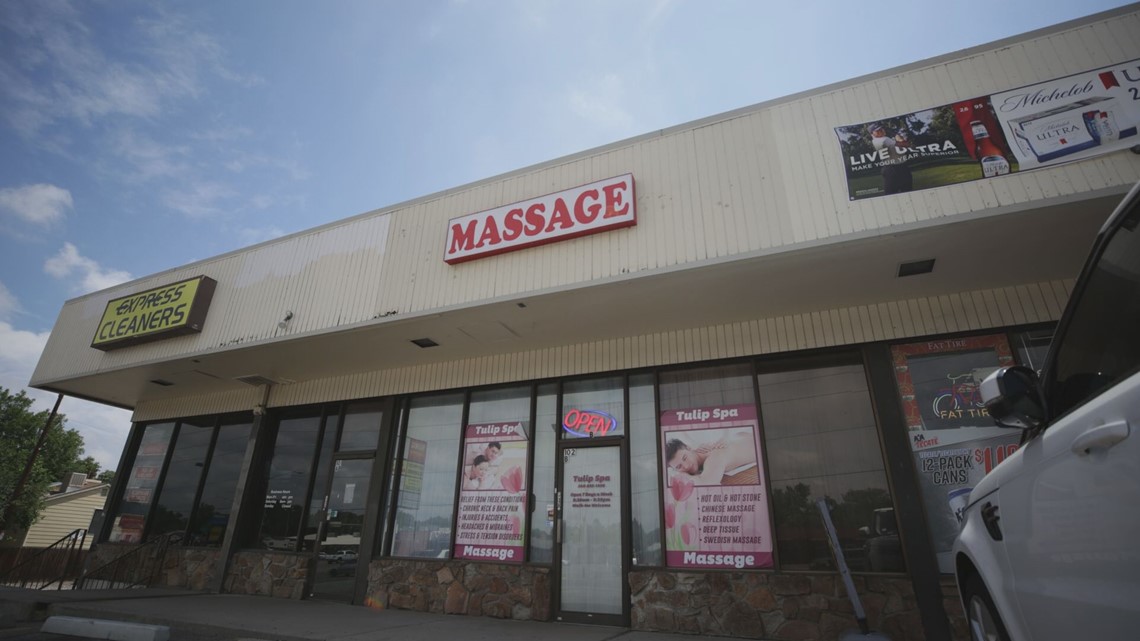 9Wants to Know confronted three owners who had businesses shut down in Aurora and had active sexual reviews online while operating in Denver. All three denied customers could buy sex there.
"So we have nothing to do with that," Huaimei Li said via a Mandarin translator. "We only provide massage services."
Secretary of State paperwork shows Li as the "assignee" of Massage Me. Li applied, and was denied, a massage facility license for a business in Aurora. Li listed herself as the owner. Aurora's Tax and Licensing division said Li either operated or attempted to operate an "erotic parlor," which led Aurora to kick out Li in October 2018. A few months later in February 2019, Massage Me was transferred to Li in Denver.
After being shown reviews outlining the type of sex available at the illicit business, the owers said those accusations came from disgruntled customers after sexual requests were denied.
"So, if they have this kind of request and then we don't provide the service, they will write something random like that," Li said. "Some people come and they ask that and we say 'no we cannot provide,' so they left unhappily and maybe this is why they are writing this."
Part III
City and state officials charged with oversight of suspected illicit massage parlors focus most of their efforts on the individuals who work at them and not on the businesses themselves, a 9Wants to Know investigation found.
Ronne Hines, the director of the division of professions and occupations within the Colorado Department of Regulatory Agencies, is in charge of licensing massage therapists. She said the agency usually opens an investigation when it receives a complaint.
"We focus on the information we get from a variety of sources," Hines said. "That may sometimes occur in a more proactive manner -- I think the important thing to recognize is that we utilize with our relationships with law enforcement and consumers to take action."
DORA has a few enforcement avenues it can pursue. From fiscal year 2017 to 2018, the agency:
Issued 46 stipulations, which are administrative sanctions for engaging in, or being suspected of engaging in, a violation.

29 people gave up their licenses instead of being disciplined in a process known as revocation.

Sent 17 cease and desist orders after seeing evidence that a therapist may be an "imminent threat" to the public.
Under the Massage Therapists Act, it is a misdemeanor for someone who does not have a license to give a massage or for a licensed massage therapist to have sex with a client. An applicant who was found guilty of human trafficking or prostitution charges can be denied a license.
According to Lee Rasizer, spokesman for DORA, there are more than 200 staff members that license and regulate more than 481,000 licensees from 50 professions and occupations in the state.
DORA often partners with law enforcement agencies to conduct investigations. However, sometimes those investigations in Denver don't result in the shutdown of a business.
"The best way is to identify if, we have victims, if a crime is happening, and then how do we serve them," Lt. Andrew Howard, who leads DPD's Vice Unit, said. "What we have discovered in some of the situations is through months or years of abuse, sometimes these victims don't even know they're victims."
"I think we do the best we can everyday to make sure consumers are safe and we're doing what we can to make sure they're receiving safe services," Hines said.
She believes DORA is doing well with the tools at their disposal to regulate 13,329 licensed massage therapists.
"I think we can take swift appropriate action when we have appropriate evidence and again, under the authority that we have under the law and we do take it seriously, I think we work make sure that consumers are safe with the resources we have," she said.
Cities struggle to investigate massage parlors
9Wants to Know found one of the massage businesses the Denver Police Department has targeted reopened under new owners from Aurora a few months later. The timeline for Tulip Spa and Massage works like this:
November 2018: Documents provided by DPD said an employee "agreed to manually masturbate the undercover detective for $100" during a prostitution sting at Tulip.

December 2018: As a result, the city sent a nuisance and abatement letter to the property owner of Tulip Spa and Massage. DPD said the "suspect was evicted and not allowed to return."

January 2019: Tulip Spa and Massage reopened in Denver by Yueping Wang. Wang was banned from opening a business in Aurora she planned to call Health Spa because sexual reviews and advertisements led the city to conclude "you are operating or attempting to operate an erotic parlor." Denver's Department of Finance confirmed in an email that Tulip Massage has been in the same spot before and after DPD got involved.
It is unclear if the same illicit activity alleged in 2018 continues to happen at Tulip Spa now, but 9Wants to Know found sexual reviews for the business online.
However, when 9Wants to Know went undercover inside Tulip Spa, no sexual services were offered.
Police said they will look into 9Wants to Know's findings about Tulip Spa.
"The possibility of illegal activity at the Tulip Spa is very concerning," Denver Police said in a statement. "A detective has been assigned to investigate and consider it a priority."
With the help of a Mandarin translator, 9Wants to Know reached a woman claiming to be Yueping Wang on the phone. She claimed not to be the owner, which contradicts paperwork filed with the city of Aurora.
"I tried to buy it," Wang said. "My friend sold it to me so I can put my name on first but later I decided not to. I'm not sure I really owned that shop."
9Wants to Know obtained Aurora business documents in which Yueping Wang marked herself down as the owner. She also said she's a massage therapist. The Colorado massage license number Wang used on the paperwork is still active.
Tulip is one of four businesses Denver targeted in a 2018 nuisance abatement crack down following undercover police stings.
Nuisance and abatement letters requests that property owners evict problematic tenants charged with a crime in order to prevent "public nuisance offenses." Prostitution fits into this classification. If the owners don't comply with the request, DPD or the city attorney could pursue criminal and/or civil penalties if the complaint is followed up on.
"Our main goal is to gain voluntary compliance and to make sure these types of crimes (public nuisance offenses) are not continuing to be committed," Jay Casillas, a spokesperson for Denver Police said.
Of the 11 Denver Police arrests in 2018, charges included prostitution, soliciting prostitution and being an unlicensed massage therapist.
Lt. Howard of the DPD vice unit aims to take a victim-centered approach by offering resources and not trying to "arrest our way out of a problem."
Sham schools fuel illicit massage businesses
Moving locations is not the only way alleged illicit businesses are able to continue operations. The Colorado Department of Higher Education shut down seven schools that offered training for massage therapists.
A 9Wants to Know analysis shows 78 active massage therapists received their education from a now-defunct school. 9NEWS identified the trend by comparing records maintained by the Department of Higher Education with DORA's online records.
"I think that's a concerning problem and I think it opens the conversation that DORA would be willing to identify loopholes and discussions to see where we might close those gaps," Hines said.
It's already grounds for discipline under the Massage Therapists Practice Act to fraudulently obtain a diploma.
Two massage therapists who worked at businesses that were shut down in Aurora and later moved to Denver graduated from American International Beauty College, one of the seven defunct schools. The institution was shuttered in part for "selling credentials." AIBC was unable to provide transcripts to show what classes students took and the school didn't track grades or attendance, according to state records.
The Colorado Department of Regulatory Agencies requires massage therapists to have at least 500 hours of training, pass a criminal background check with fingerprints and clear a national massage certification test known as the Massage & Bodywork Licensing Examination.
According to the website of the Federation of State Massage Therapy Boards, of which Colorado is a member, the test is distributed in both Spanish and English. The 100-item multiple choice test covers ethics, anatomy, treatment plans and more. It is only offered in English or Spanish. The majority of the interviews with those working in the massage businesses, including Huamei Li, were only possible with the help of a Mandarin translator.
Huamei Li said had "no idea" how her employees are able to get a state certificate. Li graduated from AIBC.
"I wouldn't know about this stuff," Li said.
Trevor Vaughn, the manager of Tax and Licensing in Aurora, said he became concerned by the lack of knowledge on basic anatomy the people he talked to during inspections in Aurora.
"I've asked them 'do you know where the bicep is?'" Vaughn said. "And they won't know.
"And then I'll ask them where the calf muscle is, and they won't know that. And somehow they have a massage therapist license, that's been an issue nationwide with fake schools and cheating on the exams."
Hines refused to go into specifics as to exactly what her agency would do to address the concerns before her. She did pledge "swift appropriate action" and ongoing conversations.
"I think DORA is open to those conversations about what loopholes might exist," Hines said. "I think investigative stories like this shed a light where we might want to talk about what we could do better or what resources we might do that will help us even better protect consumers."
Gardner-Wood said the current system isn't doing enough to stop human trafficking.
"We end up prosecuting the masseuse for unlicensed practice of massage and prostitution," the chair of the Colorado Human Trafficking Council said. "The problem I think we have in Colorado is that there's not a great way to get to the manager or the business owner who is really the one driving the business model and driving the illicit activity."
Hines "applauded" Aurora for its regulation strategy. The information gathered by the city can be used by the state.
"I think it's a unique approach in Colorado and often times we're able to leverage that partnership with them so we can take action on individual licensee which is a different license," Hines said.
'Attack the demand'
Julee Bellar, chair of the Southern Colorado Human Trafficking task force, stressed the importance of "attacking the demand" and not going after the masseuse.
"Focusing on the people who are buying sex," she said. "And focusing on the massage businesses themselves. Because as long as they're able to shift from one place to another, they're gonna be around and they're gonna exist."
Although it's understood that it's an "expectation of their job" for these women to be "engaging in illicit sexual activity," Gardner-Wood said "few" women want to help law enforcement. He said he has worked human trafficking cases for more than three years and is currently a deputy district attorney in Boulder.
"These victims are scared, they've been coerced," he said. "There's immigration consequences. And they don't have a ton of incentive to cooperate with me when all they're looking at is a municipal ticket or state misdemeanor ticket that they're gonna get a fine for."
Bellar said she has noticed a similar phenomenon in her work with the Human Trafficking Task Force of Southern Colorado. Women are "trapped." She said the fear of deportation and language barriers makes getting help difficult. And, women are ostracized if they escape.
"They're shamed back home because they had this great job opportunity and they were able to provide for their family, their village and they're no longer able to do that," Bellar said.
Spreading Aurora's ordinance
At least one more city is considering replicating Aurora's massage licensing ordinance.
"Aurora's action is something definitely worth taking a look at," Paul Kashmann, a member of the Denver City Council representing District 6, said.
Kashmann is also the chair of the committee responsible for analyzing safety issues in Denver. He stressed that most massage businesses follow the law and add value to the city. He's open to examining the system that may allow crime to happen.
"Human trafficking in any form is absolutely disturbing to say the least," Kashmann said.
Kashmann said the creation of a human trafficking unit within the Denver District Attorney's office is evidence that the city takes the problem seriously.
"I think as they evaluate that we'll make a decision on whether it's something that fits well in Denver's toolbelt," he said.
Gardner-Wood said that the problem requires more regulations. One solution could be to extend Aurora's inspection tactics to all of Colorado.
"But if we don't have a state-wide regulation all we're doing is passing the buck from one locality to another and I don't think that's the expectation around local control in our state," Gardner-Wood said. "This is a statewide problem that ultimately needs a state-wide solution."
Commerce City already has proposed regulation already making its way through the city's legislative process.
"The City's current 'massage parlor' licensing structure is antiquated and inadequate to address illegitimate businesses," Jodi Hardee, Commerce City community relations manager, said in an email. "The new structure will better support legitimate massage businesses, while creating a barrier for illegitimate massage facilities and create a faster enforcement to address these facilities."
Hardee said there are five suspected illicit businesses in Commerce City that are currently open. The City Council will vote on the measure in either August or September. The proposed Commerce City ordinance has similar components as Aurora's. Employees would not be able to live on-site. Commerce City would allow inspections at any point, massage therapist licenses for all who perform massages, and owners can't have a history of prostitution or money laundering. Operating without a license or interfering with an inspection would be a misdemeanor, and other violations would be considered a civil infraction.
Laura Embleton, the government relations director for Associated Bodywork & Massage Professionals, has ideas on how to make this happen. She recommended tinkering with the criminal code in order to apply to illicit businesses regardless of the fronts they use. This would include jail time for hiring unlicensed workers and going after landlords that lease to illicit businesses.
"I don't know if we're ever going to solve the problem of sex trafficking but we can start messing around with the players in it and that's who we need to be going after. Not massage therapists, because they're not the problem."
"Human trafficking and sex trafficking is much bigger than the massage profession," Embleton said. "It's much bigger than these 13,000 people that we have in Colorado that practice massage therapy. So let's look at different ways to address the issue through the criminal code."
Embleton is frustrated that the industry is being hampered by a small number of bad actors in the massage world.
"The overwhelming majority probably, I'd say 98 to 99 percent of the licensed massage therapists in Colorado are practicing lawfully, legally and they do good work," she said. "And then you have the 1 percent who are dragging everyone else down."
Embleton did not want the inclusion of the phrase "massage" anywhere near legislation or this story.
"The public needs to stop saying illicit massage parlors. And we need recognize those businesses for what they are, which is an illicit business selling sex," she said. "That's one way of doing it. We really need to change the conversation so that we're talking about those places and we can address those places and call them out for what they are."
How to choose a massage therapist
Embleton emailed a few recommendations for how to find a legitimate massage therapist:
Look up the license of your massage therapist before going there. To verify someone has a massage therapy license click or tap here.

If you want to look for a licensed massage therapist near your home or work, go to our page: www.massagetherapy.com. Note that these are members of Associated Bodywork and Massage Professionals in the area. They are licensed and are also members of our association. This is not all the therapists in Colorado.

Remember, clients do not have to remove their clothes if they don't want to.

The best way to find a massage therapist is to get a referral from friends, family members or health professionals.
If you or someone you know may be a victim of human trafficking, call the Human Trafficking Hotline. The number is: 1-888-373-7888