ARVADA, Colo. — If Kathleen Boleyn is asked about her son, the answer is seamless.
"He was so fun to be with. If you're having fun with Johnny, there's no one else you care to be around," she said. "He had so many friends in all different walks of life, in all different avenues of profession or sport or friendship."
When it comes to describing her son's heroism, the message, she says, is important.
"He had compassion and he knew that he was being called upon to help. He answered the call," she said.
She's the mother of Johnny Hurley, the man who was shot and killed by an Arvada police officer a year ago, after he fatally shot another man who had ambushed and killed Officer Gordon Beesley.
A federal civil rights lawsuit filed Wednesday morning by Boleyn names Arvada Police Chief Link Strate and former officer Kraig Brownlow as defendants.
Brownlow, who resigned from the department in good standing earlier this year, fatally shot Hurley, thinking he was the person responsible for shooting Beesley.
Among other things, the lawsuit claims that "no reasonable person could mistake the two men" due to their different clothing and body types.
"Johnny did a heroic thing, but he didn't have to die from doing it," Boleyn said.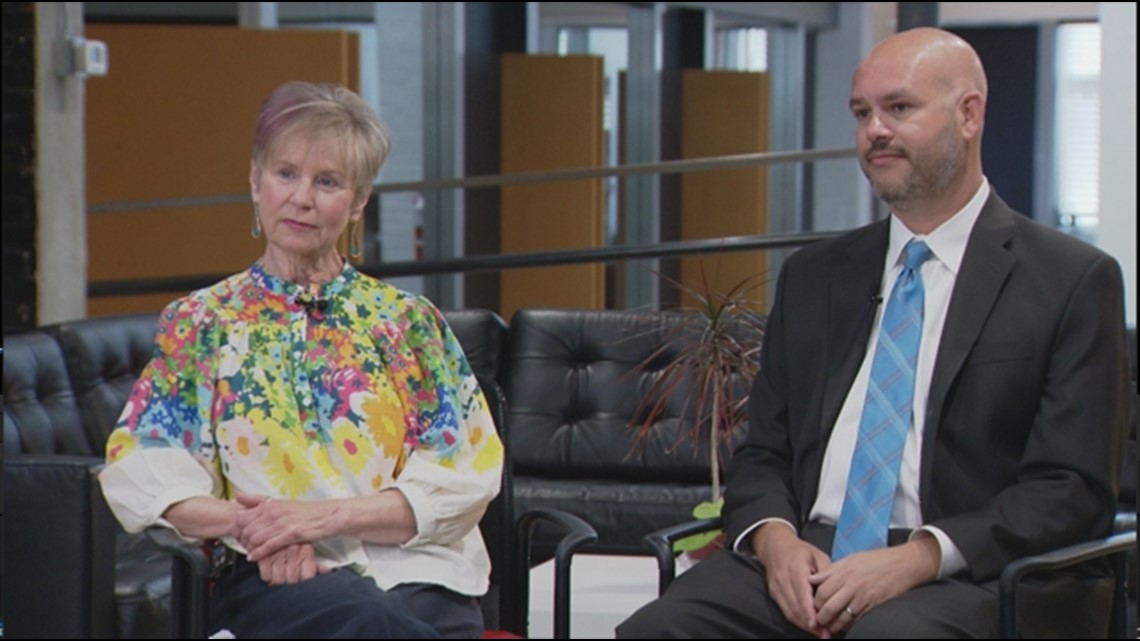 At about 1:30 p.m. on June 21, 2021, Arvada Officer Gordon Beesley was ambushed and fatally shot in Olde Town Arvada by Ronald Troyke.
Hurley, 40, was inside a nearby store and heard the gunfire. He ran out and fatally shot Troyke. Afterward, he picked up Troyke's assault rifle.
At the time, the introduction of the lawsuit states that three Arvada Police Department (APD) officers were inside a police administrative office, also in Olde Town Arvada, "when they too heard gunshots."
That section of the lawsuit says APD officers saw Troyke. The lawsuit's introduction described him as "a heavy-set man, carried a long gun and wore a black short-sleeve shirt, a wide-brimmed hat, shorts, black boots, and white calf-high socks."
The lawsuit described the officers' response to the shooting, saying in part, "they cowered inside, choosing self-preservation over defense of the civilian population."
The lawsuit alleges that after Hurley shot Troyke, Hurley picked up the assault rifle and began unloading it.
"A civilian witness, Mark Wise, observed Mr. Hurley shoot Mr. Troyke, pick up the assault rifle, and "tak[e] the mag out" of the rifle. The threat, it seemed, was over," the introduction of the lawsuit read.
That section of the lawsuit continued, saying APD officers were still watching from inside the administrative office.
"APD Officer Kraig Brownlow later explained that he thought Mr. Hurley might have been the active shooter, but no reasonable person could mistake the two men because of their very different body types and clothing," the lawsuit read.
In a later interview with Critical Incident Response Team (CIRT) members, Brownlow said he did not know who the "guy in red" was but speculated that the "guy in black ditched his hoodie."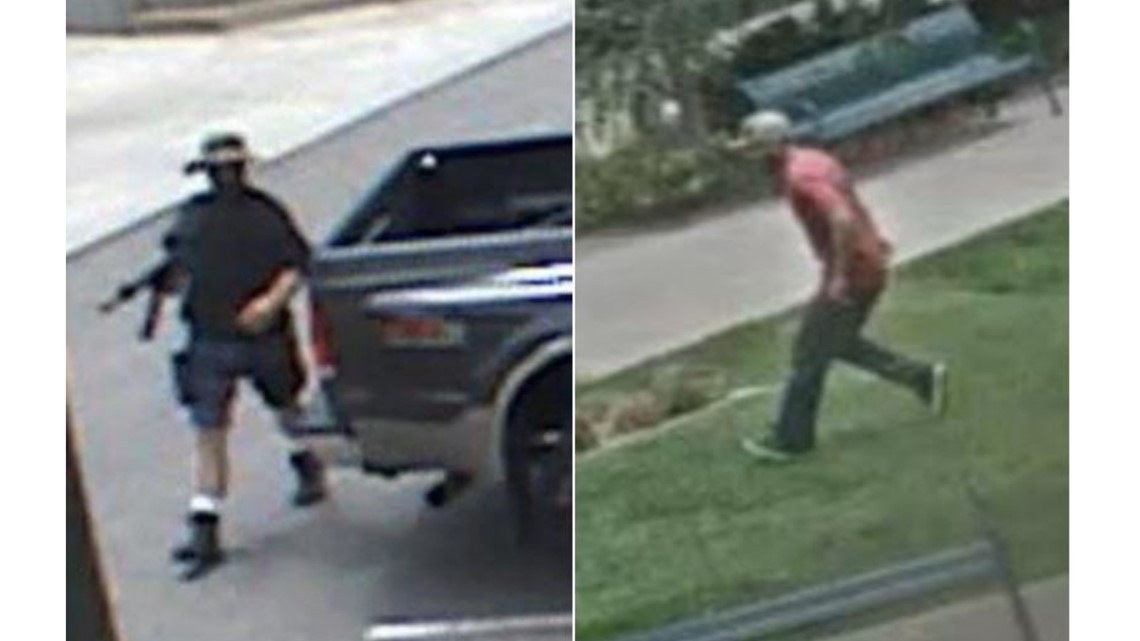 The suit also alleges that Brownlow had an opportunity to assess Hurley's actions before shooting him. Hurley had the rifle pointed down and was not making any threats, the suit says.
Brownlow never announced himself as an officer before shooting Hurley from behind, which was "unreasonable" under the circumstances, the lawsuit says.
"He (Brownlow) did not give Johnny a chance at life. And I think that was not too much to ask for in this situation. And so this lawsuit aims to hold Arvada accountable," said Boleyn's attorney Matt Cron. "Until Arvada can at least acknowledge that it's wrong that its officers violated the law, then we're never going to see any change."
The lawsuit names APD's chief because it claims he was responsible for the department's "deficient policies and training." It alleges that Strate approved a deadly force policy that is "unconstitutional."
As of now, there is no known date for when the case could be taken up.
Read the full lawsuit below.
No charges filed, and City of Arvada responds
"Because Officer Brownlow's objectively reasonable belief that a lesser degree of force was inadequate to resolve the imminent threat posed by what he reasonably believed was a second mass gunman, and because Brownlow had objectively reasonable grounds to believe, and did believe, that he and other persons were in imminent danger of being killed or suffering serious bodily injury after hearing many gunshots, shooting John Hurley was legally justified despite his heroic actions that day," a decision letter read in part from District Attorney Alexis King on Nov. 8.
The City of Arvada released a statement Wednesday that read in part:
"We would remind the public that the First Judicial District Attorney's Office thoroughly reviewed the facts in this case after an independent investigation by the First Judicial District Critical Incident Response Team (CIRT). In November 2021, District Attorney Alexis King found that APD Officer Kraig Brownlow's actions were both reasonable and justified under the circumstances."
"Based on the District Attorney's findings and after an internal review, the APD found that Officer Brownlow's actions were consistent with APD policy and procedures. The APD is not considering changes to its actual training or response protocols at this time."
"After the District Attorney announced her findings, Officer Brownlow resigned from the APD in good standing."
"The events of June 21, 2021 were caused by Ronald Troyke, an individual that harbored an unfounded hatred toward police officers. When civil litigation is announced by a plaintiff's attorney in a manner that mischaracterizes and omits select information, it has the potential to compromise officer safety."
"We stand by every member of the APD. We are confident that any mischaracterizations will be resolved in court."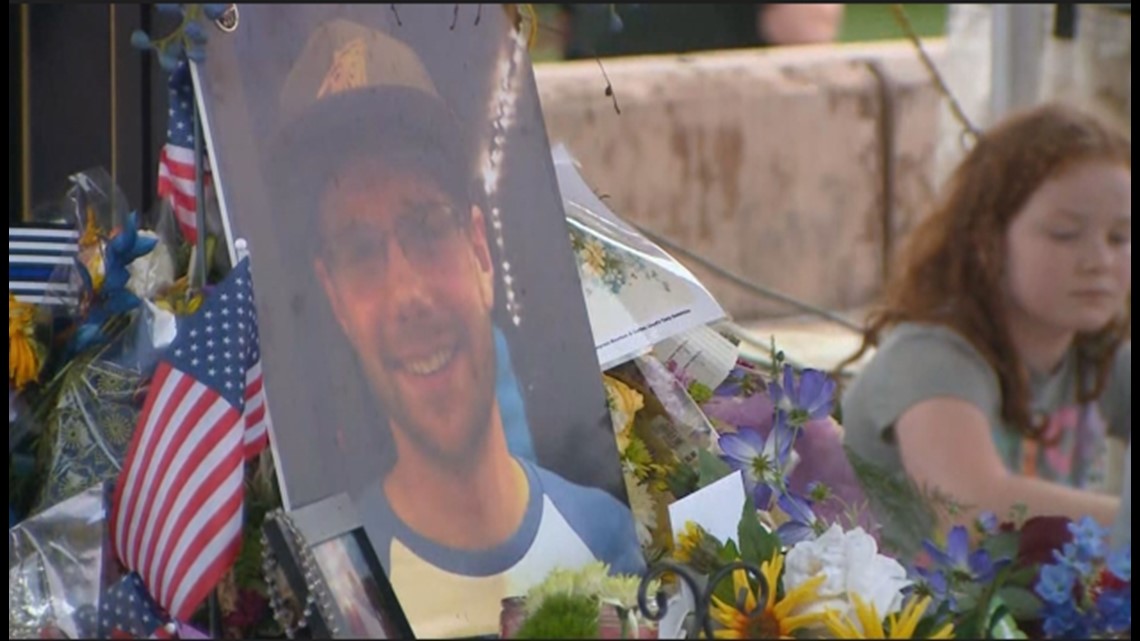 Hurley has been called a hero by many community members over the last year.
A memorial service was recently held to honor him and Officer Beesley.
Over the last year, his mother, Boleyn, says she's felt lifted by the love of the community.
"I really felt a great love of the community of Arvada. I really felt the way they reached out, the way the memorial in Old Town Square grew and the messages that people wrote on the square in chalk, and even after they were rained on and washed away, people came back and wrote more," she said.
When it comes to the process of grief, for her, she says she's noticed the ways it has changed her.
"There's a level of sadness that just lives a little closer to the surface in me than there ever did before," she said. "And I've also found that. Instead of always living in the space of grief. I've been able to add other feelings, which is pride. I'm proud of what my son did."
Boleyn hopes that policy change comes from this lawsuit within the police department, specifically on presenting one's self as an officer.
"Johnny did what they were supposed to do. He didn't wonder who was shot or how they were shot. He didn't wonder if he was outgunned, as it were. He just ran to the rescue. And it's so disappointing that he had to be the one to do that," she said. "I get it that their job is more difficult with more people out there carrying. But they need to get a handle on it."
While she acknowledges the difficulty of an officer's job, she also hopes change can come from this.
"Johnny did a heroic thing, but he didn't have to die from doing it," she said.