LITTLETON, Colo. — Video obtained by 9NEWS reveals there is more behind the fatal shooting of a 41-year-old man who was suspected of stealing a motorcycle.
On Feb 2, Littleton Police posted a press release saying Stephen Poolson, 41, "was driving a motorcycle and crashed" during a call about a suspicious vehicle. Police said an officer eventually fatally shot Poolson because he "produced a gun."
It happened near South Bannock Street and West Powers Avenue in Littleton.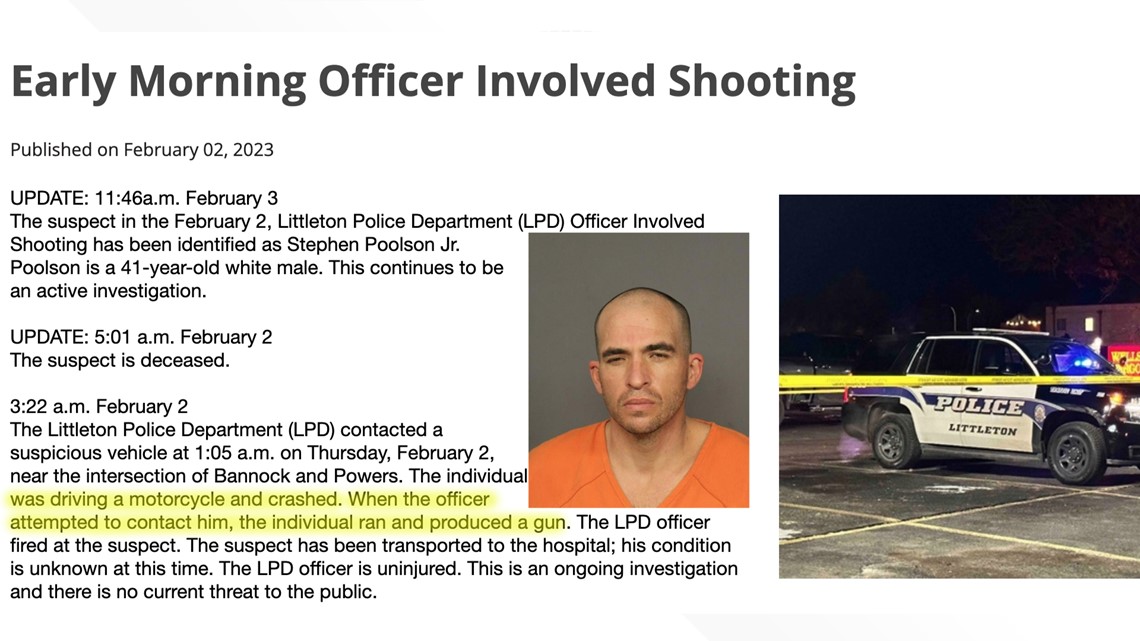 The news release did not mention the crash involved the officer ramming his patrol unit into Poolson before the shooting.
On Wednesday, 9NEWS obtained cell phone video of security camera footage showing the officer ramming his patrol unit into Poolson.
Littleton Police then released a better quality file of the actual security footage when faced with questions about the discrepancy in their initial release.
A spokesperson sent a statement saying the initial press release was based on "preliminary" information.
"The information contained in that release, including that the motorcycle had crashed, was very preliminary information, obtained in the early hours of the scene, and was the most accurate information that LPD had at the time," a spokesperson for Littleton Police wrote.
According to Littleton Police, an outside investigation of several law enforcement agencies is reviewing the incident.
The department released a statement on Wednesday evening that says:
"The Littleton Police Department (LPD) was contacted this morning regarding a video containing footage that contradicted an earlier release put out by the LPD on the morning of February 2, 2023. This is why LPD has policies and procedures in place that involve investigations, it is always our goal to find the most accurate information possible, and sometimes that information takes time. Based on this video it has come to light that the motorcycle did not in fact crash, but yes, in fact, was contacted by a patrol vehicle."
The officer involved has been placed on standard paid administrative leave pending the investigation, Littleton Police said.
> Watch: Use of force expert weighs in on Littleton police officer ramming suspect with a vehicle
> If you have any information about this story, or would like to send a news tip, you can contact jeremy@9news.com
Other reports from Jeremy Jojola: