DENVER, Colorado — One year after 9Wants to Know found several illicit massage parlors operating in the city, a suspect has been indicted on more than 20 charges, including felony pimping, racketeering and tax evasion.
Chen Liang Kuo, 42, is currently locked up in Denver's jail under a $500,000 bond. Online court records show he was indicted under the Colorado Organized Crime Control Act on Aug. 6.
He is among the seven people and 12 businesses indicted on 33 felony counts resulting from a year-long investigation known as "Bad Apple," according to the Denver District Attorney's Office.
Last year, 9Wants to Know used a hidden camera and captured a worker at Apple Spa offering a sex act.
Documents show Kuo was the owner of Apple Spa for about three years until the Apple Spa business dissolved a few months after the television news investigation aired.
The Denver DA's Office hosted a news conference Thursday and said an alleged international human trafficking operation involving illicit massage parlors and illegal marijuana grow operations and violations of Colorado's Organized Crime Control Act is at the core of the indictment.
In early 2019, the DA's office was contacted by the manager of Tax and Licensing with the City of Aurora and informed that illicit massage parlors that had been shut down in Aurora had possibly reopened in Denver.
Based on that report, the Denver Police Department (DPD) and DA's Office began a year-long investigation resulting in the indictment, which involves Denver Apple Spa, Tulip Spa, 21 Spa, Mojo Massage, Ocean Foot Massage and other entities.
Individuals indicted are:
Mr. Chen Liang Kuo, age 45
Ms. Yi Ting Mo, age 42
Mr. Manqui Xu, age 57
Mr. Le Zhang, age 46
Ms. Ying Guo, age 49
Ms. Xiong Xie, age 54
Ms. Xuelin Chen, age 33
All seven of them will be tried separately, according to the DA.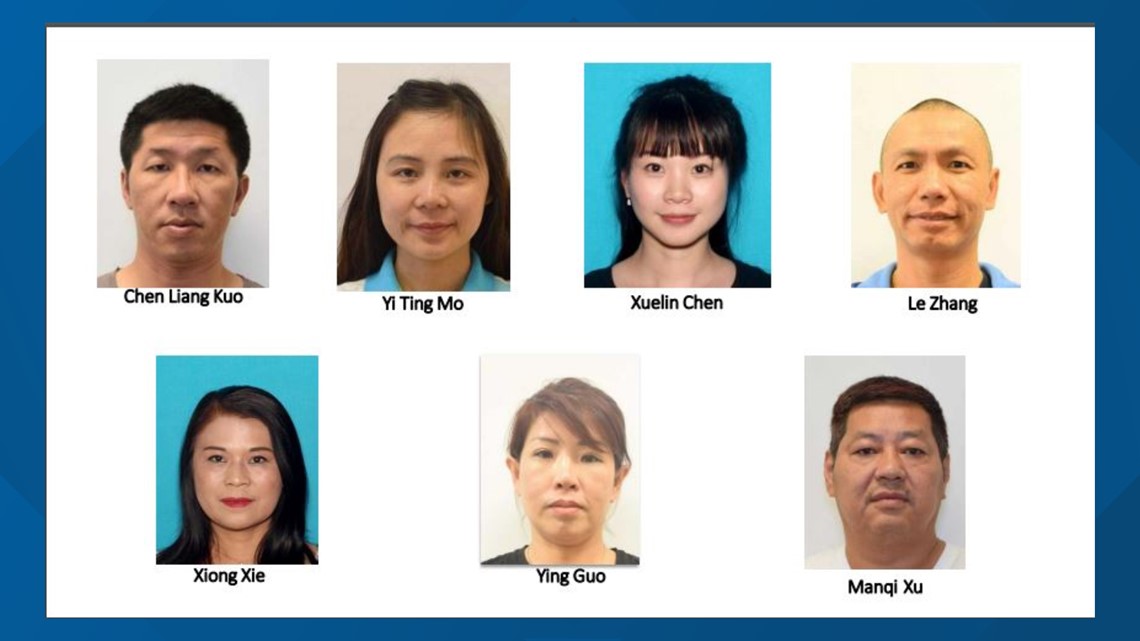 Two of the women indicted are not yet in custody, according to DPD.
Xiong Xie is wanted for engaging in a pattern of racketeering, pimping, prostitution, and money laundering. Her last known location was in San Gabriel, California.
Ying Guo is wanted on the same charges. Her last known location was in Baton Rouge, Louisiana.
According to the indictment that was unsealed Thursday, the defendants are accused of engaging in a pattern of racketeering in which the massage parlors were the nexus for running a complex pimping, prostitution, money laundering and tax evasion operation that generated millions of dollars.
"We believe that the defendants were hiding in plain sight as they trafficked women from China to engage in sex acts with customers of their massage businesses," said Denver DA Beth McCann. "The excellent collaboration between our local, state and federal law enforcement agencies has led to the closure of these businesses and to the dismantling of an international human trafficking operation."
Lara Mullin leads the human trafficking unit within the Denver District Attorney's office. While financial transactions illustrate a "connection to China," she said they do not think the indicted individuals were directed remotely.
"This illicit massage parlor network, coupled with several illegal marijuana grow houses, were operating in plain sight under the guise of legitimate business operations," said Attorney General Phil Weiser.
"The criminal enterprise extended across the Front Range and profited off of the exploitation of vulnerable people. From our investigation, we also tracked criminal proceeds through a network of bank accounts to support the money laundering charges in the indictment. Furthermore, illegally operated grow houses diverted revenue from the state. We will continue to work hard to eradicate these illegal operations from Colorado."
The alleged behavior occurred in the City and County of Denver, Douglas County, Arapahoe County, Routt County and in Jefferson County, and also outside of Colorado into Oklahoma, California and Louisiana.
"Human trafficking is a crime that has horrific consequences for people that far too often come from vulnerable populations," said U.S. Attorney Jason Dunn. "As this investigation demonstrates, law enforcement in Colorado works well together to hold traffickers accountable. Thanks to the hard work of the Denver Police Department, the Denver District Attorney's Office, the Attorney General's Office, and other law enforcement agencies, all but two of these traffickers have been arrested and this criminal enterprise has been put to a stop."
A shift in prosecution strategy
McCann said this investigation shows a departure from a strategy of punishing survivors further.
"Rather than in the past arresting the victims and charging them with prostitution, we are now focusing on the ones who are actually profiting from it and are exploiting others and are benefiting from the process," she said.
Denver Police Chief Paul Pazen said 14 women who "were being exploited by this criminal enterprise" are now freed. Previously, these women would be prosecuted for prostitution instead of given resources.

Mullin said an array of records obtained throughout the investigation allows prosecutors to move forward with the case without relying on the women to testify.
The indictment documents how business records, real estate records, banking records, utility records and transportation records demonstrate the association between the defendants and businesses. Throughout the course of this investigation, DPD and the DA's office developed evidence to show that the enterprise and its members allegedly profited from these criminal acts and used those profits as untaxed income.
Anyone with information about Xiong Xie or Ying Guo is asked to call Metro Denver Crime Stoppers at 720-913-7867. Callers can remain anonymous and could be eligible for a reward of up to $2,000.
Below is the original 9Wants to Know report when the massage parlors moved from Aurora to Denver:
Other investigations from 9Wants to Know: