How you could get a big medical bill from someone you've never even met
What's known as a "balance bill" could leave you with a bill where you're on the hook for paying your surgical assistant more than your doctor.
A "loophole" in a decade-old law has left Coloradans facing threats from collection agencies over medical bills they have zero obligation to pay.
The 2006 law was meant to protect patients who go to facilities that are covered by their insurance from getting high-priced, out of network bill. However, the law does nothing to prevent providers from skirting insurance providers and sending those bills directly to patients, according to an investigation by 9Wants to Know.
Adding even more confusion to a naturally opaque billing process, oftentimes the surprise, out-of-network bills arrive many months - if not years - after the medical procedure.
As one patient told 9Wants to Know, "Everybody is vulnerable."
"I HAD NO IDEA HE WAS OUT OF NETWORK"
:
Kevin Fritz felt awful the afternoon of Sept. 21, 2016. A coworker wondered if it was a heart attack. Another decided he needed to go to the hospital.
"It looked like I took a shower with my clothes on. I was sweating that badly," he said.
They quickly decided Sky Ridge Medical Center was his best option. Not only was it relatively close, but it was also in-network with his UnitedHealth insurance.
By the time his wife Juanita arrived, ER staff members were focusing not on his heart but his intestinal tract.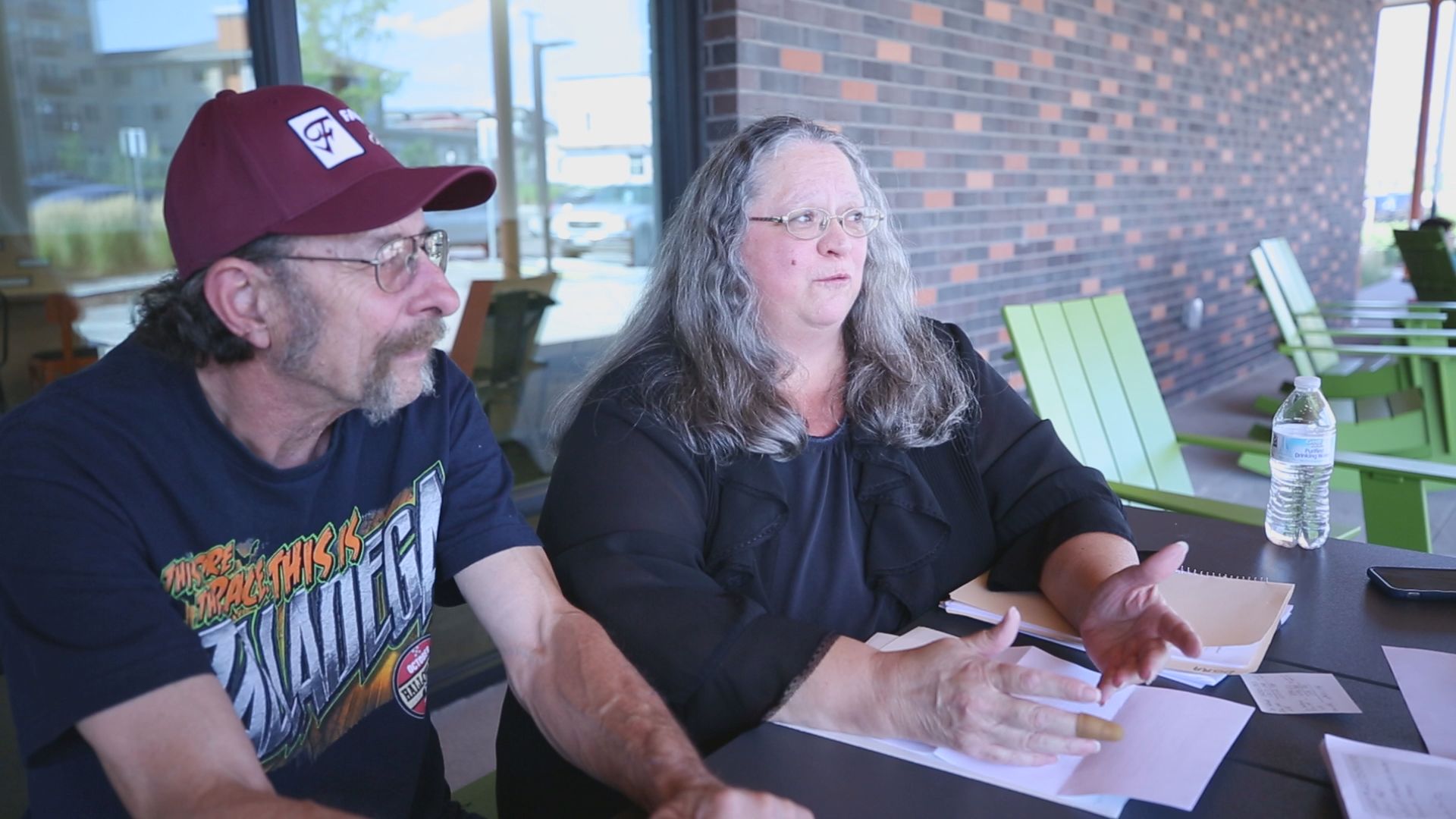 "It turns out his intestines had twisted," Juanita Fritz said.
It was a serious, potentially fatal, problem. Kevin needed an emergency surgery.
It likely saved his life.
Months later, the couple couldn't remember if anyone at the hospital told them the surgeon wasn't in-network with UnitedHealth, but the Fritz's did receive a bill indicating as much.
The bill came from South Denver Acute Surgery – a billing company that represents the surgeon.
UnitedHealth, according to the bill, had already paid the surgeon $1,712.56 for the claim.
Still, the billing company demanded an additional $2,401.44 for Dr. David Jones. It was, to put it bluntly, money the Fritz's did not have.
"I praise God that he was there to help my husband, but I had no idea that he was out-of-network," Juanita said. "I'm unemployed. My husband is the only income right now. We're talking about one of his paychecks."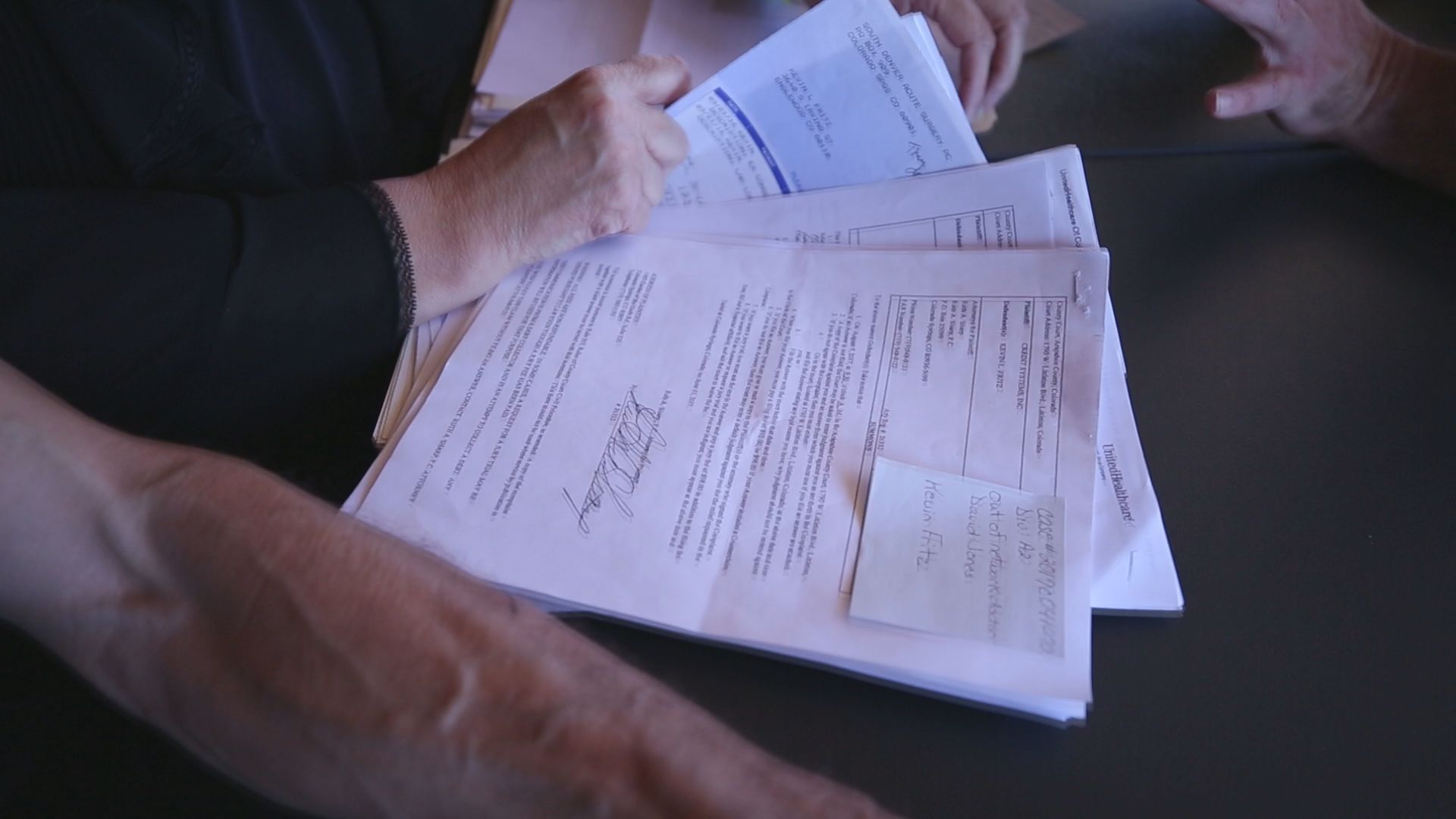 And technically, according to Colorado law, it was also money they didn't really owe.
Dr. Jones did not respond to 9NEWS requests for comment.
The Fritz's are hardly the only patients to receive a surprise bill from an out-of-network provider.
A study published in the New England Journal of Medicine late last year concluded as many as 22 percent of ER visits to in-network facilities result in a surprise bill from a provider not in the patient's insurance network.
And it's not just ER visits that result in out-of-network, surprise bills.
HEALTH INSURANCE 101
:
Before we get deeper into this story, let's talk about some of the terms you might hear when dealing with health insurance and "balance bills."
In-network provider: A medical provider that, through a contract, has a mutually agreed upon rate for certain procedures or products with your insurance carrier.
Out-of-network provider: A medical provider that, for a variety of reasons, does not have a contract with your insurance carrier. Many insurance plans place "out-of-network" charges into a separate pool when it comes to co-pays or deductibles. Lacking a contract with your insurance, there is no established, predetermined rate for procedures and/or products.
Deductible: Typically, the amount a patient owes before health insurance payments kick in. For example, a patient with a $3,000 deductible would be responsible, on an annual basis, to pay that amount before the patient's health insurance starts contributing.
Out-of-network deductible: In some insurance plans, patients may have a separate deductible for out-of-network charges.
Balance bill: Often referred to a surprise bill. For practical purposes, think of a balance bill as a bill in which the out-of-network provider sends you the balance of what was not paid for by your insurance company.
Held harmless: In health insurance circles, the term is meant to establish that, under certain circumstances, the patient is not to be held responsible for the outstanding bill. Twenty-one states, including Colorado, have laws that seek to hold patients harmless from balance billing practices, according to a study from the Commonwealth Fund.
"NEVER HEARD OF HIM. NOTHING. NEVER MET HIM"
:
Surprise bills are also known as balance bills because, many times, the provider seeking additional reimbursement sends the patient a bill directly for the "balance" of what wasn't paid by the patient's insurance company.
In Brenda Kellner's case, the bill came long after a pair of brain surgeries at a hospital in-network with her insurance in 2015.
"Two years later, I get this bill in the mail saying I owe another almost $8,000," she said.
It seemed odd, she thought, considering her insurance had already paid the biller $2,300. Now Ramirez First Assisting – the business arm of surgical assistant Stephen Ramirez – wanted thousands more.
Keep in mind, the surgeon who did the actual surgery was in-network. So when Kellner's insurance paid him $4,100 not long after the surgery, he had a contractual obligation to accept it.
As it turns out, however, Ramirez was not in-network with Kellner's insurance, and thus under no contractual agreement to accept any payment.
So, were Kellner to pay him what he says he's now owed – he would be compensated more than double what the surgeon got.
"Right. And he's not even a doctor," she said.
And Kellner had never seen him – at least not while conscious.
"That's the thing that got me," Kellner said. "I didn't even know this guy. Never heard of him. Nothing. Never met him."
Ramirez First Assisting, Inc. gave 9NEWS the following statement:
We understand the complexity of billing in healthcare and as is standard across the healthcare industry, we work with our patients on their bills, whether it's through negotiated rates with their insurance providers (which may vary from insurance plan to insurance plan), a discount, payment plan or other means.
In this case, human error was to blame. Mistakes can happen and that's why we always encourage patients with billing questions or concerns to contact us directly. We take these concerns very seriously and have communicated directly with this patient regarding their recent bill and the situation has been resolved.
In Colorado, it's not uncommon for surgical assistants to be out-of-network with many, if not all, insurance carriers.
And thanks to state law, it's not illegal or even improper for surgical assistants – or any other out-of-network providers for that matter – to routinely send balance bills to patients.
"HELD HARMLESS"
:
In 2006, Colorado legislators introduced and passed Senate Bill 213 in an effort to protect patients who go to in-network facilities from out-of-network charges.
In legal speak, it demanded certain patients be "held harmless" when facing balance bills after visiting a facility in-network with their insurance.
In other words, a patient would not need to pay the bills. His or her insurance company would need to deal with any remaining, unpaid balance.
There's just one big problem with the law as far as patient advocates are concerned: Nothing prevents a biller from sending a balance bill in the first place.
"There's nothing that prevents a provider from sending a bill directly to a consumer when that consumer legally does not owe it," said Adam Fox, with the Colorado Consumer Health Initiative.
It all means that a patient – who may be unaware of the law but still entitled to the protections of it – can still receive a balance bill and may even be sued for not paying it.
"Oftentimes, if they don't collect on that bill they might send that person to collections," Fox said.
"What other industry can you think of where somebody can bill you for money you don't owe and send you to collections?" Fox added. "They're basically trying to collect money from somebody who doesn't owe it."
That's precisely what happened Kevin and Juanita Fritz.
Unaware of the very law that could hold them "harmless," they arrived inside the Arapahoe County courthouse a few months ago, desperate to come up with a solution to their $2,401.44 bill.
At the time, thanks to interest and court fees, the total amount they were being sued for was in excess of $2,700.
Inside the courthouse, an attorney representing "Credit Systems, Inc." refused to negotiate.
Weeks later, the state of Colorado would determine to hold Kevin Fritz "harmless."
What it meant in this case was that the Fritz's had to pay the copay required by their insurance, and the insurance provider and the surgeon worked out the rest of the bill.
9 STATES PROHIBIT PROVIDERS FROM SENDING BALANCE BILLS
:
According to a recent study by the Commonwealth Fund, only nine states limit providers from sending balance bills to patients.
Colorado is not one of those nine states.
"As the law (in Colorado) is written right now, there really is no responsibility on behalf of the provider," consumer protection attorney Sarah McEahern said.
Lacking comprehensive state protection, McEahern acknowledges patients really need to protect themselves and try to become more familiar with the "held harmless" provision in state law.
She said out-of-network providers are hardly unusual.
"During a hospital visit, you get a bill from the hospital," she said. "You get a separate bill from the doctor. You might get a bill from a specialist, a bill from the laboratory."
"And anywhere along the way, one of those bills might be out-of-network," she added.
She said it never hurts to ask any facility if it does work with out-of-network providers.
Here is some other advice:
- Check your Explanation of Benefits. The EOBs will detail who was paid what and for what service. They will also tell you if there is the potential of a balance remaining on an out-of-network charge.
- Check your insurance card. If you see "DOI", "C-DOI" or a variation of the two on it, you are fully entitled to protection under the state's balance billing law.
- Ask your insurance company to take another look at the claim
- Complain to the physician who did the actual work. In some cases, the physician might not be aware that someone working with him or her balance billed the patient directly. Taking a complaint directly to the doctor can result in that doctor sending your complaint directly to the out-of-network provider.
If you believe you've been improperly balance billed and would like to share your story, please send an email to our ongoing "Show Us Your Bills" investigation at showusyourbills@9news.com.