The Colorado Attorney General seems pretty proud of the fact that the state of Colorado will receive millions as part of a national settlement reached with the maker of the EpiPen. We should probably tell you there's a bit more to the story, however.
Tuesday morning, 9NEWS and other media outlets received an email from Cynthia Coffman's office titled, "AG Coffman Secures $5.5 million from EpiPen Manufacturer for Failing to Pay Colorado Medicaid Rebates."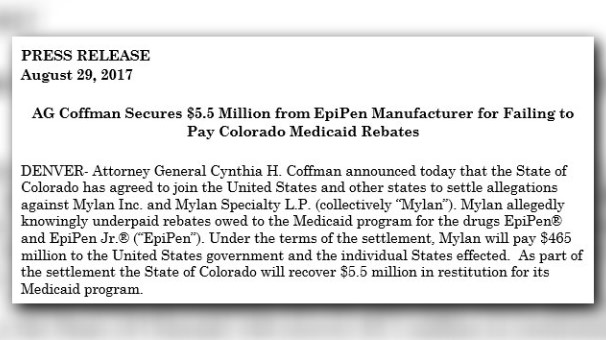 Technically, after Colorado pays back $2.2 million back to the federal government (Colorado, like all states, doesn't foot all of its Medicaid bill), the state will receive $3.36 million.
But that's not the biggest issue here.
In order to understand the bulk of this story, you have to understand the basics of the national settlement itself.
A few weeks ago, Mylan and the U.S. Dept of Justice announced a settlement in which Mylan – the maker of the EpiPen – agreed to pay $465 million to resolve claims that it knowingly classified its EpiPen as a generic drug to avoid paying larger rebates to Medicaid programs.
There's just one problem, according to legislators like Sen. Chuck Grassley (R-Iowa).
A few months ago, the Department of Health and Human Services Office of Inspector General estimated Mylan underpaid Medicaid $1.27 billion for classifying the EpiPen as a generic drug.
Generic drugs currently must offer 13% rebates to the Medicaid Drug Rebate Program.
Due to lack of competition, brand name drugs must pay 23% to the same program.
The federal government alleged that by classifying the EpiPen as a generic for 10 years. Mylan dodged having to pay the higher, brand-name rate.
So why just $465 million now?
When the deal was announced, Sen. Grasley said in a CNBC article, "There are some serious problems here."
The deal does allow Mylan to offer no admission of wrongdoing.
And it also allows Mylan to not come close to paying what the OIG thought it should have to pay.