VAIL, Colo —
Editor's note: A previous version of this story did not include information about some of the communication sent from Vail Resorts to employees.
Vail Resort employees who spoke to 9Wants to Know say messages from the CEO of Vail Resorts led thousands of workers to wonder if they would need to potentially expose COVID-19 to loved ones and the community in order to find new housing.
While some employees said they felt the messaging was confusing, a spokesperson with Vail Resorts contends employees have always been told they could remain in their employee housing if necessary.
A Saturday employee memo provided to 9NEWS said, "Anyone living in our employee housing can, of course, stay as you prepare your return trip. Please keep your manager aware of your plans." The initial memo did not tell employees they could stay if they were exhibiting symptoms of COVID-19.
The Colorado Department of Public Health and Environment (CDPHE) said on Sunday in a Facebook post that anyone who lived in Eagle, Summit, Pitkin or Gunnison counties within the past week should "minimize all contact with other people, whether or not they are experiencing symptoms."
CDPHE said Colorado residents should be isolated for 14 days while they wait to see if a cough, fever or shortness of breath developed.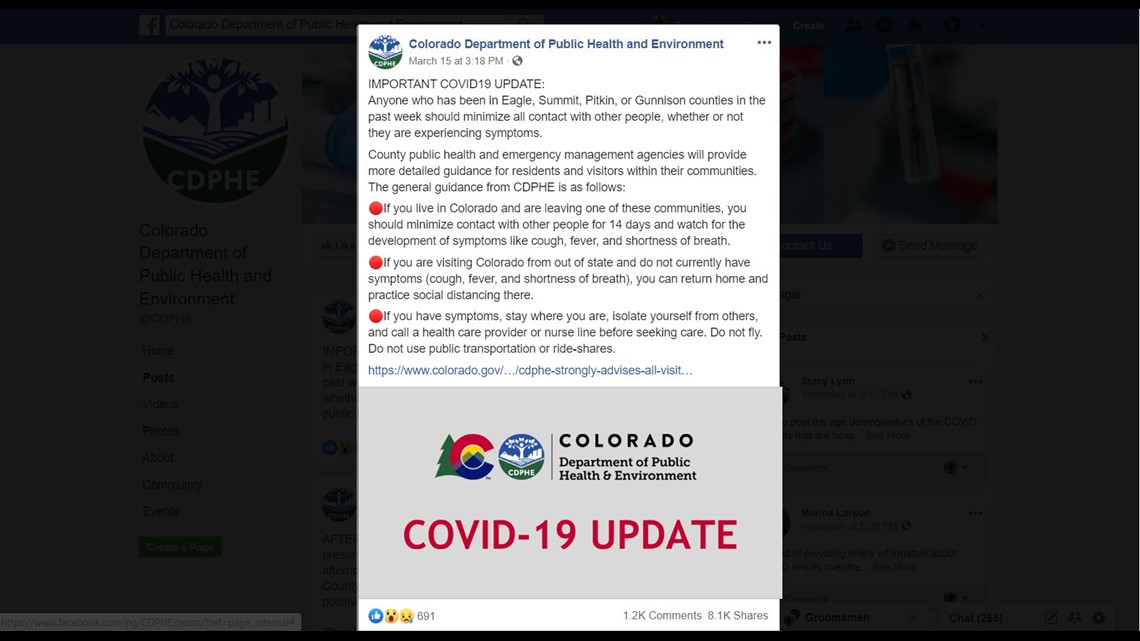 Vail Resort employees told 9Wants to Know the initial request for employees to leave their housing made them feel confused and scrambling for housing. One employee said others were considering renting cars to sleep in.
The ski season ended on March 14. An internal website for employees said Tuesday evening that "if needed, you can remain in housing until March 27."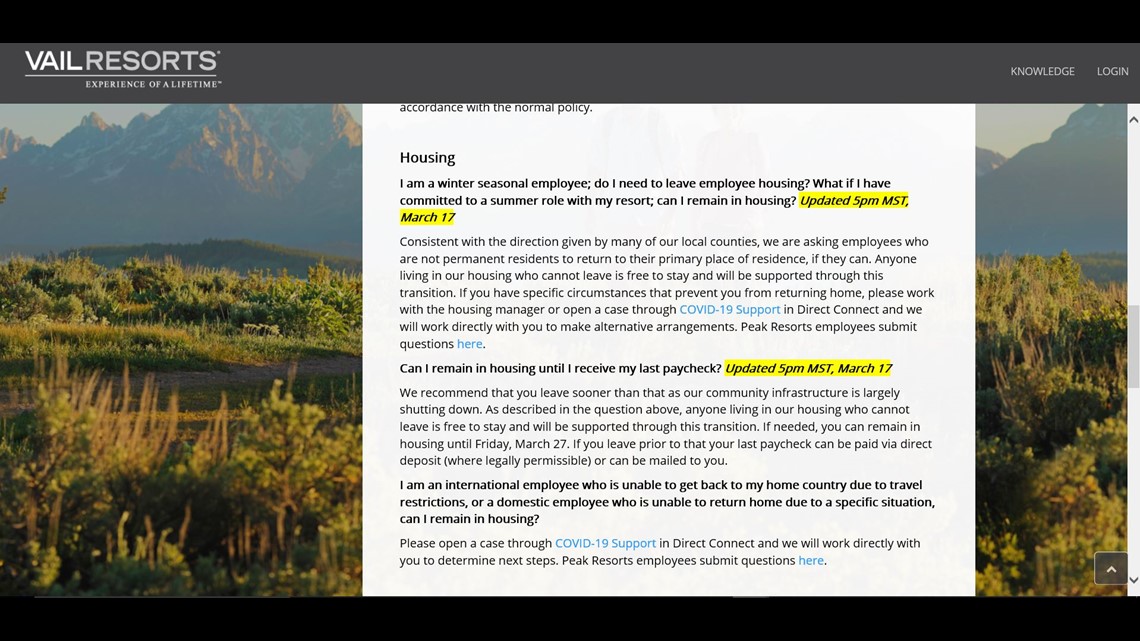 "For anyone who is living in our employee housing with travel restrictions to their primary residence, has symptoms and/or have tested positive for COVID-19 and have been advised to quarantine or self-isolate, or has other special circumstances, rest assured we will work with you to resolve your specific situation and will allow you to remain in employee housing with our full support until a safe transition plan can be determined," said Rob Katz, Vail Resorts CEO, in a letter sent to employees on Thursday.
A Vail Resorts employee, 9NEWS agreed not to name for fear of retribution, said there was uncertainty about what to believe on the ground.
"They're from South America, Europe and etcetera," the employee said. "And they can't get home right now because their flights have been suspended to most of the world. And they were hoping to have this month or so to figure out how to get home - and because of the language barrier and confusion with flights and everything, they are freaking out."
David Seligman, executive director at Towards Justice, who often represents workers, said the situation at Vail Resorts is an example of how seasonal employees who live in company housing are vulnerable.
"The alternatives to employer-provided housing is homelessness," Seligman said. "And that's a terribly dangerous situation. It's a very dangerous situation for workers who are fearful of coming forward, and it's also a terribly dangerous situation for our public health. Many of these workers have nowhere else to go."
Seligman recommended workers seek legal representation if they are concerned.
Governor Jared Polis said in a news conference that he is looking for ways to assure Coloradans won't lose their housing during the outbreak.
"It's absolutely critical," Polis said. "I think that landlords know what's going on too here. They generally want to keep good tenants and they generally know that if their tenants are out of work for a month or two, they need to work with them if they want to be able to keep them there."
There were 8,000 to 10,000 unemployment claims made Wednesday, according to Colorado Department of Labor and Employment data obtained by 9Wants to Know.
Rob McCallum, public information officer for the Colorado Judicial Department, said in a phone call Wednesday, the focus of courts during the COVID-19 outbreak will be on criminal matters, mental health proceedings and protection orders in an effort to protect the state's most vulnerable populations.
"The bottom line is nothing is for certain, but the chances of you being evicted are minimal based on the judges' orders around the state," McCallum said. "Public safety and individual well being around the state are the priority."
Amber Barrett, Eagle County Sheriff's Office community affairs officer, said in an email that her office doesn't anticipate enforcing any evictions and the onus is on Vail Resorts.
"This is a Vail Resorts issue and they are committed to taking care of it," Mulson-Barrett said. "Our local partners have reassured us that each employee's situation is being taken into consideration."
If you or someone you know works at Vail Resorts, please reach out to 9Wants to Know.