DENVER — Colorado Parks and Wildlife plans to reintroduce gray wolves by the end of the year as required by a 2020 referendum, but the state doesn't know where it will get wolves.
"We are working so hard to make this happen," Dan Gibbs, executive director of the Colorado Department of Natural Resources, recently told the Colorado House Agriculture, Livestock, and Water Committee.
Gibbs told state representatives everything is going according to plan.
"We are on schedule to meet our obligation to restore and manage gray wolves," Gibbs said.
To meet the deadline, Colorado needs wolves.
Possible wolf sources
Colorado's draft plan names Idaho, Montana and Wyoming as possible sources.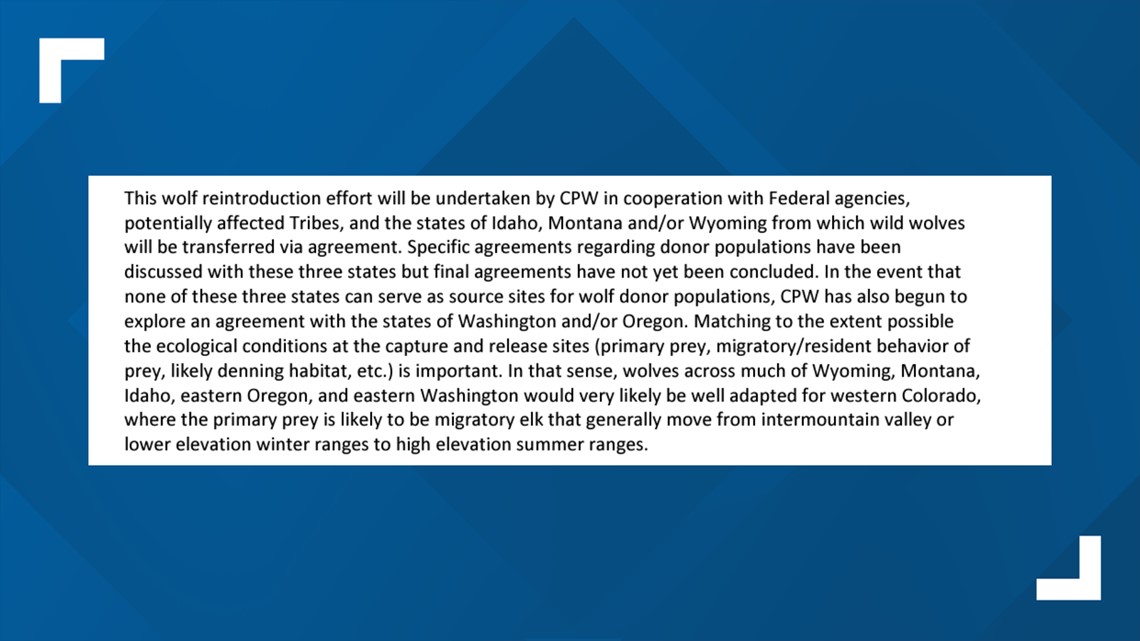 "Specific agreements regarding donor populations have been discussed with these three states but final agreements have not yet been concluded," the plan reads.
A Montana official said that is not true.
"We have not been and are not in conversations about moving wolves to another state. To be clear, we have not talked and are not talking to Colorado about moving wolves," said Greg Lemon, a spokesperson for Montana Fish, Wildlife and Parks.
An Idaho spokesperson said the states have not had any formal conversations.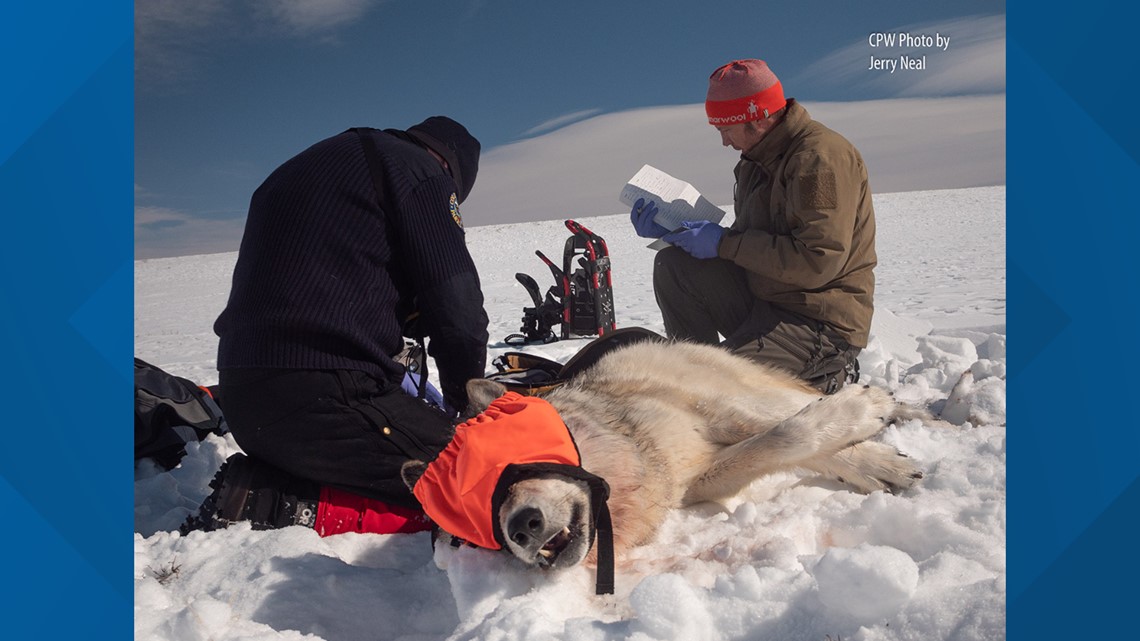 Wyoming
"Wyoming is opposed to sending wolves to Colorado," Wyoming Gov. Mark Gordon told 9NEWS.
Wyoming isn't just against giving Colorado animals. The governor stands against the idea of Colorado's gray wolf reintroduction.
"Our current wolf management plan is working, and it works because it is designed to manage wolves in biologically and socially suitable habitats and to keep wolves out of areas of the state where conflicts would be highest," Gordon said. "Our border with Colorado is an unsuitable area for wolves, and that would mean more human conflicts. Resolution of conflicts are almost always deadly to wolves."
9NEWS spoke with Wyoming's Game and Fish director, Brian Nesvik, in March.
"I do predict there will be wandering wolves from Colorado that make their way up here," Nesvik said.
He said he worries wolves in Colorado will move north, creating more problems for Wyoming ranchers.
"Wolves are large carnivores, and they will go find the quickest way and easiest means to fill their belly," Nesvik said.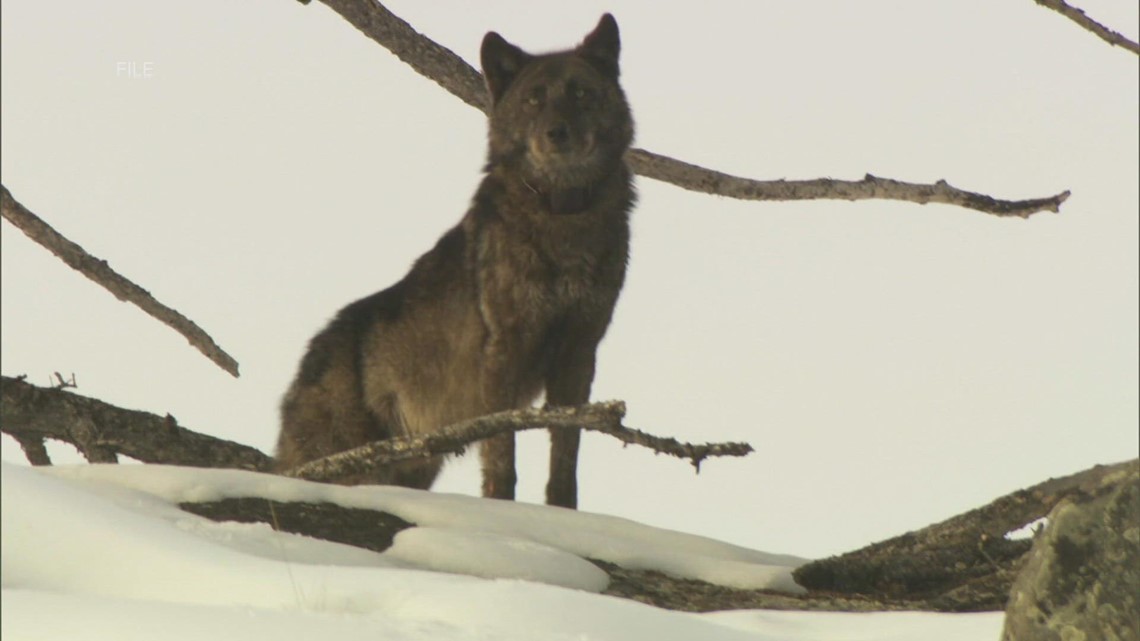 Washington and Oregon
Colorado also lists Washington and Oregon as possible alternatives, if Wyoming, Montana and Idaho do not pan out.
"In the event that none of these three states can serve as source sites for wolf donor populations, CPW has also begun to explore an agreement with the states of Washington and/or Oregon," the plan states.
A Washington spokesperson said they aren't sure what Colorado means about exploring an agreement with them.
"That could be on their end, where they've just done some research," the Washington Fish and Wildlife spokesperson said. "... We've done zero formal discussion."
Oregon has a similar response.
"Colorado's Technical Working Group decided that Oregon would be an appropriate source for wolves. Our agencies have had a few informal conversations, but nothing more," an Oregon Fish and Wildlife spokesperson said.
Utah
A proposed 10(j) rule from the U.S. Fish and Wildlife service adds Utah as a possible source.
"CPW officials plan to capture wild gray wolves in cooperating States in the Western United States where wolves are federally delisted (Montana, Idaho, Wyoming, the eastern third of Washington and Oregon, and north- central Utah) using a combination of net gunning, helicopter darting, or trapping," the proposal states.
A Utah spokesperson casted doubt on their viability as a source and said they will not give wolves to Colorado.
"There are currently no established wolf packs in Utah, which would likely not make us a viable candidate for providing wolves," a Utah Division of Wildlife Resources spokesperson said. "Also, as we have stated previously, we have concerns about the reintroduction of wolves in Colorado for a variety of reasons, and therefore, would not be supportive of providing wolves for those reintroduction efforts."
Utah fears wolves from Colorado will move into Utah and kill livestock. If that happens, Utah wants Colorado to pay for the livestock loss, 9NEWS previously reported.
Next steps
The Colorado Parks and Wildlife Commission plans to approve the wolf management plan May 3.
We requested interviews with DNR and CPW. A spokesperson told 9NEWS they will do interviews, but not before the management plan gets approved.