KUSA — One person is in critical condition and eight other people are injured after a natural gas explosion that a spokesperson for the Denver Fire Department called the biggest one the city has seen in 22 years.
It happened at a multi-plex at Santa Fe Drive and 4th Avenue - the Baker neighborhood - around 1 p.m., according to Greg Pixley with DFD. Fire officials said in a later news conference that the exact address of the home was determined to be 368 N. Santa Fe Drive.
On Wednesday, a dog was seen going through debris in hopes to pinpoint exact location of the ignition.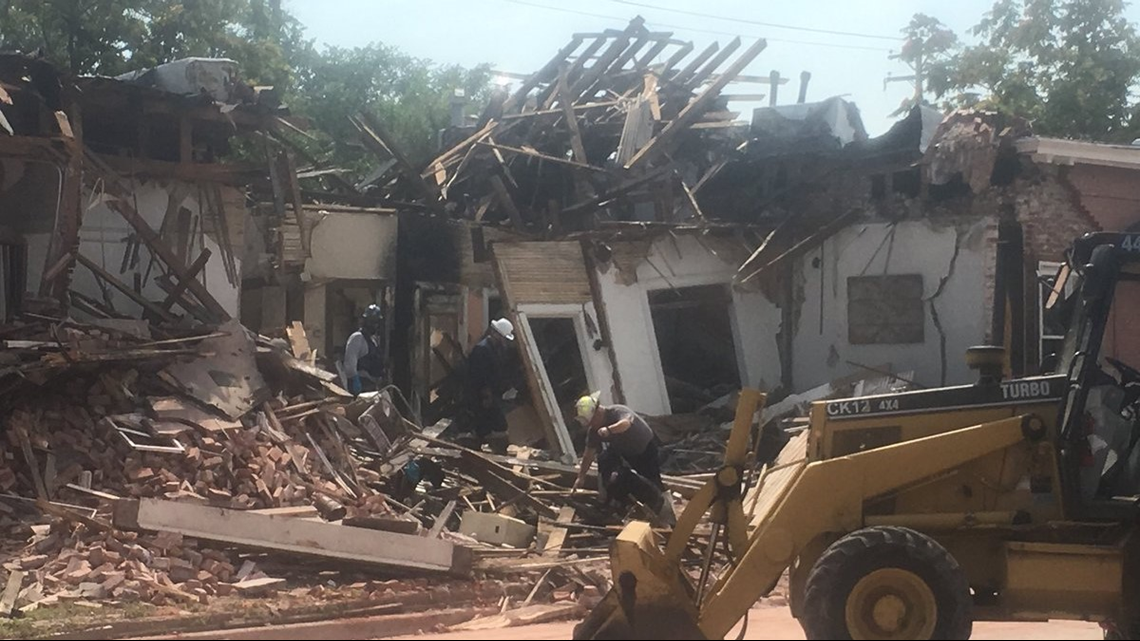 One person was initially trapped in the rubble from the explosion and subsequent collapse, Pixley said, but that person was rescued by firefighters and is stable. Another person trapped in the structure is in critical condition.
The other seven injuries range from burns to blunt force trauma. Those people were bystanders who were treated at the scene and released.
Business owner David Bacon said he was driving down nearby 6th Avenue when he heard a huge bang.
"My car totally shook," he said. "I looked in my rearview mirror and saw a plume of smoke."
Bacon said he immediately went to the scene to see if anyone needed help.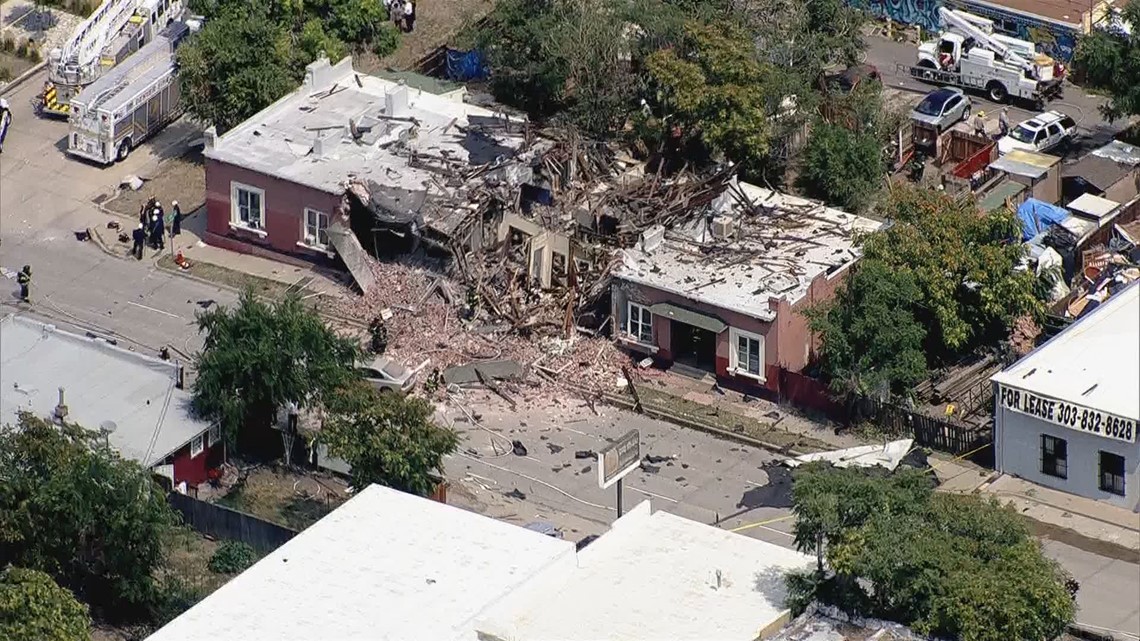 "There were people...kind of ... scattered around. Everyone was clearly frightened," he said. "There was a couple that was covered in ash that looked disoriented but were OK ... that looked like they had literally crawled out of the rubble."
Neighbor Edward Scott lives a few houses down and was talking on the phone when the explosion happened. He told 9NEWS' Noel Brennan he thought it was his house that exploded.
"I thought it was my house - debris hit me in the face - my ear was ringing," Scott said. "I went into my house to see what kind of damage and I realized it wasn't my house."
Scott said he then went outside and asked a woman nearby what the explosion was. He said she pointed at a plume of smoke a few houses down.
"A gentleman just got out of the car, there was another gentleman trying to get out of the place," he said. "A lady was crawling out -- a man picked her up like a fireman, put her on the porch next to us. She told us she was OK."
He said all that happened before the Fire Department arrived.
There is moderate damage to buildings across the street and to cars adjacent to the building.
Pixley said during an afternoon news briefing that he could still smell lingering pockets of natural gas more than an hour after the initial explosion was reported.
It's still unclear how this happened or what caused the explosion as this is still in the investigation phase, Pixley said. He said the gas was shut off in the area so his staff and others can work safely without worrying about another potential problem.
Also assisting on this situation are: patrol officers from DPD, the Police Department's Crime Unit, Denver Health, Denver Public Works, The American Red Cross, Community Planning and Development, the Colorado Task Force and South Metro Fire.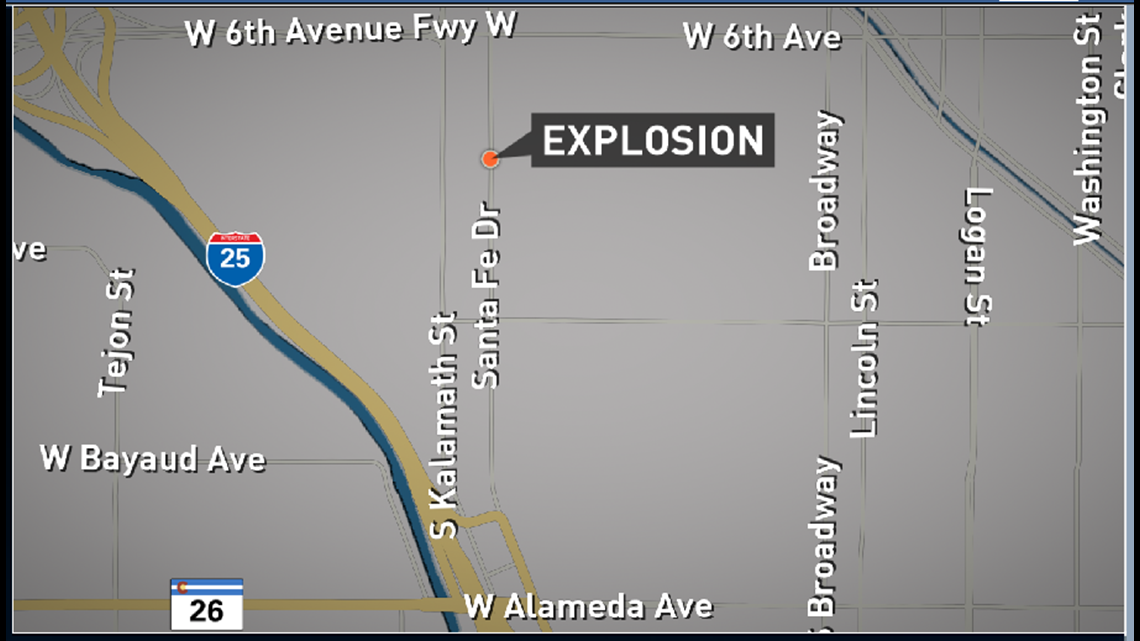 The agencies, Pixley said, are working together to make sure no one was missed in the rubble pile. As of 7:45 p.m., he said investigators didn't find anyone and were slowing down investigative efforts for the night with the intention of ramping them back up Wednesday morning.
Pixley added during a 4:45 p.m. news conference that the explosion might be a crime and that his office is working to rule that out. Firefighters and police officers are working to get surveillance video from nearby buildings as part of their investigation.
There was another explosion in 1996 a block away from Tuesday's which Pixley mentioned during the news conference. Another one in 2004 in the 700 block of Kalamath injured nine people. He said he thinks the past explosions are irrelevant to this explosion.
Santa Fe was closed for hours but is open for the morning commute. There could still be delays though as drivers slow down to get a glimpse of the damage. The 9NEWS Traffic Map has the latest information about closures and alternate routes: https://www.9news.com/traffic
Xcel Energy Colorado, the metro area's largest utility company, has crews on-site and is helping with the investigation.
Xcel Energy spokesperson Michelle Aguayo said in these situations, the company shuts off the gas in the immediate building and any others in the area that might be in danger. They do the same for overhead power lines and try to "redirect the power so folks don't lose electricity," Aguayo said.
Anyone with a gas emergency is urged to call Xcel at 1-800-895-2999.
PHOTOS: Natural gas explosion injures 9