DENVER — The major bike lane construction project along South Broadway was supposed to be completed in the fall or winter of this year, but now city officials have pushed the project until the spring of 2024.
Nancy Kuhn, with the Denver Department of Transportation and Infrastructure tells 9NEWS that crews had to move underground utilities to make way for new infrastructure, plus the combination of the recent rain, has delayed the progress.
"We understand that these improvement projects can be inconvenient and frustrating for people. Our contractor is working as quickly as possible to finish up and minimize impacts as much as possible," Kuhn said.
Businesses in this area have been frustrated with the ongoing project because they have noticed a drop in foot traffic due to the construction.
"It's causing not only traffic backups, but we're seeing problems with the construction site and crews have blocked sidewalk access to businesses," said Matt Megyesi, owner at Mutiny Information Café. "Without all the parking, without the places for people to park down here, it's not an attractive area."
According to Megyesi, business at his coffee shop has dropped 15%. He said not only has the construction project blocked several entrances to local businesses but has also made it dangerous for people to walk along Broadway because sidewalks are blocked off as well.
On Monday, Megyesi was told construction crews will be focusing on some underground electrical work that will impact part of the sidewalk for the time being.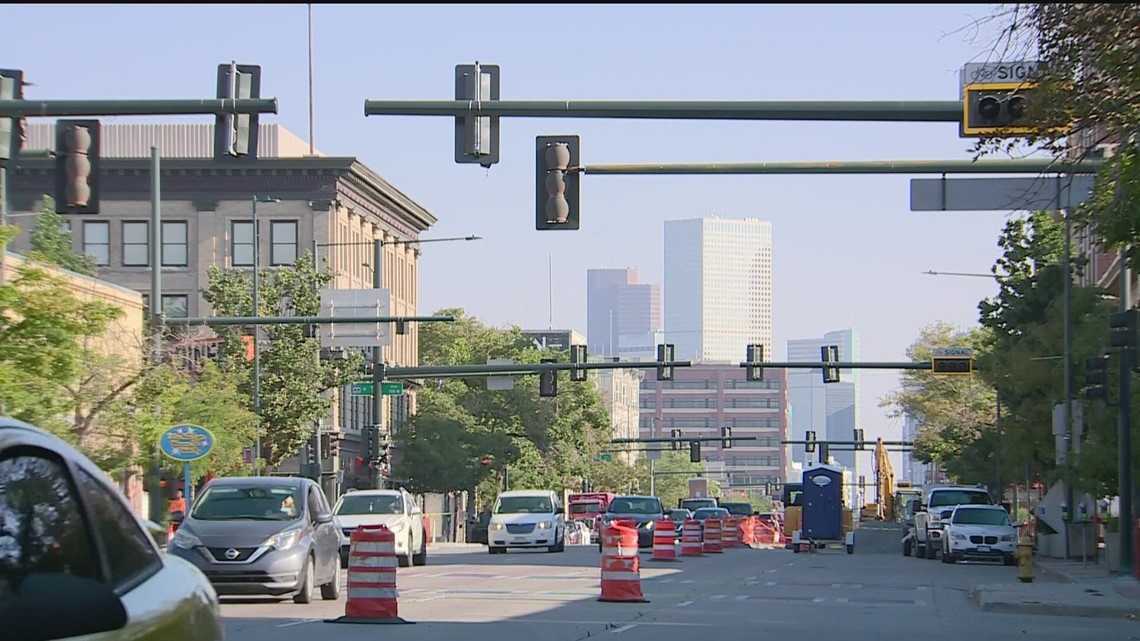 "We see a lot of people out front that are turning off Broadway and drivers don't see pedestrians. There's a lot of screeching of tires and honking of horns. There's spot where you don't know where you can cross, because the corners are blocked off with all the orange mesh. You don't know exactly where you're supposed to be able to cross," said Megyesi.
Denver Economic Development and Opportunity (DEDO) has a Business Impact Opportunity Fund program to businesses that demonstrate 10% or greater revenue decline due to this construction.
The construction project will make travel along South Broadway easier and safer for all, particularly for people who walk, and bike. The city is enhancing safety at 16 intersections and adding a two-way protected bike lane from Center Ave to 7th Avenue that will connect to the Cherry Creek Trail.
9NEWS+
9NEWS+ has multiple live daily shows including 9NEWS Mornings, Next with Kyle Clark and 9NEWS+ Daily, an original streaming program. 9NEWS+ is where you can watch live breaking news, weather updates, and press conferences. You can also replay recent newscasts and find videos on demand of our top stories, local politics, investigations and Colorado specific features.