ARAPAHOE COUNTY, Colo. — Firefighters are investigating a fatal fire in Arapahoe County that left one person dead and sent three others to the hospital.
South Metro Fire Rescue (SMFR) tweeted at 4:10 a.m. about a fire at an apartment complex at 2380 S. Quebec St. Firefighters said there was an active fire on the second and third floors when they arrived at the scene.
Video from SMFR showed flames coming out of the apartment complex building.
Upon arrival, crews found multiple people trapped inside the building. According to SMFR spokesperson Eric Hurst, some people jumped from their balconies to escape the fire.
"Some of those people jumped before crews arrived and others were assisted down by firefighters on ladders," Hurst said.
He said the building did not have sprinklers or a whole-building fire alarm system.
"That's something that is actually being worked on by the complex right now to retroactively install those." said Hurst. "Right now these are just equipped with smoke alarms which are much more quiet and unfortunately that can make it more difficult for people to get notified if there's a fire in the building."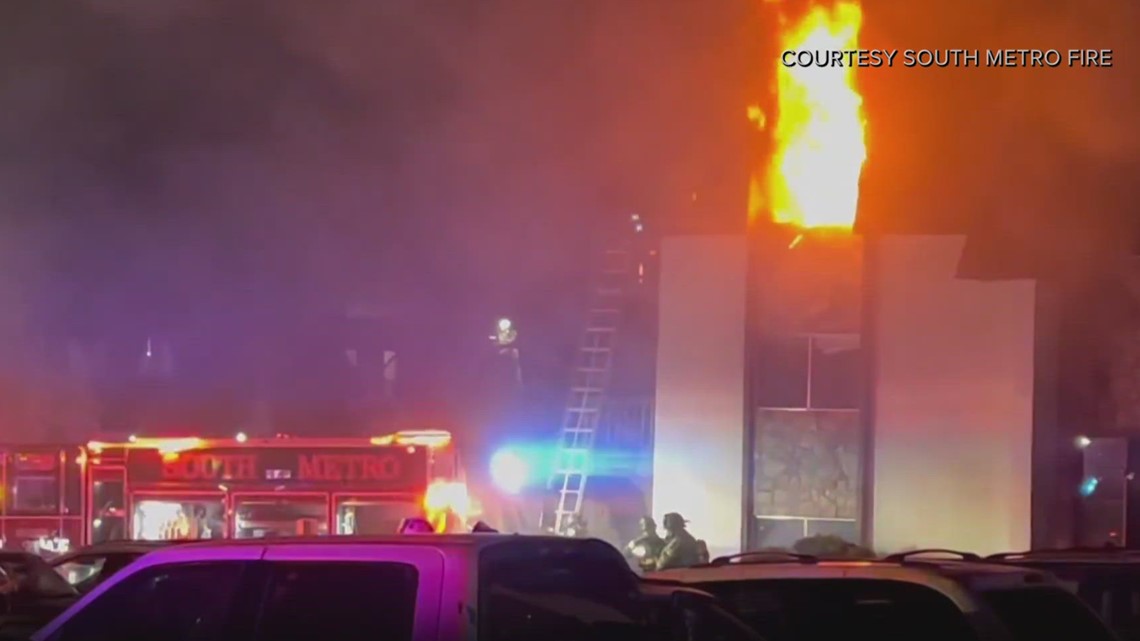 Hurst said it's important for residents to recognize risks like this in their buildings, check to make sure their smoke alarms are working, and to know two ways out of your home in case of a fire.
He said this is the case with many older buildings in the metro that were built when the fire code was different.
At 5:37 a.m. firefighters said that the fire was under control. According to SMFR, one person died in the fire and three other people were taken to the hospital. One of the people taken to the hospital was in critical condition and another person is in serious condition.
"I'm just waking everyone up, 'We need to get out. There's a fire,'" said Logan Larby, who escaped from a balcony.
Larby was getting ready for bed when he heard a smoke alarm go off. That's when he opened the front door that leads to an indoor hallway.
"Not even two seconds I had the door open, it let a lot of smoke into the apartment and it was bad," he said.
He gathered up his family, all visiting for Easter weekend, and they escaped, uninjured.
SMFR said two firefighters were also taken to the hospital with minor injuries.
A total of 23 units were displaced due to the fire.
Crews are working to determine what caused the fire.
9NEWS+
9NEWS+ has multiple live daily shows including 9NEWS Mornings, Next with Kyle Clark and 9NEWS+ Daily, an original streaming program. 9NEWS+ is where you can watch live breaking news, weather updates, and press conferences. You can also replay recent newscasts and find videos on demand of our top stories, local politics, investigations and Colorado specific features.