AURORA, Colo. — A now-former Aurora police officer was traveling roughly 100 mph to a non-emergent call before he T-boned another vehicle, killing the driver, an arrest affidavit from the Colorado State Patrol says.
Eduardo Landeros was charged Thursday with one count of vehicular homicide and one count of criminally negligent homicide, both felonies, related to the crash at the intersection of East Bates Avenue and South Chambers Road in Aurora that killed 44-year-old Elias Anderson.
At the time of the crash, Landeros, 26, was headed northbound on South Chambers Road in a marked Chevy Tahoe as he responded to a burglary call, which was classified as non-emergent, the affidavit says.
Initially investigators thought Anderson ran a stop sign on East Bates Avenue and pulled out in front of Landeros, in part because the speedometer on his vehicle was stuck at 50 mph. However, data downloaded from Anderson's vehicle indicated he was making a left turn from southbound Chambers Road onto East Bates Avenue.
Security video from someone who lives nearby shows Landeros' vehicle, without lights or sirens, pass by at what appears to be a high rate of speed. You can then hear the sound of a crash off-camera.
Investigators also looked at that video, and determined that it would have been impossible for Anderson to have run the stop sign at East Bates Avenue without first being hit by a southbound vehicle. That supported the vehicle data which indicated he was making a left turn.
Data from the Chevy Tahoe indicated that Landeros was traveling about 100 mph before the crash. His body worn camera also recorded the vehicle speed at about 100 mph about six seconds before the crash. He's then seen in the video interacting with a touchscreen in the vehicle before his right hand comes back to the steering wheel and he swerves, the affidavit says.
According to the document when he swerved, the speedometer showed a speed of between 104 and 105 mph. The posted speed limit is 40 mph.
Data from Landeros' vehicle also indicated he was not wearing his seat belt. A CSP trooper said she observed that the light paddle bar for his vehicle was in the "off" position.
CSP performed an accident reconstruction and based on it, they estimated that Anderson was traveling between 16 and 18 mph at the time of the crash, while Landeros was moving at between 88 and 98 mph.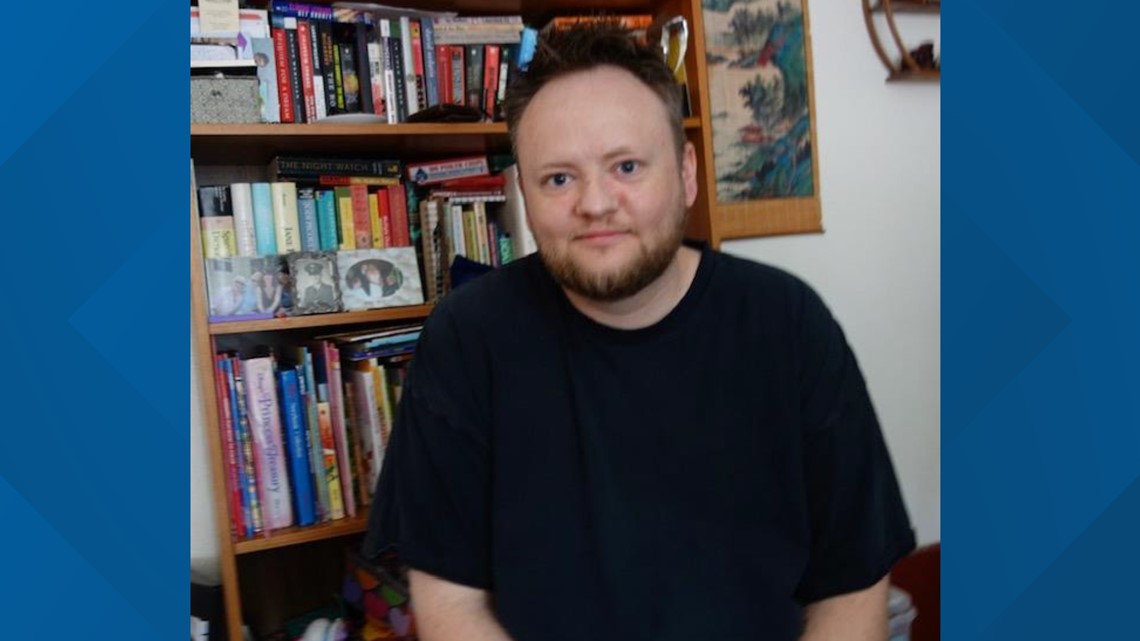 "Mr. Anderson's family has been destroyed by the grief of losing such a devoted and loving father, son, sibling, and friend," attorneys for Anderson's family said in a statement. "The family is relieved to hear that Officer Landeros is being held accountable with criminal charges for killing their loved one. Mr. Anderson was a talented author who was immensely devoted to his two children, their mother, his parents, and his siblings. He had many lifelong friendships and will always be remembered by his loved ones as the funniest person in the room."
Landeros' actions were in sharp contrast to the actions of two other officers who were dispatched first to respond to that same call on the night of March 4.
According to the affidavit, two other officers were already responding to the initial burglary call which was related to a door being kicked out of a unit where residents had recently been evicted. Landeros was headed there as backup.
The other officers traveled together in the same vehicle, the affidavit says. Their body worn camera footage shows them "driving in a non-emergent fashion," according to the document. It's noted that they were not traveling above the speed limit and did not have their lights or sirens activated.
Landeros broke his elbow in the crash and was placed on injury leave, according to APD. Aurora Police initiated an internal affairs investigation and scheduled Landeros for an interview on April 26.
He resigned effective April 25, according to the department. They said the internal affairs investigation is still ongoing.
The Colorado State Patrol investigated the crash.