DENVER — A new type of scam is targeting residents nationwide and right here in Colorado.
U.S. Customs and Border Protection (CBP) is receiving reports from residents concerned about unsolicited calls from scammers posing as agents. The scammers are trying to get the victim's personal and banking information.
According to CBP, the scammer tells the person a box with their name and address has been intercepted and the package contains illegal items that were flagged by officers.
The scammers provide a badge number, and a fake case number and those on the other lines are being asked to provide banking details, social security numbers or date of birth.
If you do get a scam call like this, here are some tips:
CBP won't call you out of the blue with promises of money or threats. If the caller is asking for personal information, hang up. It's a scam.
Patrol agents never use gift cards, cryptocurrency, or wire transfers.
Don't trust caller ID because scammers can make their phone numbers look local even if they're not.
Check with the agency if you're unsure about whether a call or email is real. Never call back or use social media to communicate with the scammer. Instead, type the agency name into a search bar and click on their webpage to find contact information.
If you get one of these calls, write down the number and any important details, hang up and report it. You can report the call to the Federal Trade Commission.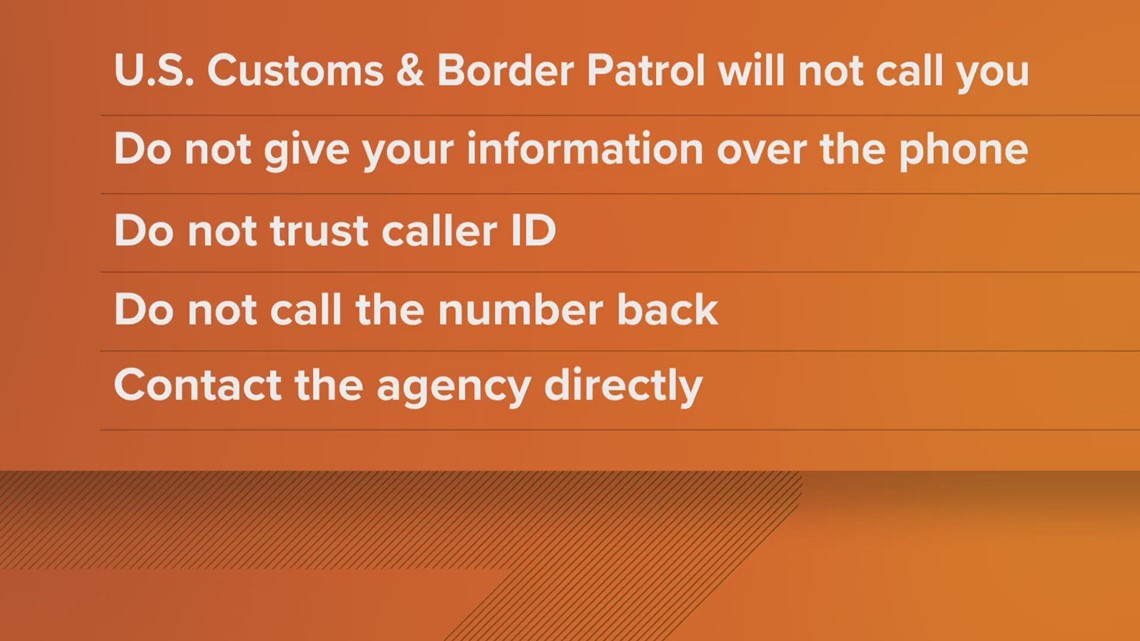 9NEWS+
9NEWS+ has multiple live daily shows including 9NEWS Mornings, Next with Kyle Clark and 9NEWS+ Daily, an original streaming program. 9NEWS+ is where you can watch live breaking news, weather updates, and press conferences. You can also replay recent newscasts and find videos on demand of our top stories, local politics, investigations and Colorado specific features.