BOULDER, Colo. — No one was injured in a fire that engulfed a Boulder apartment complex early Tuesday morning, according to Boulder Fire Rescue.
The fire started around 3:30 a.m. at the Whittier Apartments at 2301 Pearl St.
"I was awakened by running. The thuds of the footsteps coming down the breezeway there," resident Dennis Arnold said.
Firefighters initially said 83 units were affected, but later determined the complex has 81 units spread across six buildings.
Firefighters initially believed two people had sought treatment for minor injuries, but as of Tuesday evening, no injuries had been reported, according to the fire department.
"Fortunately we have a stairwell on that end, so we were just able to come out, hook a turn, and get down and out of the building and across the street to safety," Arnold said.
Crews were able to verify the occupancy of most of the units Tuesday. As of Tuesday night, the fire department said, three owners still need to be contacted to verify occupancy.
PHOTOS: Fire burns Boulder apartment complex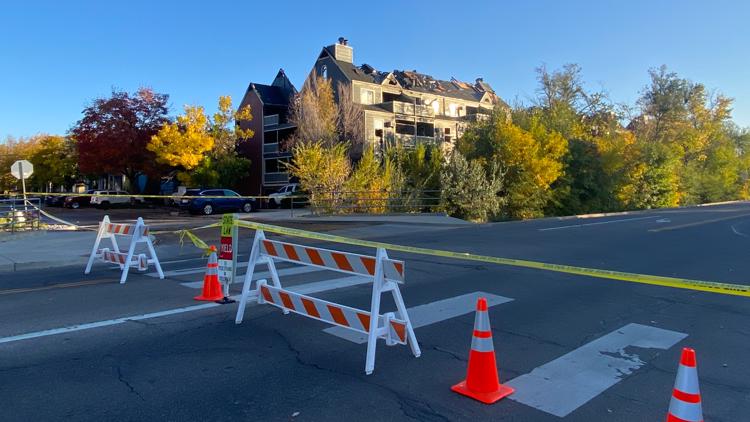 The fire was considered under control at about 5:40 a.m., according to fire crews. A total of 17 fire units and 51 firefighters responded.
Crews will likely be on the scene until Wednesday to ensure hot spots remain under control, according to the fire department.
CU Boulder said at least 10 students were impacted by the fire. Sophomore Ruger Vinecki said he woke up to flames with no way out.
"So I just immediately went to the back door and started roof hopping across into the neighbors," Vinecki said. "And somebody was actually in their unit, so I went through their patio and out their front door. I was just jumping porch to porch and ran off the roof."
Boulder Police and Fire spokesperson Dionne Waugh said several of the buildings have partially collapsed, making it unsafe for crews to enter. She said determining the cause of the fire could take "a serious amount of time," because fire investigators aren't currently able to enter many of the affected buildings.
"No sprinklers on the outside were going or anything," Arnold said. "It was actually pretty quiet when we came out. All we heard was the yelling and the flames."
The fire department said "Investigators have been able to determine that the complex had working smoke detectors and sprinkler system."
The Red Cross is working to help residents affected by the fire.
"Glad to be alive," Vinecki said. "Worse things could've happened. People could've got injured and stuff."
Fire crews are asking people to avoid the area as they work to knock out hot spots. They said roads in the area will be closed through Tuesday and likely into Wednesday.
The fire department said the complex is a mix of owner-occupied units, long and short-term rentals, and vacant units.
Investigators are asking anyone who lives at the complex or has stayed there in the past and has not yet spoken to police to call Detective Sharon Ramos at 303-441-3323.
Watch Tuesday's full press conference below: