BOULDER, Colo. — Colorado leaders, sports organizations and others were quick to take to Twitter to condemn the violence in wake of an active shooter situation at a grocery store in Boulder.
The shooting happened Tuesday afternoon at the King Soopers near Table Mesa Drive and South Broadway, which is in a busy shopping center around 2 miles from the University of Colorado Boulder campus.
Police confirmed that one Boulder officer was killed as well as nine other people. The officer was identified as 51-year-old Eric Talley, who had been with the Boulder Police Department (BPD) since 2010.
A suspect is in custody, and police no longer believe there is a threat to the public.
President Joe Biden was briefed on the situation on Monday, and addressed the nation on Tuesday.
"The United States Senate should immediately pass, I hope some are listening, should immediately pass the two House passed bills that close loopholes in the background check system," Biden said as he called for tougher gun control laws and to ban assault weapons and high capacity magazines.
Here are some of the Colorado leaders who reacted to the shooting:
Gov. Jared Polis .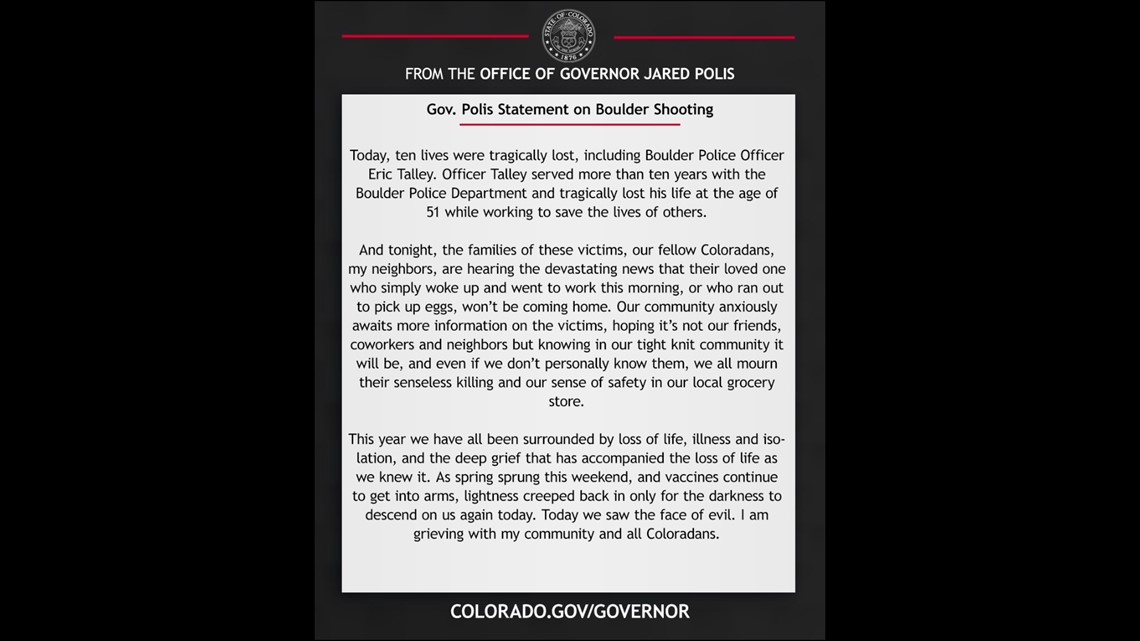 Polis also said the state would provide any resources necessary.
Vice President Kamala Harris
"It's absolutely baffling, it's 10 people going about there day living their lives, not bothering anybody. A police officer who is performing his duties, and with great courage and heroism," Harris in a statement.
Boulder Mayor Sam Weaver
The mayor of Boulder said Biden contacted him on Tuesday to express his condolences and support.
Sen. John Hickenlooper
Sen. Michael Bennet
Rep. Lauren Boebert
Boebert said "random public shootings and senseless acts of violence are never ok" in a statement on Twitter.
Rep. Joe Neguse
The congressman representing Boulder said he is praying for the first responders and law enforcement responding to the "terrible incident."
Rep. Ken Buck
Buck also said he was praying for law enforcement and asked the public to avoid the area.
Rep. Diana Degette
Degette tweeted that more must be done to protect communities from gun violence.
Denver Archbishop Samuel Aquila
Denver's archbishop said he is praying for the victims and first responders.
Aquila also released a statement on the shooting:
"I am deeply saddened by the tragic and sudden deaths of 10 people yesterday afternoon in the shooting at a King Soopers in Boulder. I have been praying for all those impacted by this senseless act of violence and want to express my spiritual closeness to them.
Along with the rest of the community, we are waiting for more details on those who have passed away. We do know that Officer Eric Talley was Catholic, and has been described as a man of character and strong faith, a loving father to seven children, a husband who cared deeply for his family, and a soldier for Christ. My prayers and those of the faithful of the Archdiocese of Denver are with the Talley Family and all who have died.
We also know that Officer Talley regularly stopped by St. Martin de Porres in Boulder and participated in its events, even though he wasn't a parishioner there. For those unfamiliar with the area where the shooting occurred, St. Martin de Porres is just across the street from King Soopers. St. Martin de Porres, the patron of the parish, was someone who experienced tragedy and hardship in his life, and so, we ask for his intercession in these difficult circumstances, that God would bring good out of this great evil.
While we still do not know what led up to this terrible event, incidents like this have become far too common in our country and our state. We must work to promote deeper conversion of hearts so that our lives are characterized by the virtue of charity, which allows us to love God and our neighbor, strengthening the fabric of society and preventing senseless acts of violence such as this one."
State Rep. Tom Sullivan
Sullivan, whose son was one of the 12 people killed in the Aurora theater shooting, said we "must do more" about violence.


Rep. Ed Perlmutter


Rep. Jason Crow
Crow said he again has to explain another mass shooting to his children, and that "we don't need to live like this."
Colorado Attorney General Phil Weiser


Weiser said his office was prepared to assist in any way possible.
Boulder Chamber of Commerce
John Tayer, president and CEO of the Boulder Chamber, released the following statement:
"It has been a whirlwind of shock, sorrow and intense activity since word of an "active shooter" first appeared in text messages yesterday afternoon. As I am sure all of you can relate, when there are moments of community stress, it's an honor to serve in the role at our chambers where we can offer support for businesses, their employees, and local residents. Now is such a time here in Boulder. That said, it is difficult to work amidst bouts of grief, so I want you to know how much I appreciate the thoughtful messages of support and condolences from my fellow chamber directors. Though I can't respond to all of them at this time, please know how thankful I am for the strength your thoughts and words of encouragement give to me and our Boulder Chamber team."
Denver Broncos
Colorado Avalanche
Colorado Rapids
Denver Nuggets
University of Colorado-Boulder