DENVER — The spring storm Friday and Saturday dropped several inches of heavy, wet snow across the Denver metro area and left behind plenty of downed trees and snapped branches in its wake.
For those who are cleaning up their property, and are wondering where to drop off branches and debris, here's a list of some locations. This list will be updated as counties and municipalities announce drop-off sites for snowstorm debris.
Denver
Denver residents only can drop off branches and yard debris for composting at the Cherry Creek Recycling Drop-Off at East Cherry Creek Drive South and Quebec Street:
No branches longer than 4 feet in length or larger than 4 inches in diameter
No pieces or bundles weighing more than 50 pounds
Maximum of 10 branch bundles per week
The facility's drop-off hours are 10 a.m. to 5 p.m. Tuesday through Friday and 9 a.m. to 3 p.m. Saturday.
Arvada
Branches will also be accepted at the city's large item drop-off event from 8 a.m. to 2 p.m. Saturday, June 18, at Stenger Sports Complex, 11200 W. 58th Ave.
Aurora
The City of Aurora is opening a limb drop-off site at Lowry Park. It'll be open 8 a.m. to 8 p.m. daily, Monday, May 23, through Monday, May 30. The site will only collect tree limbs.
The map below shows the drop-off site: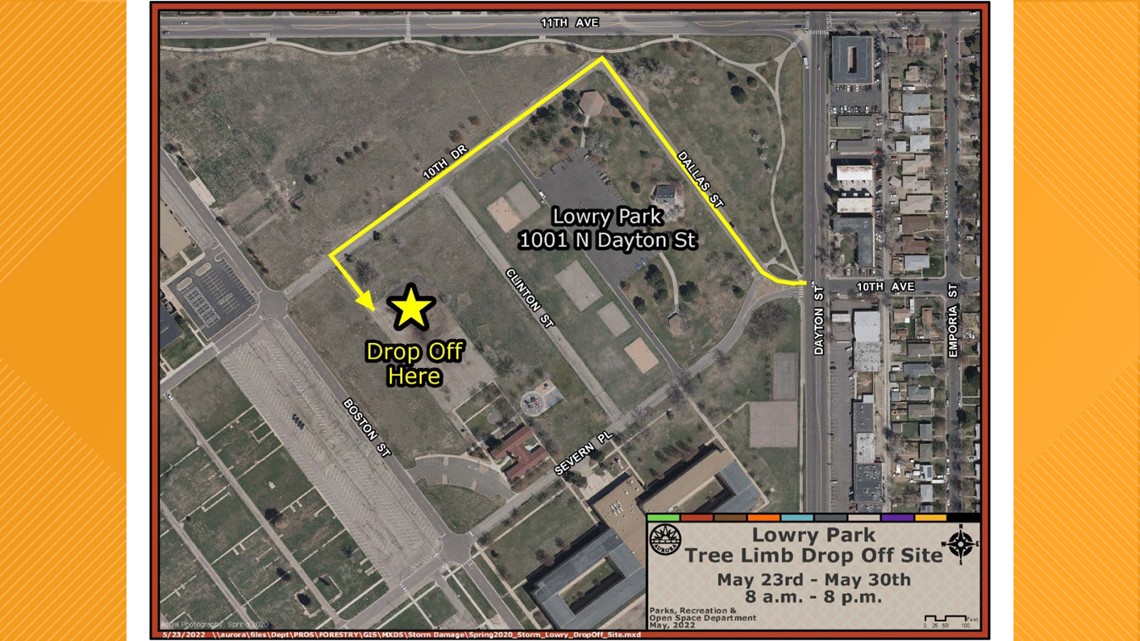 Boulder
Boulder County has several recycling drop-off centers and collection sites that accept wood waste. Click here for the map with information on each of the county's recycling centers and what they accept.
Centennial
Residents in Centennial can take downed limbs to the Eagle Street Facility located at 7272 S. Eagle St. The facility will be open 8 a.m. to 5 p.m. Wednesday, May 25 through Saturday, May 28.
Englewood
The City of Englewood said residents can bring storm-damaged trees to the north side of Centennial Park at 4630 S. Decatur Street.
Golden
The City of Golden opened a tree limb collection point at Golden Gate Canyon Road, just west of Newstar Way. The site will be open for two weeks, the city said. The site will be open during business hours.
Greenwood Village
Greenwood Village officials will begin picking up broken tree branches from residents' curbs or roadways starting on Monday. Residents are asked to cut branches to less than 10 feet. Crews will work through the week and will go through neighborhoods multiple times.
Lakewood
The city of Lakewood said tree limb drop-off at the Jefferson County Fairgrounds in Golden began Monday. Residents can drop off tree limbs from 8:30 a.m. to 4 p.m. at Jefferson County Fairgrounds at 15200 W. Sixth Ave. Drop offs will be available from May 23 to May 28.
Littleton
Residents of Littleton can bring broken limbs to the north end of the Rose Garden located at 5804 S. Bemis St. The site will be open from 3 p.m.-6 p.m. Monday, and from 7 a.m.-7 p.m. Tuesday-Thursday.
The city said curbside pickup of limbs and branches is not available.
Westminster
Westminster residents can drop off their tree limbs at the Westminster Open Space Building located at 10001 Alkire St. The site will be open from Saturday, May 28 to May 29 from 8 a.m. to 12 p.m.
Wheat Ridge
The City of Wheat Ridge held a large limb drop-off Monday at Anderson Park.