COLORADO SPRINGS, Colo. — The person accused of carrying out a deadly attack in November at a Colorado Springs LGBTQ+ nightclub used gay and racial slurs while gaming online and posted an image of a rifle scope trained on a gay pride parade, according to testimony Wednesday in the preliminary hearing in the case.
Anderson Aldrich appeared in El Paso County District Court for the first day of the preliminary hearing, at the end of which a judge will determine whether there's enough evidence to proceed with trial. Prosecutors are also required to present evidence of bias to support the hate crime charges.
Detective Rebecca Joines with Colorado Springs Police Department (CSPD) testified that Aldrich was the administrator for a neo-Nazi website.
She said she believed Aldrich, who is nonbinary and uses they/them pronouns, contemplated livestreaming the Nov. 19 shooting that killed Daniel Aston, Derrick Rump, Ashley Paugh, Kelly Loving and Raymond Green Vance.
Seventeen others suffered gunshot wounds, and five others were injured, but not by gunfire, police said.
CSPD Detective Jason Gasper detailed how he found a black hat in Aldrich's vehicle at the club. A red cellphone was taped to the bill of that hat with duct tape with the camera lens visible, Gasper said. Detective suspect Aldrich planned to use the hate to stream the attack.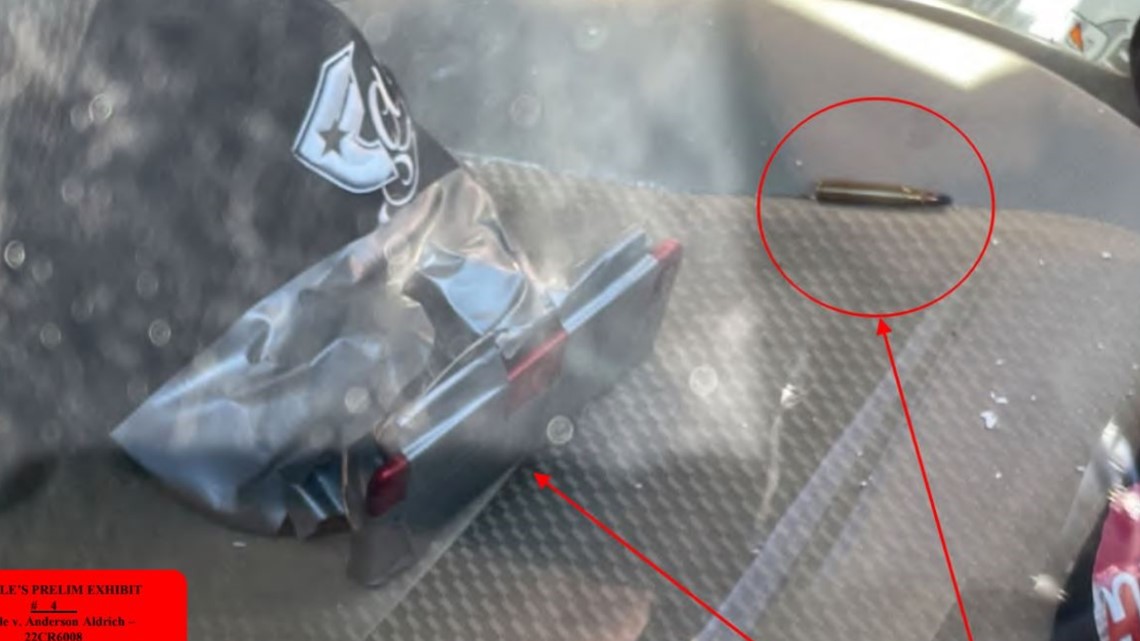 During the hearing, it was revealed that while at the hospital after the shooting, Aldrich said they had been awake for four days and that they were "sorry." They also said they had taken fentanyl, meth, cocaine and Xanax.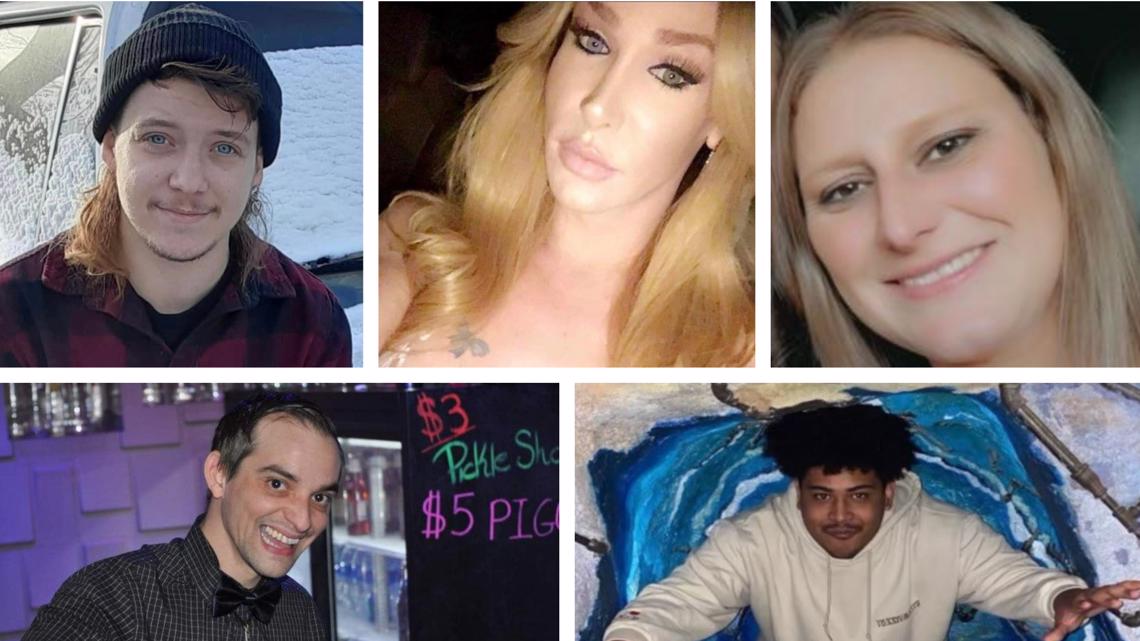 Gasper said his primary job related to the shooting at Club Q was documenting and preserving evidence at the scene.
Gasper described bullet impact strikes throughout the inside of the club and said none were found outside the club. He said six AR-15 magazines were found in the club and that some of them were "heavy," which indicated to him that they still had rounds in them. He said they didn't count those rounds, to avoid destroying any DNA or fingerprint evidence.
He described overturned tables and a glass door leading outside to a smoking area that had been shattered. One victim's body was found near that shattered door, Gasper said. Another investigator testified that a wounded club patron had overturned the table and used it to shield himself and others from gunfire.
The weapons
Gasper also described items that were found inside Aldrich's apartment, which they shared with their mother.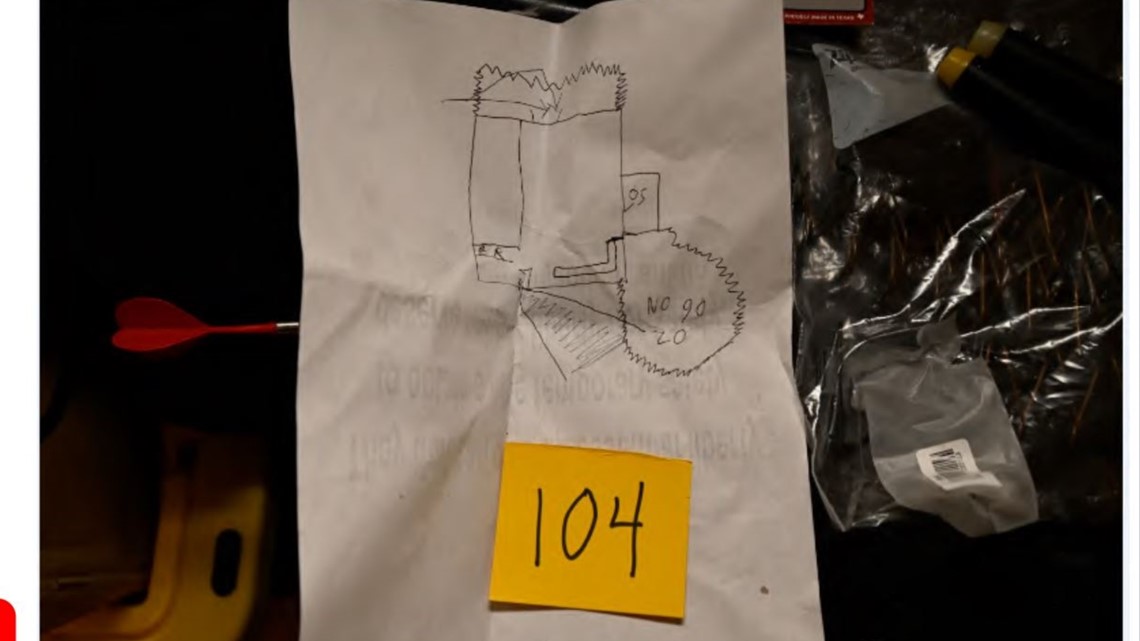 Sketch of Club Q, showing an L-shaped bar, a seating area and a back door
Shooting targets that had small holes in them, which were found in their mom's bedroom
Part of an AR-15-style rifle in a bag
Rounds of ammunition that appeared consistent with rounds fired from an AR-15-style rifle
A black mask, a brown glove, and a knife and knife sheath
Various components used to build weapons
Shotgun shells
Receipts for the purchase of firearms components
On cross-examination, Aldrich's defense pointed out that it was not illegal to have any of those items that were found in the apartment.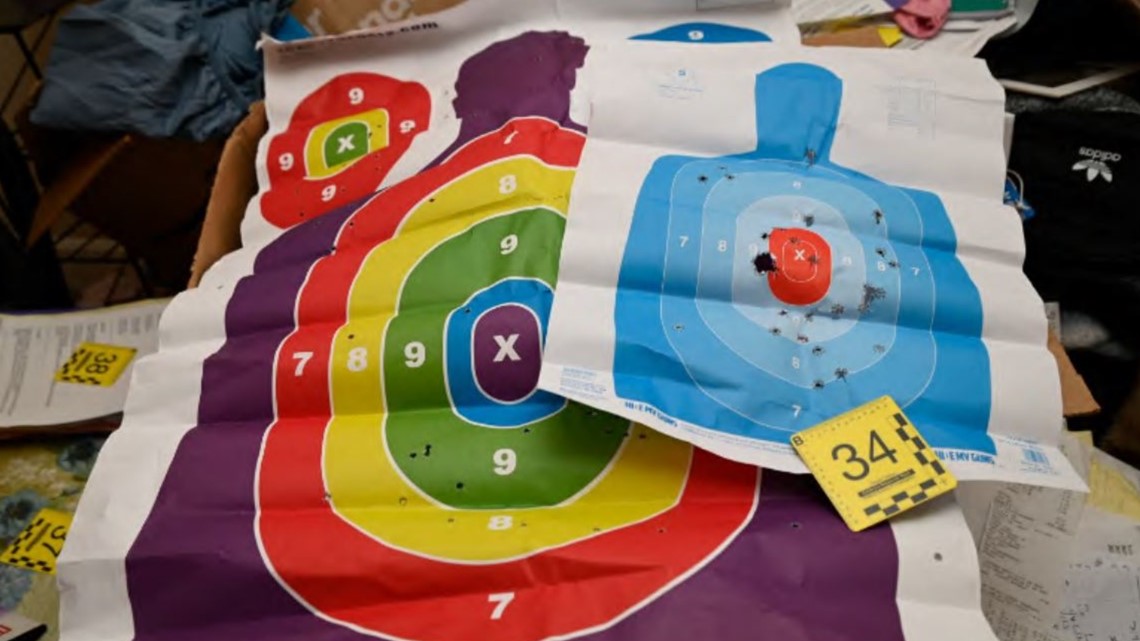 The weapons used in the shooting, an AR-15-style rifle and a 9mm handgun, were "privately manufactured" and would not have been subject to background checks for their purchase, prosecutors said. Investigators were only able to trace the slide of the 9mm weapon to a seller in Florida and determined it was purchased by Aldrich's mother.

Possible motive
Prosecutors contend that Aldrich had previously used derogatory names to describe members of the LGBTQ+ community, including during a June 2020 argument with their apartment manager over mail delivery. Prosecutors also alleged that Aldrich posted a photo to a Discord account that showed a rifle scope over a gay pride parade.
It was also alleged that Aldrich commonly used derogatory terms for members of the LGBTQ+ community while gaming and that they had expressed hatred toward the LGBTQ+ community to a man in Illinois whom they interacted with online.
The defense attempted to cast doubt on whether the shooting was bias-motivated.
Aldrich's attorney noted there was no evidence that Aldrich made any derogatory comments related to the LGBTQ+ community and pointed out that Aldrich is nonbinary. While Gasper said "concerning" writings were found in Aldrich's apartment, he said they did not threaten any specific group of people.

Prior Club Q visits
The defense also showed a photo appearing to show Aldrich having a drink at the bar inside the club Oct. 29. According to a receipt, Rump, a bartender who was killed in the shooting, served Aldrich that night in October.
Prior to the day of the shooting, Aldrich had been to Club Q a total of six times. On one occasion, their mother was there with them. Aldrich's attorney pointed out that there were no issues on any of those prior occasions involving Aldrich.

According to court testimony Wednesday, Aldrich first entered the club on the night of the shooting at 10:14 p.m. but left prior to the shooting. Location data, from an iPhone, indicates they remained outside in the parking lot of Club Q prior to re-entering the club to carry out the shooting at 11:55 p.m.
Prior to the shooting, Aldrich uploaded four videos to a livestreaming platform called Larix Broadcaster. In the first one posted at 9:28 p.m., Aldrich was at their apartment.
Three other videos were posted at 10:05 p.m., 10:49 p.m., and 11:43 p.m. Aldrich was in the parking when those videos were taken, the location data shows.
The night of the shooting
CSPD Officer Connor Wallick was among the first to arrive at the club that night. He testified Wednesday that he was at a mall nearby when he heard the call for the shooting.
"I heard there was active shooting going on," Wallick said. "Heard continuously that the suspect was in the bar and wearing body armor and had an AR-style weapon."
He estimated that he arrived at the scene in about two minutes and did not hear any gunfire. He testified that he encountered two people near the front of the club in a hallway, one of whom was wounded and appeared unresponsive. Wallick said he asked the other person whether she knew where the shooter was, but she was unable to tell him.
He then made his way past them in an effort to try to locate and detain the suspect.
"I hear people screaming and crying in [the club]," he said. "I could smell a lot of gunpowder."
As he got farther inside, he was approached by a person with their hands up who said that the shooter was on the ground with another person on top of them.
Near the bottom of a set of stairs, Wallick said he located a person wearing body armor with another person on top of them holding a gun.
Wallick testified that the person, identified as Aldrich, was bleeding "quite a bit" from their head. He testified that Aldrich said they had been shot and was going to "succumb" to their injuries. Wallick said he thought Aldrich might have been shot in the head due to the amount of blood. It was later determined that Aldrich had not been shot.
Aldrich also told Wallick they needed to "get that guy," as they motioned toward the person who had been on top of them. According to Wallck, Aldrich claimed that person was the shooter.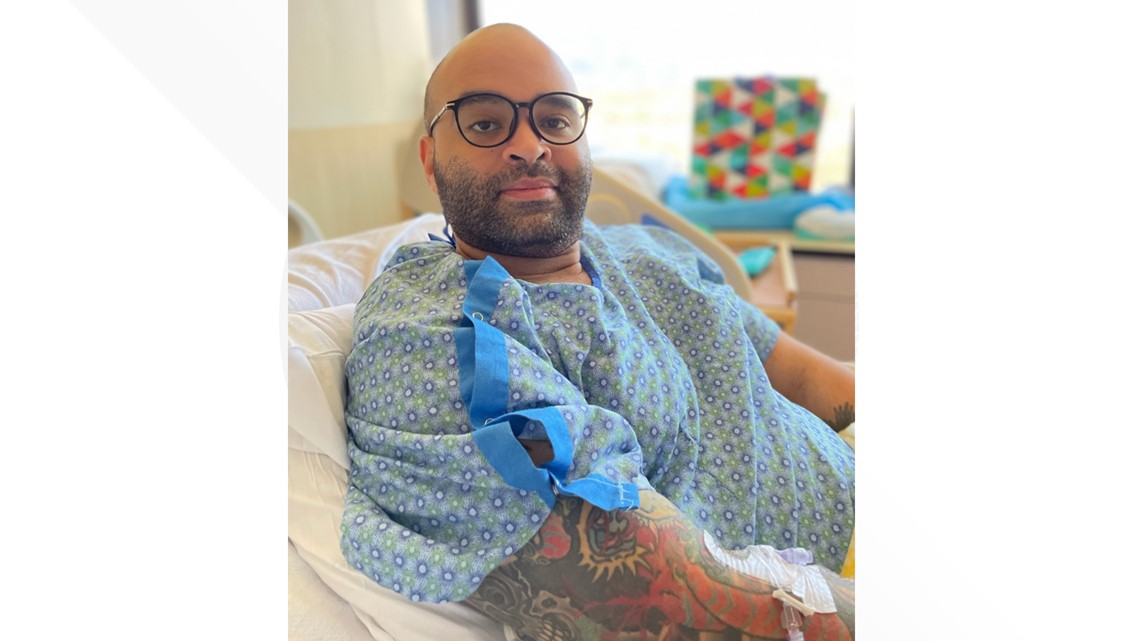 That guy was Thomas James, and according to court testimony, he first tried to grab a metal bucket to help subdue Aldrich. He eventually went up to the shooter and grabbed the barrel of the AR-15-style weapon, which resulted in blisters on his hand from the heat.
James and Aldrich fought over that gun and fell down a few stairs to a landing. During that struggle, Gardner testified that Aldrich pulled out a handgun and James was shot twice.
Gardner said it was obvious that James was "very winded" and didn't have much energy, but still "continued to subdue the suspect until police arrived."
James and Richard Fierro helped stop the attack by subduing the suspect. Fierro's daughter broke her kneecap when she fell as she attempted to flee the club, according to court testimony. Her boyfriend, Raymond Green Vance, was among those killed.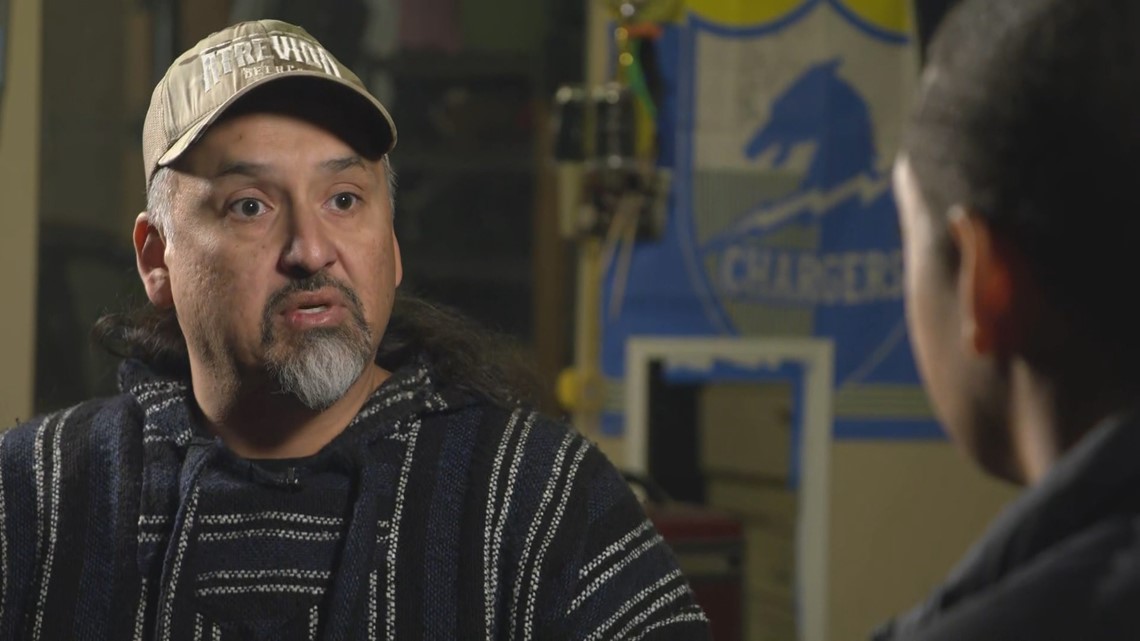 Fierro, who had initially been seated on a corner of the dance floor, saw that struggle and went over to assist.
"As I recall Mr. Fierro grabbed the initial firearm that was used and threw the firearm," Gardner said.
At some point, Fierro began beating Aldrich with a firearm.
"He said something to the effect of, 'I kept hitting him until you came,'" Gardner said.
Day 2 of the preliminary hearing is set to begin at 9 a.m. Thursday.