DENVER — From the backyard of a property in Denver, Tommy Nahulu is painting what he knows and loves.
"Any chance I get to paint and share the Aloha, I do that," Nahulu said, "My being Hawaiian, I love dabbling in Hawaiian themes. My memories of taking hikes, seeing birds of paradise, ginger, waterfalls."
It's a mural he was commissioned to paint weeks ago.
Before the deadly fire destroyed parts of the same home he used as inspiration. And before the woman featured in his painting was in very real danger back home.
"This person who is full of aloha is truly someone who lives and breathes, it happens to be my cousin," Nahulu said, referencing the inspiration for the woman in his mural, his cousin, Maile.
"I actually put her on this [mural] a month ago. It's ironic coming today to be here, have her be on this as someone who got to survive this awful fire," he said. "Her story of what happened in Lahaina gives this whole mural a whole different story, a different meaning."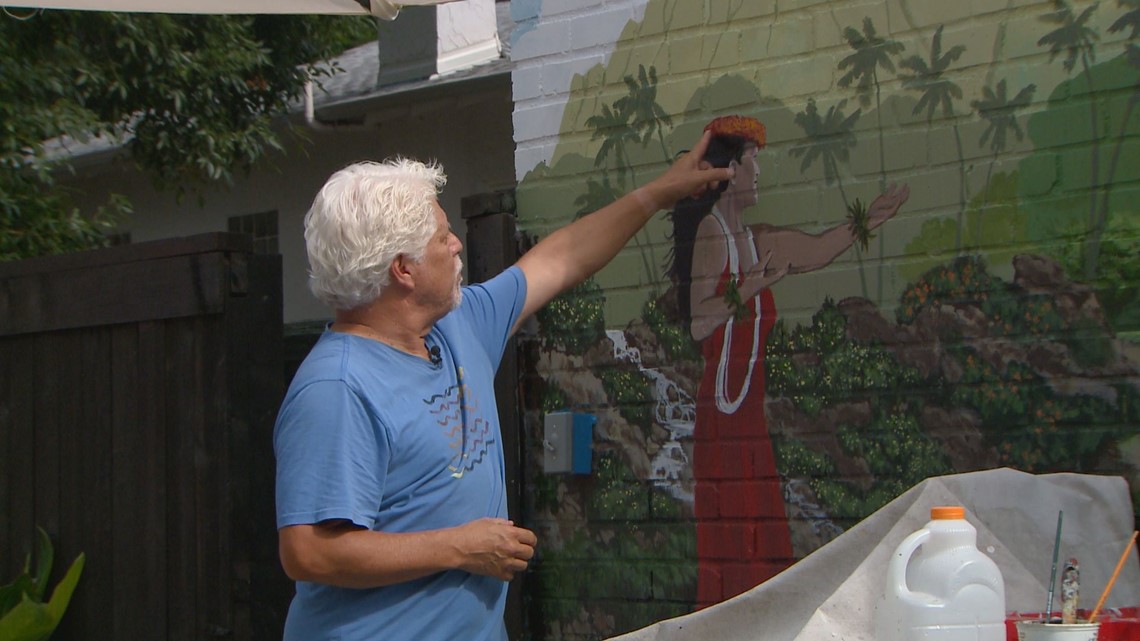 Nahulu said his sister called him earlier this week, after early reports about the fire spreading in his home state. He learned his cousin and her children had evacuated their city of Lahaina.
"She lives in a place built of wood and I just became instantly concerned. I didn't realize until I tried reaching her – cell service was down," he said. When he couldn't reach her, he grew more and more worried and even posted on social media, hoping someone back in Hawaii would have better information. Eventually, he got the call he was waiting for.
"She ended up calling me, 'Tommy, I'm sorry. I finally got to a place, I'm staying with friends now. I finally got service and I'm calling you first. I'm here to let you know that I'm ok,'" he said. "I was elated, I saw she called. I stopped everything. It was just a huge relief."
Mark Slattery has also been monitoring his phone closely. For decades, he and his wife have split their time between Colorado and Maui – raising kids on the island and building careers there.
"It's heartbreaking, there's no way to describe it," he said of the fires.
Slattery's home is near, but not in the path of the fires. His son is still on the island right now, where he works for a local college.
"When I looked at aerial photos, one of the most heartbreaking things is the fire in the residential areas is concentrated around old Pioneer Mill, the main employer back in the day... Some of those houses are 70-90 years old, whole families have grown up there," he said.
"To see them gone, makes you sick."
While Slattery is grateful that his family and property are ok, he knows his greater Hawaiian community – is not.
"We have this spirit, 'ohana.' And, it's family," he said. "A lot of the family is really hurting. And I'm talking to my wife, Red Cross wanted 400 volunteers. I may, next week if I can do it, I may jump on a plane and go back and help."
Slattery can't help but notice some of the similarities between the fires in Maui, and the Marshall Fire that devastated homes in Colorado.
"Many of those people are not yet back in their homes," he pointed out – a point he shared with his contacts in Hawaii. "It's the 'what do we do now' that's going to be the problem."
"One thing about the Hawaiians… they're very resilient," Nahulu said.
"They have dealt with bad things, dealt with disasters, tragedy. As a people, they're very ohana-oriented. Very about family."