DENVER — In 2021, Colorado recorded its highest number of domestic violence-related deaths since a state board began tracking them in 2016.
In a 47-page report released Friday, the Fatality Review Board said there were 61 cases where at least one person died in a domestic violence situation, and a total of 91 people died. At least 45 victims were killed by their intimate partners, 14 were collateral victims and 32 people were the perpetrators, the report says.
The 91 people killed was the highest number of domestic violence fatalities in Colorado since the review board was created in 2017. The report states the number of fatalities is one-and-a-half times the average number of domestic violence fatalities over six years of data collection.
"Devastated. It feels like a very obvious term, but it's true," Natasha Adler, an intake coordinator with SafeHouse Denver, said.
From a professional standpoint, the numbers don't surprise Adler. They fall in line with what SafeHouse, a domestic violence survivor support group, has been seeing.
"Our referrals have actually gone down a little bit since last year, but our crisis line calls are up and also our client contacts have increased as well," she said. "It can be a little discouraging to see such high numbers like that, but it's almost motivating too, like what can we do better?"
Adler believes the increase in domestic-related deaths is due to a number of factors, including access to guns and ripple effects from the pandemic, such as the housing crisis.
"People don't know where to go, they can't afford to go, so I think there's a lot of aspects that kind of trickled down from that pandemic," she said.
Democratic Attorney General Phil Weiser also said the reasons "why" included the challenging pandemic years.
"We are reeling as a society," he said. "A lot of mental health is in less-good shape -- a lot less connectivity, socially. So people were not in the same position they used to be to see something happening and take action."
The report says about 81% of deaths in 2021 resulted from firearms, including all 14 collateral victims, which included four children. Domestic violence perpetrators with access to guns are five to eight times more likely to kill their victims than those without firearms, according to the report.
"Every tragedy begs the question – what could we have done to save lives?" Weiser said. "We've lost people and families have been destroyed. Where maybe, if we thought, had we removed a firearm earlier, maybe we could have saved a life."
Two factors that were leading causes of domestic violence fatalities were pending legal action against the perpetrator for previous domestic violence instances, and the imminent separation of the couple.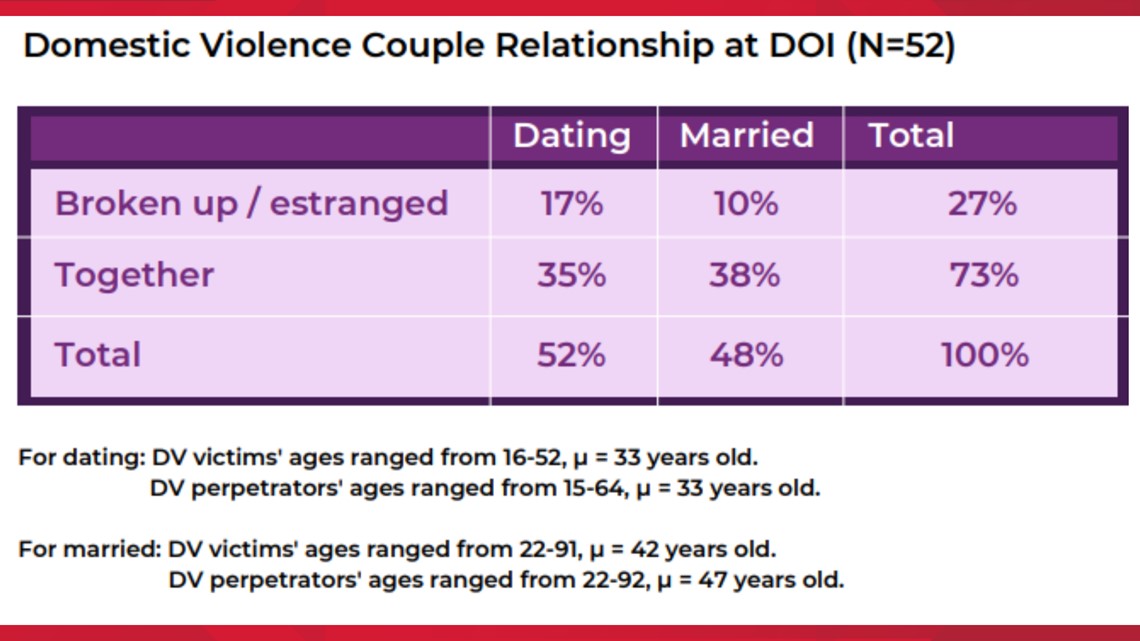 "We must continue to act decisively to reduce the number of people killed due to domestic violence." said Weiser said in an emailed statement. "We can do so by continuing to limit domestic violence perpetrators' access to firearms, increasing judicial training, and offering added resources for advocates and law enforcement. We are committed to working collaboratively with our partners to prevent domestic violence fatalities and the related trauma that tragically impacts family members, friends, and our communities."
The review board recommended the following to lower domestic violence deaths:
Expand domestic violence training opportunities for judicial officers: Judicial officers are in a unique position to intervene and respond to domestic violence. The prevalence of domestic violence issues in the courts presents an important opportunity for judges to act in a trauma-informed manner and to make evidence-based decisions, ultimately leading to better outcomes for victims while assuring public safety.
Invest in diversity, equity, and inclusion efforts that improve the response to domestic violence statewide. Due to unequal access to services and resources, the board recommends that the Colorado General Assembly appropriate necessary funds to support recruitment and retention at the agencies and organizations that provide initial response functions to domestic violence, with a particular focus on encouraging efforts to recruit and retain individuals with diverse backgrounds. This is a critical step in creating greater trust between providers of initial response functions and victims of domestic violence.
Invest in strategies that ensure firearm relinquishment that can improve victim, officer, and public safety. One tool critical to stopping gun violence toward intimate partners and the community at-large is firearm relinquishment statutes, yet firearm relinquishment does not always occur. The board recommends greater investment in strategies to enforce existing laws which can improve victim, officer, and public safety and that the Legislature provide funding to jurisdictions to support firearm relinquishment strategies.
Below is a list of resources for victims and survivors experiencing domestic violence.