SILVERTON, Colo. — Rescue crews have recovered three backcountry skiers who were fully buried in an avalanche Monday between the towns of Silverton and Ophir, according to officials.
Those skiers were identified by Eagle County and the Town of Eagle on Wednesday as Seth Bossung, Andy Jessen and Adam Palmer.
Jessen was Eagle's mayor pro tem. The town's mayor, Scott Turnipseed remembered him as a forward thinker, and a great guy who always had good questions. Jessen was also a co-founder of Bonfire Brewing in Eagle.
Palmer had recently joined the town council as well.
"Everyone loved Adam," Turnipseed said. "I tried to convince him to join the council for years and he finally did in April."
Palmer also worked for Eagle County for the better part of two decades, serving as the director of the county's Sustainable Communities Program, with Bossung on his team.
"He brought to life and brought an awareness to our valley about climate change and resiliency," Eagle County Manager Jeff Shroll said.
Palmer helped lead economic recovery efforts for businesses during the pandemic, helping them with grants.
"All of them had such a great mind for what's good for the community," Shroll said. "The two that worked for me were just incredibly reliable with a deep passion for what they were doing."
He remembered them as fun to be around, and great outdoorsman.
"If you have a vision of what you think life's like up here, they were it," Shroll said. "It doesn't matter what the weather is - they have a hobby to do outside 12 months out of the year."
Gov. Jared Polis (D-Colorado) offered his condolences to the families and friends of the avalanche victims.
"Those tragically lost in this avalanche were pillars of their community, public servants and friends to many," said Polis. "My thoughts are with their families, friends, and the Eagle County community during what must be a heart-wrenching and unimaginable moment."
Searchers said the skiers were wearing beacons that helped recovery crews locate where they were buried under more than 20 feet of avalanche debris. A snowcat was also brought in to remove 12-foot-high avalanche debris from the road.
Because of the rugged terrain and avalanche debris, crews will have to use a helicopter to remove the victims from the area.
Wednesday's weather was too adverse for a helicopter operation and officials said when weather permits they will complete the recovery mission.
The San Juan County Office of Emergency Management asked the public to continue to avoid the Ophir Pass area because of the high avalanche danger.
Eagle County issued a statement after confirming the identity of the victims and reads, in part:
"Eagle County Government and the Town of Eagle are joining the community in mourning the loss of three friends and leaders....
Our hearts are heavy with the loss of these three men. Their contributions through their work in local government and local businesses, as well as their personal passions and their impact on the friends and family members they leave behind, have helped shape the community in ways that will be forever lasting. Every single one of us in both of our organizations has learned by their examples, and we are grateful to be able to call them colleagues."
Bossung, Jessen, Palmer and a fourth skier triggered the avalanche Monday in the area known as The Nose, according to the Colorado Avalanche Information Center (CAIC). The avalanche was on a northeast-facing slope near treeline at 11,500 feet.
All four skiers were caught, carried and fully buried in the debris, CAIC said. One of the skiers, who has not been identified, was rescued with minor injuries. As of Tuesday morning, the other three were still missing, according to CAIC.
The U.S. Forest Service said Wednesday's temporary closure includes the area east of the town of Ophir, and the entire Ophir Recreation Area including the Ophir Pass turnoff from U.S. Route 550 where search and rescue operations are staging. Ophir Pass Road (NFSR 679), the backcountry road connecting Silverton and Ophir pass, is also closed and recreators are asked to avoid entering the area via backcountry routes as well.
The search and rescue recovery mission resumed early Wednesday morning following Tuesday's "operational hiatus due to considerable avalanche risk and unstable snowpack," the Forest Service said.
> Video above: South Mountain Ranch offering avalanche safety courses.
Agencies participating in the search and rescue operation were San Juan County Sheriff's Office, San Juan County Search and Rescue, Silverton Medical Rescue, CAIC, Helitrax helicopter service and La Plata Search and Rescue.
Avalanche danger was considerable in most of Colorado's central and southern mountains, CAIC said. An individual could easily trigger an avalanche on steep northerly and easterly slopes, even from a long distance away or from below, according to the avalanche center.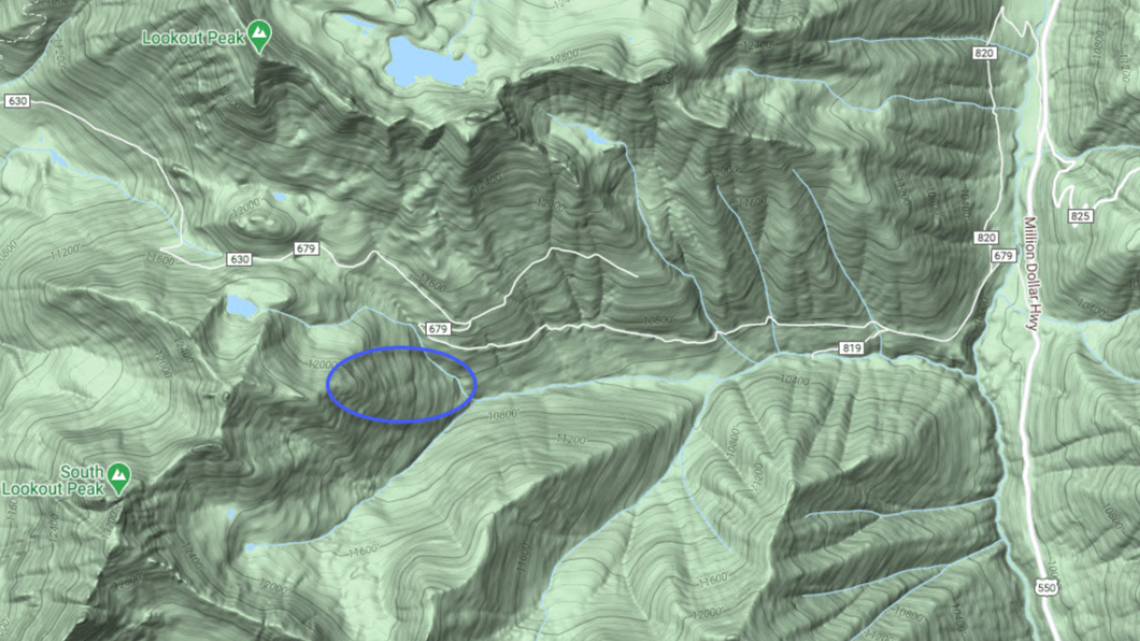 So far this season, a total of 10 skiers, snowboarders and snowmobilers have been caught in avalanches in Colorado. Eight of them were buried, and four people have died, according to CAIC.
Avalanches with fatalities this season were:
1 backcountry skier on Dec. 26 north of Berthoud Pass
2 backcountry skiers on Dec. 19 southeast of Ophir
1 backcountry skier on Dec. 18 near Ohio Pass in the Anthracite Range