DENVER — Several city government buildings in Denver will be closed or operating on modified schedules next week in anticipation of possible violent demonstrations at the state Capitol around Inauguration Day.
>> Video above: Denver law enforcement prepares after FBI warns of armed marches
According to a release from the city, buildings closed on Wednesday, Jan. 20 and Thursday, Jan 21 include the City and County Building, the Webb Municipal Building, the McNichols Building, the Elections Division, Minoru Yasui Plaza, the Police Administration Building, the Downtown Detention Center and the Lindsey-Flanigan Courthouse. Those buildings will operate on an 8 a.m. to 2 p.m. schedule on Tuesday, Jan. 19 and Friday, Jan. 22.
The release said all other city facilities, with the exception of Denver International Airport, will operate from 8 a.m. to 2 p.m. from Tuesday through Friday.
Street parking around the Webb Municipal Building will be restricted, according to the release. Members of the public entering city facilities during the week should expect additional security measures to be in place including fencing, screenings and adjusted hours at some city facilities.
The precautions are being taken to ensure the safety of city employees and the general public, the release said.
People who need to do business with the Denver County Court or Denver District Court next should contact those organizations for their operations schedules, the release said.
The FBI has warned law enforcement agencies across the country of possible armed protests at all 50 state capitols and in Washington, D.C. in the coming week related to the inauguration of President-elect Joe Biden.
PROTECTING PROPERTY DOWNTOWN
"We have received some calls of people that live close to the [state] Capitol that are concerned that there might be issues around the inauguration," said Colorado State Patrol (CSP) Master Trooper Gary Cutler.
State troopers are responsible for protecting life and property in and around Colorado's Capitol in downtown Denver.
In July, Denver's Manager of Safety issued CSP a "limited delegation of authority to enforce specific ordinances of the city and county of Denver."
That designation was extended indefinitely and is still in place.
State troopers can issue citations and arrest for 24 city violations, including:
Destruction of public or private property
Assault
Trespass
Dangerous or deadly weapons
Throwing stones or missiles
Assault weapons
"We're not saying there are going to be any problems, but with we had had happen in the [U.S.] Capitol, then go ahead and just make sure you take precautions during this time," Cutler said to residents near the state Capitol.
The United States Postal Service announced three postal facilities will have reduced hours on Saturday.
The Capitol Hill station at 1541 N. Marion St. will be open 9:30 a.m. to noon.
The Mile High station at 450 W. 14th Ave. will also be open 9:30 a.m. to noon.
The Denver Downtown station at 951 20th St. will be open 9:00 to noon.
The postal service will also temporarily remove nearly 20 blue collection boxes "as a security measure to protect the mail and the public."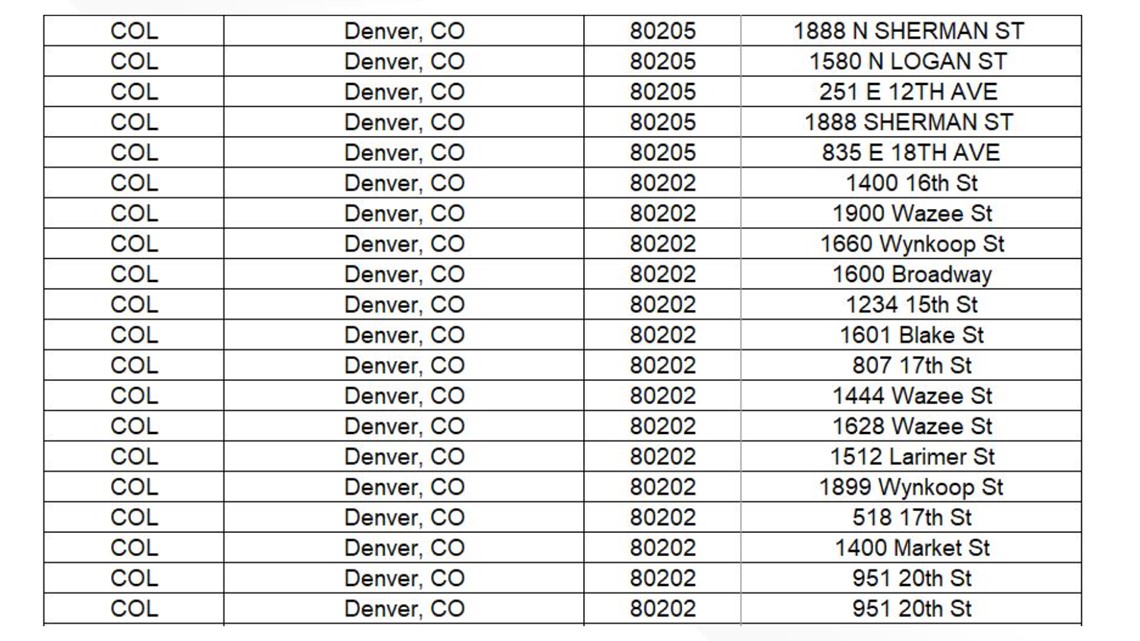 "We always do a risk assessment and analysis," said Denver Safety Manager Murphy Robinson. "Things like Post Office boxes or things like the [Civic Center Station] rocks from earlier this summer, are things that we can do to proactively mitigate those risks."
Robinson said no downtown roads are closed, but that could change if his department receives new intel.
He said each event is looked at uniquely, and how the city responds to anything that happens over the next few days isn't necessarily a result of complaints about this summer's police response or the after-action report completed by Denver's Independent Monitor.
"There is not a book of responses that you have that say this is the only way that you respond, you have to take every situation and look at it for what it is," said Robinson.
Just as there may have been on-duty officers who supported the message being delivered during Black Lives Matter protests this summer, Robinson said he is not concerned about on-duty officers who support armed marches at the Capitol.
"We just ask the officers to do their jobs. I am a Black life. I am sympathetic to everything that was talked about this summer. However, my job was to make sure the people of Denver remain safe. And so, it is no different here. We are asking all officers, all personnel that are involved here, just do their jobs," said Robinson.