DENVER — The loud boom shook windows and rattled walls throughout the neighborhood near Washington Park on Thursday night, and Adam Landmark said he knew exactly what had happened even before he rushed outside.
"I knew the sound of it from experience," Landmark said during an interview in front of a pile of rubble on South Lincoln Street near East Virginia Avenue.
The pile of brick and wood used to be a home – until it blew up with several people and two dogs inside just after 6 p.m. Thursday.
Landmark said he ran over and pulled two men from the rubble, and then a crowd began to form. He said he urged the crowd to quiet down so he could hear other potential victims.
"We heard a woman crying for help," he said. "We couldn't see her because of the smoke. We know she had a dog."
Everyone survived the explosion except for one of the dogs, according to the Denver Fire Department.
Call it fate or a remarkable coincidence, but Landmark and his girlfriend survived a home explosion in 2018 at Santa Fe Drive and West 3rd Avenue, about a mile and a half away.
In that case, a handyman was convicted of attempted murder. Prosecutors said Todd Perkins intentionally blew up the building in retaliation for being fired.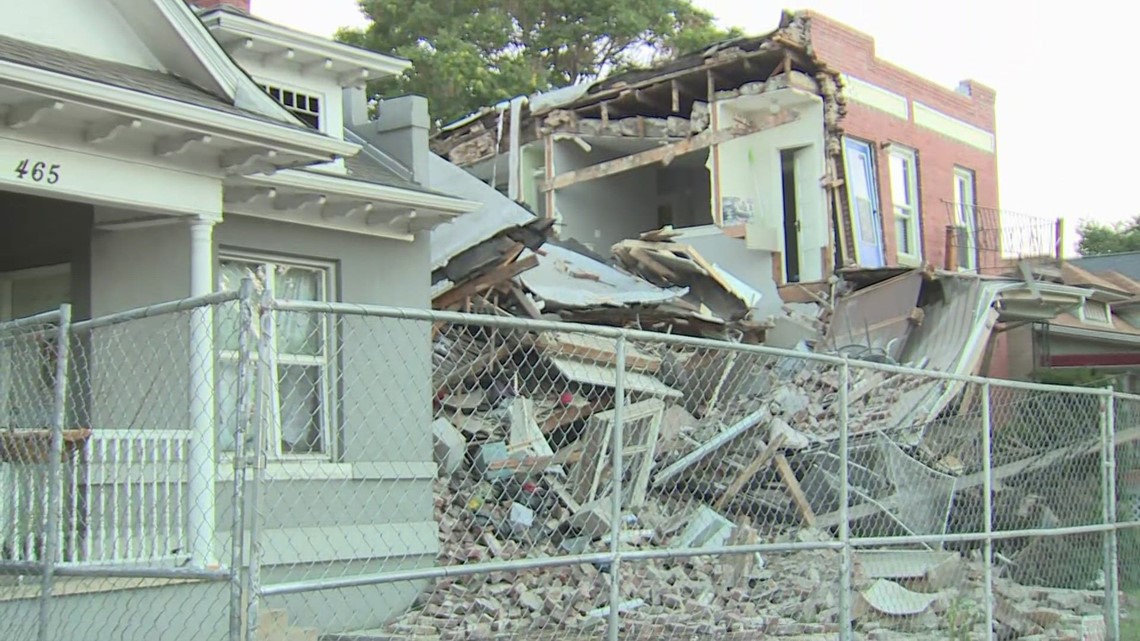 Landmark said Thursday's explosion resurfaced many hard memories from 2018.
"It's extremely tough for me right now," he said. "I'm dealing with a lot of emotions. The smell. The sound. The sheer optics of everything is awful."
9NEWS confirmed Landmark's story through media reports in 2018 that mentioned his name and showed his image at the scene.
A spokesperson for the Denver Fire Department said natural gas is the likely cause of the explosion on South Lincoln Street, but investigators will have to sift through the rubble to find the ignition point.
If you have any information about this story or would like to send a news tip, you can contact jeremy@9news.com.
9NEWS+ has multiple live daily shows including 9NEWS Mornings, Next with Kyle Clark and 9NEWS+ Daily, an original streaming program. 9NEWS+ is where you can watch live breaking news, weather updates, and press conferences. You can also replay recent newscasts and find videos on demand of our top stories, local politics, investigations and Colorado specific features.