DENVER — The population of people experiencing homelessness in the greater metro Denver area increased by nearly 800 people (12.8%) since January 2020, preliminary data show.
There were 6,888 people counted, up from 6,104 counted in 2020. The region did not conduct a count of individuals staying outdoors in 2021 due to safety concerns related to COVID-19.
"The count captures homelessness nationally on a single night in January and showed an overall increase of 784 individuals regionally from pre-pandemic levels," MDHI said in a release.
"The Point-in-Time is a snapshot of homelessness on a single night with numerous variables such as weather, count participation, volunteer engagement, and a variety of other factors," said Dr. Jamie Rife, MDHI's executive director. "While this count can help us understand homelessness on a single night, getting to a place where we have comprehensive, real-time data regionally is the ultimate goal."
Within the total count, the survey found unsheltered homelessness increased the most from 1,561 in 2020 to 2,073 individuals staying outdoors in 2022.
"It says we probably don't have enough appropriate shelter spaces for folks to go into and so they're choosing to stay outside," said Cathy Alderman, the chief communications and public policy officer for the Colorado Coalition for the Homeless. "But mostly what it says to us is we're just not making the right investments in affordable housing for those at the lowest income and who need it the most."
Alderman believes the state has an opportunity with the infusion of funds from the American Rescue Plan Act. The state has allocated $400 million to affordable housing and $200 million to homelessness resolution.
"This will be some of the biggest investments the state has ever made in housing and homelessness," she said. "So we should start seeing things change over the years, but what we can't do is spend that money and then stop, because we're so far behind the eight ball in terms of having more affordable housing come online for those living at the lowest income."
The point in time count took place in Adams, Arapahoe, Boulder, Broomfield, Denver, Douglas and Jefferson counties. The totals broken down by county are below: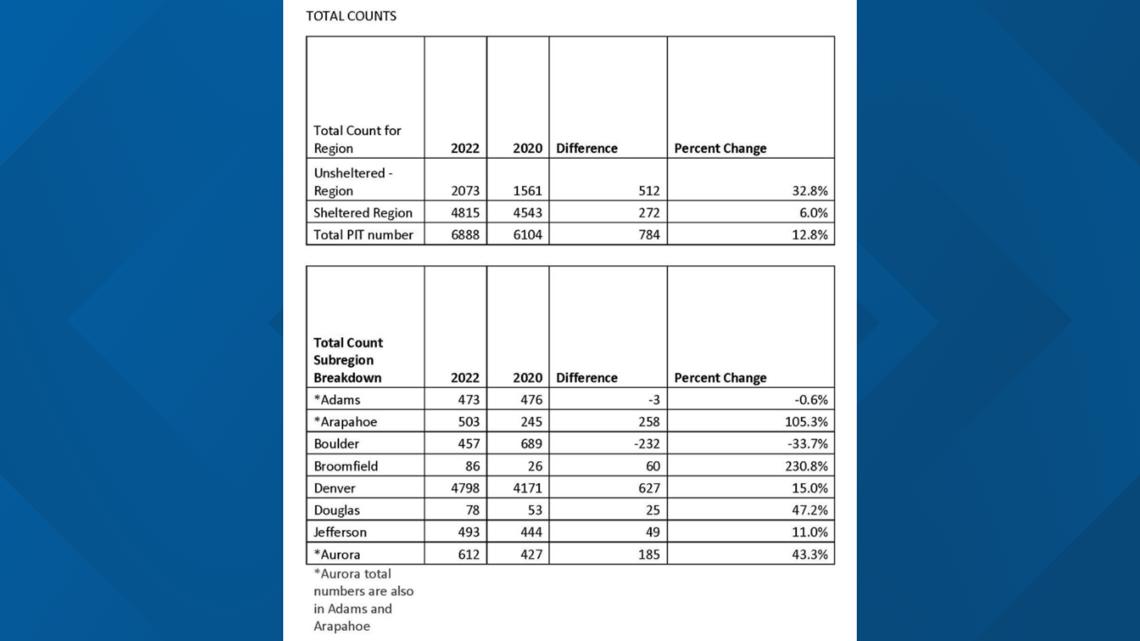 The number of individuals staying in shelter remained fairly consistent between 2020 (4,534) and 2022 (4,815). A bigger increase was observed in the unsheltered population from pre-pandemic levels in 2020 (1,561) to 2022 (2,073). The sheltered and unsheltered counts broken down by county are below:

"We are awaiting HUD's verification of the region's demographic data before releasing further information, but for planning purposes, it is important to share the overall sheltered and unsheltered count for the region," Rife said.
MDHI said the region has also made efforts to decrease its reliance on the one-night count.
"Instead, providers, municipalities and others are working together to improve participation with the region's Homeless Management Information System (HMIS) to make data accessible each day on those experiencing homelessness," MDHI said.
Outreach teams across the seven-county metro Denver region increased their usage of HMIS in 2022 to help provide a better real-time understanding of people living outdoors, and to assist in connecting clients to services and housing.
"While the region was able to locate and count 6,888 individuals on a single night experiencing homelessness, the HMIS allows us to see this number is closer 31,000 throughout the course of the year," said Rife. "This data highlights the dynamic nature of homelessness and the importance of real-time data to allow the region to coordinate effectively and allocate resources efficiently."