Folks in the Montbello neighborhood will go to bed to an unpleasant sound Wednesday evening -- gunfire, though the shots will be coming from the guns of Denver Police Officers, as part of a test of the department's Shot Spotter system.
"We're going to be at three different locations. The neighborhoods have already been fliered, letting them know there'll be live fire. We use our SWAT team and we take a lot of precautions to protect the neighborhood," said Lt. Aaron Sanchez. "They'll hear a series of gunshots. We'll start out with a single shot from several different types of weapons and then a series of shots, just to make sure our sensors are detecting accurately."
The test will begin at 8 p.m. in three phases, each lasting about 45 minutes.
Shot Spotter is a system that DPD's been using since early 2015. It captures and triangulates the sound of gunfire and pinpoints the location of where a gun went off to within 25 feet.
"The program's been extremely effective," Sanchez said. "We've since expanded into west and north Denver."
Since its inception in Denver, Sanchez says Shot Spotter has helped officers tremendously.
It has led officers to at least 50 arrests, 29 thus far in 2016, according to Denver Police.
Shot Spotter guides officers to evidence that wasn't always recoverable before the program started because most shootings are never reported, and the ones that are come from witnesses whose reports aren't always reliable.
"Sixty percent of shots fired in Denver goes without any notification to the police, so generally neighbors in certain parts of town are hearing gun shots and they're just not reporting it or they're thinking the neighbors are reporting it," Sanchez said. "So with Shot Spotter, the cops are getting notified within 40 seconds of the gun shots and responding to within 25 feet of the actual crime scene. Another effective tool is that when people do call in 'shots fired,' they're generally, more often than not, about a block off from where the actual crime scene is."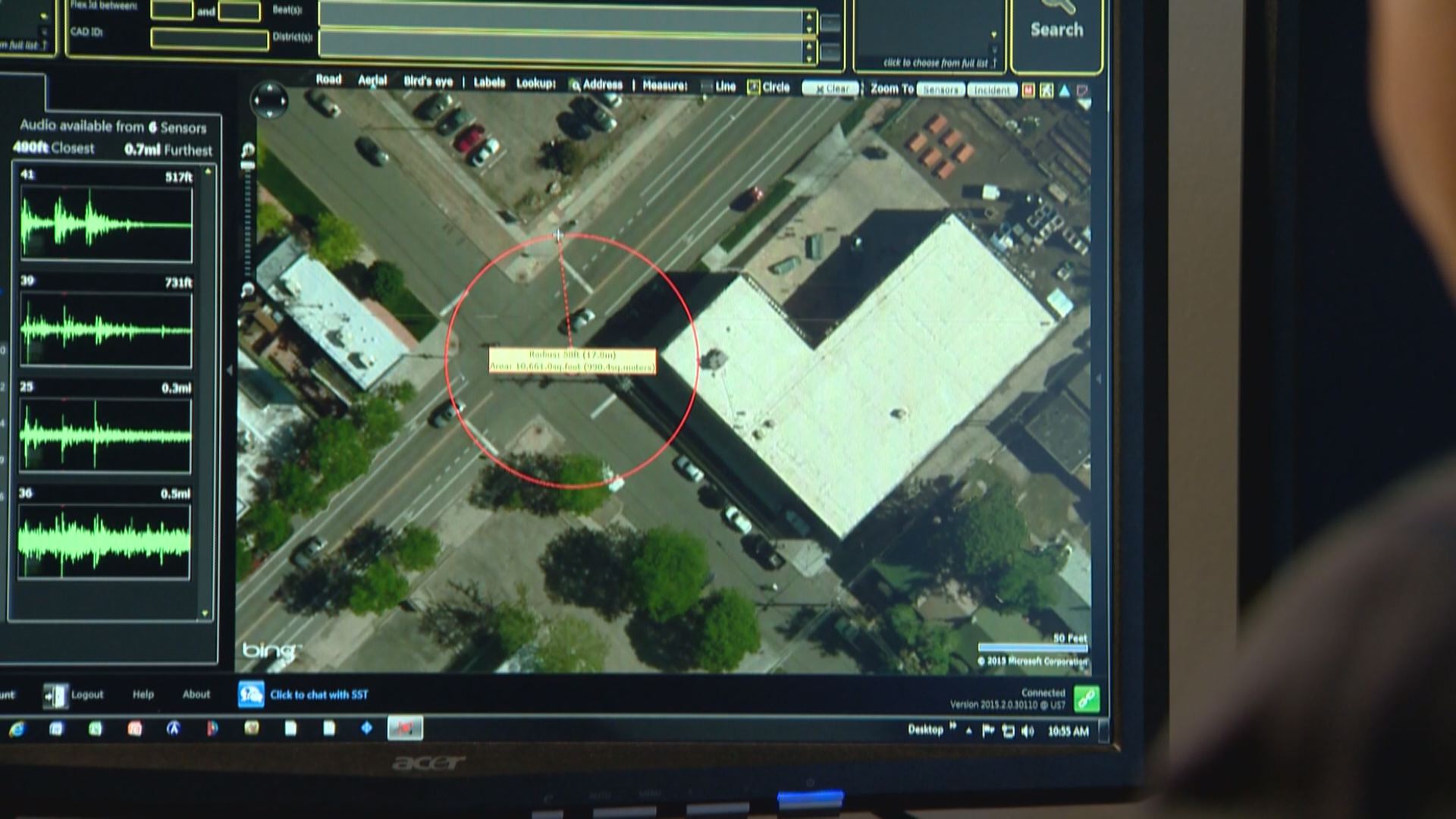 Additionally, 51 percent of arrests at or near the crime scene were due to ShotSpotter in 2015. Half of the guns recovered at or near the crime scene in 2015 were also due to ShotSpotter.
"So what we're looking for are victims, suspects and evidence. So obviously, when shots are fired, more often than not, the suspects are leaving. But with that being said, if there's a victim -- if they're critically injured, they could still be on scene," Sanchez said. "And also the gathering of the evidence, which in conjunction with the Crime Gun Intelligence Center and then other networks, we're able to solve many more crimes. ... Statistically, they're showing that about 74 percent of the time, the cops would have never even found the crime scene or the casings."
Denver has placed and continues to expand Shot Spotter in areas of the city with the highest volume of shootings.
The retrieval of evidence helps Denver Police and its partners, such as the Bureau of Alcohol, Tobacco, Firearms and Explosives, solve cases more quickly and effectively than before.
"The benefits of Shot Spotter are two-fold. You have the officers on the street who are able to respond quicker to shots fired calls. And then on the back end, it benefits ATF and our partners at DPD on the investigative side," said Chris Amon, ATF agent. "So even if you don't catch anybody on the scene, there's no suspect found on the scene, we'll take the ballistics evidence -- the shell casings -- enter them into National Integrated Ballistic Information Network (NIBIN) and, often times, leads will be generated and then the group here at ATF working with DPD will investigate those leads."
The ATF funded Denver's first year using the program, which is now funded by DPD itself.
"It's part of the bigger picture of what we call crime gun intelligence. So you have shot spotter, NIBIN and investigative follow up. It's kind of a three-prong approach we have," Amon said. "An important statistic you'll find out about is if not for shot spotter, and that means had it not been for shot spotter, would we have recovered this evidence? What you'll find is there's not a corresponding 911 call. And we've had cases where there was no 911 call, evidence is recovered, entered into NIBIN, gave us a key lead that enabled us to investigate other cases and solve crime."