DENVER — More than 30 schools within Denver Public Schools (DPS) will shift their classroom schedules over the coming days to keep children out of hot classrooms during the forecasted extreme heat.
Some schools without air conditioning will have early-release "Heat Days" Wednesday and Thursday, sending students home early before the afternoon heat sets in. Three schools will close entirely.
As students left McAuliffe Middle School around 1:30 Tuesday, it was as hot outside as it was in the classroom. Administrators warned it could reach 90 degrees on the third floor of the building.
"I sweat like everywhere," seventh grader Zmarra Fleming said after school let out. "It was hard to concentrate. It was really hard to concentrate."
DPS was supposed to install air conditioning at McAuliffe and nine other schools over the summer, but the district's facilities manager, Trena Marsal, said global supply chain disruptions interfered.
"It's very frustrating, and we are doing everything we can to ensure that projects are completed," Marsal said. "We do work with our vendors to possibly come in at night once we receive that equipment to make sure we can get the buildings up and running."
Marsal said the district deploys portable air conditioning units and fans in rooms without air conditioning. At night, she said, they do a "purge" of the warm air inside the building and try to suck in cooler air through open windows.
"We're just trying to cool them as much as possible," Marsal said. "It can hamper learning if it gets too hot in the space."
If temperatures reach above 86 degrees inside, school administrators are supposed to consider mitigation measures -- including sending students home early. But that early release can cause problems for parent pickup.
"It's very frustrating," McAuliffe parent Stephanie Bates said. "I can't imagine what parents who don't have flexibility in their schedules do."
On Tuesday, buses did not run early at McAuliffe, leaving dozens of students to wait hours at the hot school. A DPS spokesperson said the district's transportation division was honoring all bus requests from schools.
DPS said these three schools will be closed on Wednesday and Thursday:
Barret Elementary
Columbine Elementary
Knapp Elementary
For days the heat inside Skinner Middle School has been brutal. Opening the windows for a slight breeze wasn't enough.
"I will send him two or three water bottles and ice. We bought the insulated water bottles," said Desiree Padilla, a parent of a 6th grader.
Padilla tried to help her son stay cool. It's a bit of a challenge when classrooms are reaching 90 degrees. A teacher from a different DPS school shared a picture with 9News showing a thermometer recoding 90 degrees inside.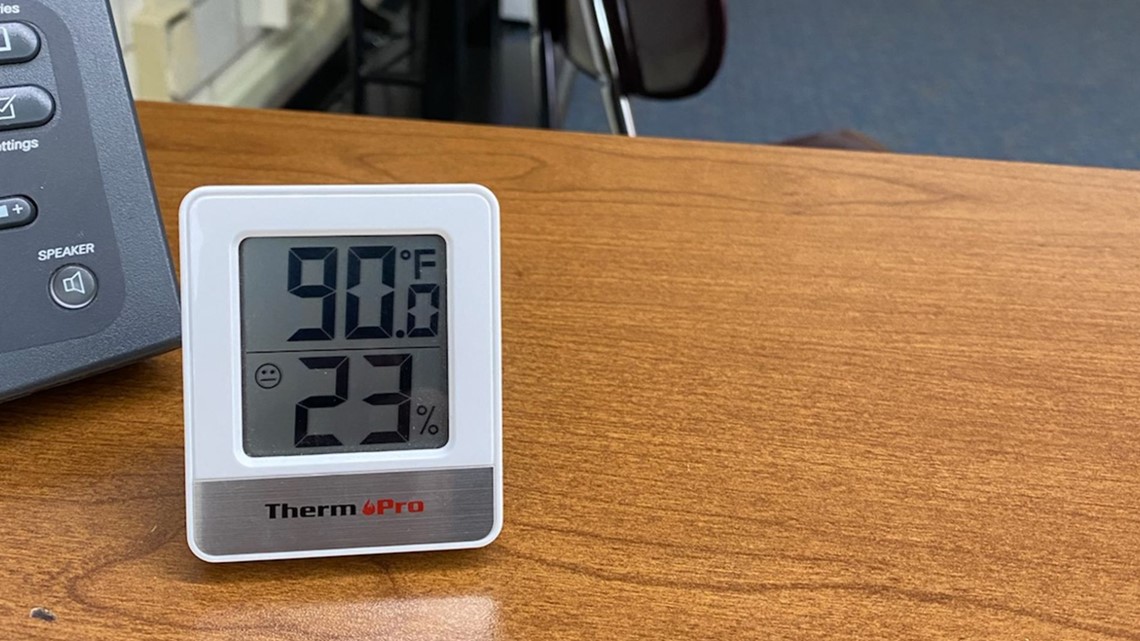 "One idea we had is keeping our son home," Padilla said. "I understand things come up and happen but I definitely wish we had more heads up, little more notice."
Skinner Middle School is letting kids out at 11 a.m. on Wednesday and Thursday which left some parents scrambling to figure out pick up.
"We have three kids in DPS so it is figuring out three different schedules, three different kids, three different schools," she said.
In 2019 – DPS said 55 schools didn't have air conditioning. Denver voters approved a bond the following year that helps install AC in 24 of them. Skinner Middle School is still thanking voters for funding some upgrades with a sign in the front of campus but the school didn't make the cut for AC.
These 29 schools will be released early Wednesday and Thursday because of the high heat:
Elementary schools
Denison Montessori
Asbury Elementary
Cory Elementary
Cowell Elementary
Park Hill Elementary
Stedman Elementary
Ellis Elementary
Bradley Elementary
Sabin World School
Steele Elementary
Bryant-Webster Elementary
McMeen Elementary
Polaris Elementary
Traylor Elementary
Goldrick Elementary
MSLA - Rishel Campus
Doull Elementary
Whittier ECE-8
University Park Elementary
Carson Elementary
Math and Science Leadership Academy - Rishel
Middle schools
Lake Middle
McAuliffe International
Skinner Middle School
West Middle
High Schools
Manual High
Thomas Jefferson High
George Washington High
West High
Denver Montessori will only dismiss early on Thursday.