After nearly seven years leading the department, Denver Police Chief Robert White announced he is leaving DPD and will retire upon the appointment of the next police chief.
"It has been my honor to serve the people of this great city and this department of truly exceptional officers and staff," White said in a statement. "And I want to thank Mayor Hancock for allowing me the opportunity to strengthen the department and its bonds to the community. It has been an incredibly challenging and rewarding six plus years that I will forever be grateful for and proud of."
In a release from the city of Denver, several of White's accomplishments during his time as chief were highlighted, including heightening safety along the 16th Street Mall and increasing bikes patrols on Cherry Creek Bike Path.
White also touted his role in launching the body-worn camera program and updating the department's use-of-force policy in an open letter on Facebook.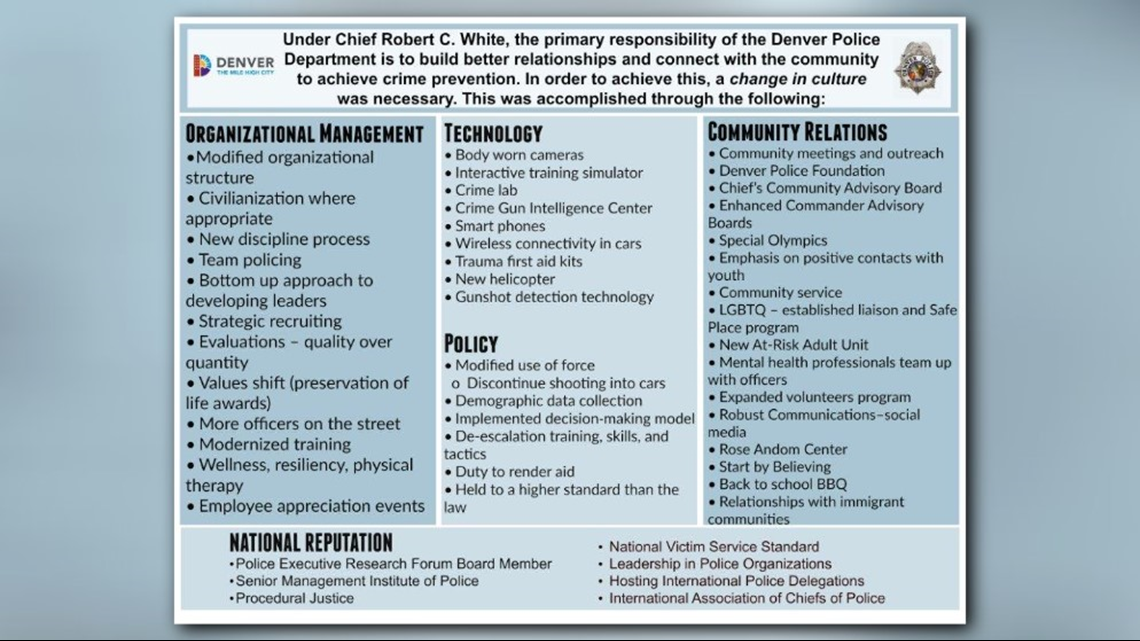 White came to Denver in 2011 after several high-profile excessive force cases. He was seen as a reformer based on his work in Louisville, Kentucky.
Last October, 582 people in the Denver Police Protective Association voted they had no confidence in White's leadership of the department, which was 94 percent of all respondents.
"I don't think we've had misconduct at the top by the chief and the deputy chief of this magnitude ever before," said Bryan O'Neill at the time, vice president of the union.
At the time, White said in a statement he "[understood] that being Chief can come with scrutiny from those who may disagree with decisions being made or fully understand all aspects of the position" but "will continue to do what is best for the residents of Denver."
Back in May 2017, the chief and deputy chief were not charged for mishandling a public records request of a letter accusing Deputy Chief Matthew Murray of mishandling an investigation that resulted in the arrest of a woman.
The outgoing chief spoke to 9NEWS in a sit-down interview after announcing his intention to retire. He told reporter Ryan Haarer that all the changes he and the department made were to keep the community safe.
"We're a relatively safe community," he said, "but we're not as safe as I think we should be or as we're going to be."
He went on to say that the future of the safety of the community will be contingent upon the department knowing and understanding philosophically what safety is about. He says the department needs to know they're the greatest resource of the community.
When it comes to closing the door on his policing career, White says he intends to stay in Denver - and that the first day after his retirement he's loading up his entire 13-member family and hitting the Dominican Republic.
But he also has a message for the community from a personal perspective - using a sports analogy (he's a big sports guy, he says).
"I'm sure you heard the coach talk to the football team, saying this is your last day, this is your last game as a senior - or this is our Super Bowl; you gotta leave it all out on the field so when it's all said and done, you should be able to look in the mirror and say you gave it your best," he explained.
When it's all said and done, I left it all out on the field; I can look in the mirror and say I gave it my best."
White will officially retire from his role once the next police chief is appointed.
You can watch the full interview with Chief White below.