Luis Garcia died Wednesday, surrounded by family and friends, after he was shot Feb. 13 at 17th Avenue and Esplanade, which is just north of East High School and south of City Park. As of Friday, no one has been arrested on suspicion of the shooting.
On Friday morning, a student group, Denver East Students Demand Action, led a walkout from class to call for legislative action on gun safety. Hundreds of of students arrived at the capitol around 9 a.m. and stood in a long line waiting to pass through a magnetometer.
Among the crowd was Santos Garcia, Luis' older brother and also a graduate of East High School. He spoke to lawmakers outside of the state Senate chamber on Friday morning.
"They're consoling me – but I hope they make a change," Garcia said. "Words [are good] ... actions are better."
Garcia said the last two and a half weeks watching his brother suffer in the hospital were incredibly painful for his family.
"He was just the best brother anyone could ask for," he said. "You know, he's hardworking, loving, caring, … no other words for him."
Garcia said seeing the large crowd of students gathered in his brother's name was painful.
"It was a big crowd… I just never imagined it would be like about him," he said.
Inside the capitol, Luis Garcia's teammates from the East High School state championship soccer team also waited to speak to lawmakers. The group was spotted chatting with several state lawmakers running for Denver mayor in next month's election.
"I've never been personally affected like this close to it before, but this is what it took for me to get into this," said Mateo Tullar, a junior at East and one of Garcia's teammates.
"The things we're asking for are very small, very attainable," he said.
He spoke with legislators about the need for more security cameras around the school and the need to shut down the Esplanade in front of the school during school hours.
"A lot of these people, just from watching in the gallery, they seem like they are completely unaffected," he said. "I just want to make sure that they actually know what's going on in the world."
Alaijah Sims, a senior at East High School said she has experienced more days off of school related to gun violence than she has snow days. She said she came to the capitol because she doesn't want underclassmen to continue to deal with this problem.
"We need change. This has happened way too much. We've gotten to the point this isn't something that East students should be worrying about," Sims said. "We shouldn't have to fight to be safe in our schools. We've all gotten fed up."
"We should be focusing on our futures and not whether or not we're safe or not we're in fear of dying," Sims said.
>RAW VIDEO: Sky9 footage of the East High School walkout
East High School students walk out
Sims said she and others would like to see things like a three days waiting period to purchase guns and raising the age to buy guns from 18 to 21.
"There are a lot of small things that can be done besides just banning weapons but making sure there are more stops and things in place to make sure random people aren't just getting guns," Sims said. "I have a lot of friends who are 18 and they shouldn't be owning weapons, 18 being the age you can own a weapon isn't the safest thing for all of us."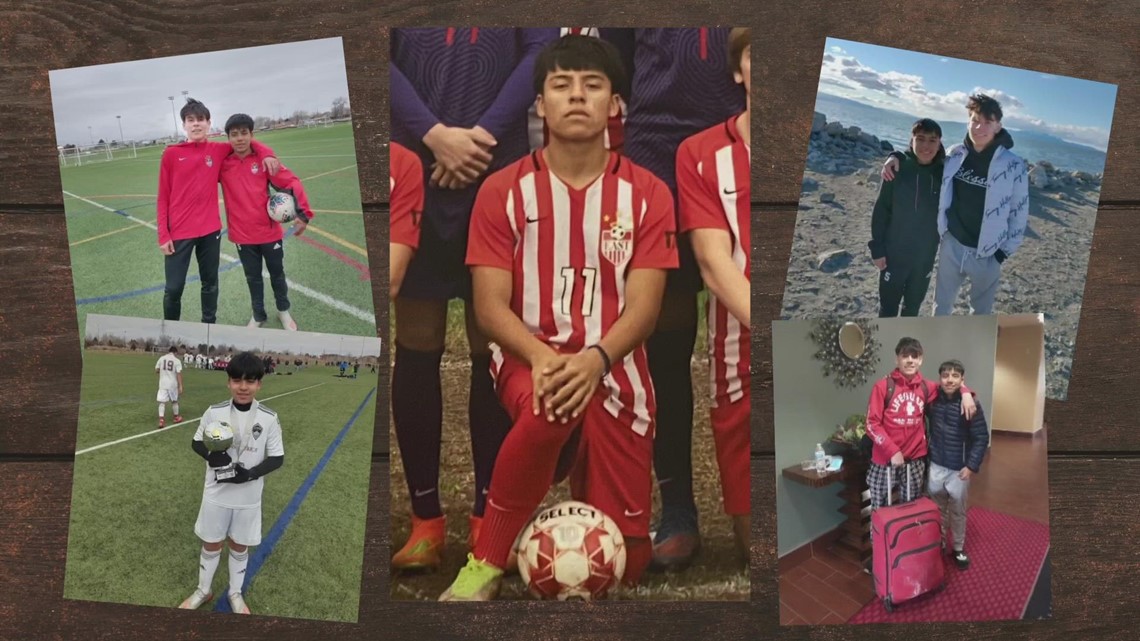 Luis Garcia was in a car when he was shot near East High School. Police said there was no indication that he had fired any shots.
Two teens who were in another car were taken into custody later that afternoon, but neither suspect faces charges specifically related to the shooting.
On Wednesday, his older brother, Santos Garcia, described Luis as kind and hardworking. He was someone who put family first. Another important part of his life was soccer. His teammates have sold hundreds of bracelets that say, "End Gun Violence...#11 Luis Garcia", to raise money for the Garcia family. There's also a GoFundMe to help the family.
>VIDEO BELOW: Reporter Courtney Yuen talks with students at High School before they marched to the capitol.
> Top stories from 9NEWS curated daily just for you! Sign up for the 9NEWSLETTER right now to get can't-miss stories, Next and Broncos content, weather and more delivered right to your inbox.
9NEWS+
9NEWS+ has multiple live daily shows including 9NEWS Mornings, Next with Kyle Clark and 9NEWS+ Daily, an original streaming program. 9NEWS+ is where you can watch live breaking news, weather updates, and press conferences. You can also replay recent newscasts and find videos on demand of our top stories, local politics, investigations and Colorado specific features.