CASTLE ROCK, Colo. — Just days before school was to start in Douglas County, the district is mourning two of its students.
On Saturday, the principal of Castle View High School sent a letter to parents telling them of the deaths of Colton Bellamy and Audrey Todd.
The two 17-year-olds would have started their senior year on Tuesday.
They died in a car crash on a frontage road near mile marker 179 on Interstate 25, according to Colorado State Patrol (CSP). Troopers said their car was hit head-on by a suspected drunk driver late on Friday night. Four 17-year-olds, two boys and two girls, were in the car.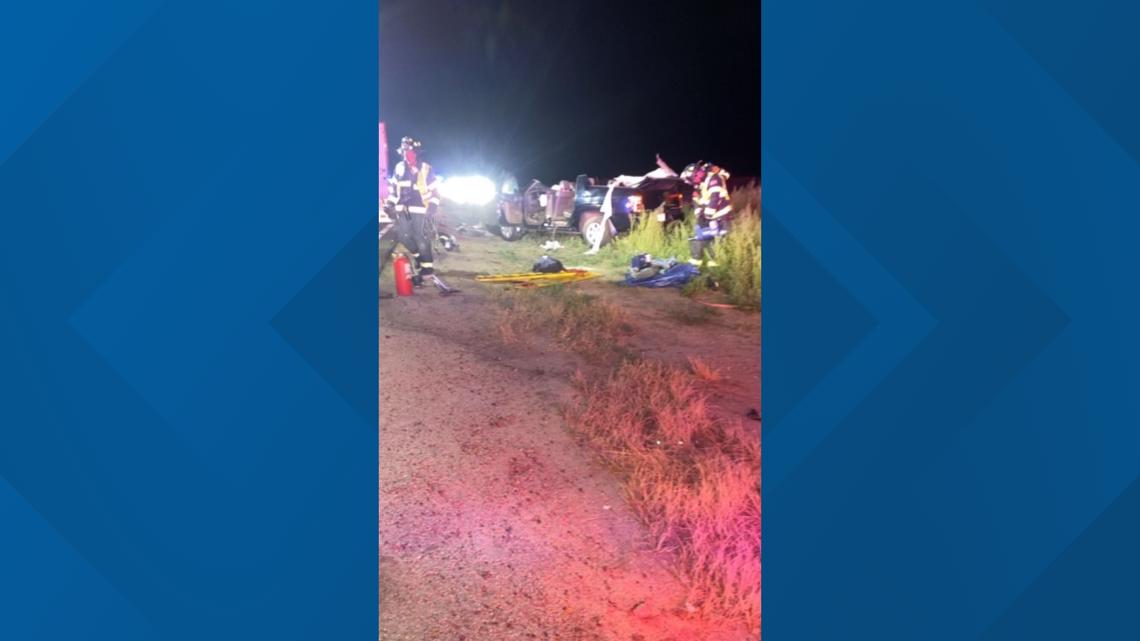 "I was going to pick up my brother and his friends and I saw it happen," said Rae Jensen, 17. "My friend's car was right there and I just parked and I ran and he goes, 'Please help, Rae. Please help.'"
It was nearly midnight when Rae saw a tragedy no one should see.
"It's absolutely traumatizing," she said. "Nobody deserves to ever see that and nobody ever deserves to get a call and have a police officer come to their front door for an accident that wasn't their fault and their children are passed away."
CSP Trooper Josh Lewis said Ricky Avalos-Trujillo, 25, crashed head-on into a car with the four 17-year-olds inside. Avalos-Trujillo had minor injuries. He was medically cleared and then taken into custody on suspicion of drunk driving.
The Douglas County Sheriff's Office said Avalos-Trujillo was arrested on two counts of vehicular homicide, vehicular assault, and DUI. These charges could be subject to change. He has no other criminal record.

Trooper Lewis said the 17-year-old driver tried to avoid the collision, but was ultimately struck on the side.
Colton Bellamy and Audrey Todd were killed. The other two teens in the car were badly injured.
"Colton and Audrey were very good people. Colton, he was a very motivated person and he could light up a room of people," said Rae. "Audrey was the most beautiful girl ever. She was so smart and she was so intelligent and they didn't deserve this. They did nothing wrong."
Rae said she wants the community to pray for Colton and Audrey's families and hold each other close.
"I just want people to cherish moments with their friends and hug their friends more and tell them that they love them and stand with them and be there for them and don't drive drunk. It's not worth it," she said. "Wear your seatbelts. It's not worth it."
Trooper Lewis said this tragedy was a selfish choice that didn't need to happen.
"We'll find out what happens through the court system, but it's a stark reminder that anywhere, that anytime this is something that can take place and we need to remind the people around us to take as much precautions as possible and make the correct decisions and never drink and drive," Trooper Lewis said.
In the letter to parents, Castle View Principal Jeena Templeton said the Douglas County School District's crisis team will be available for students or staff who need support. That team will be at the school Monday and Tuesday.
As for classes, they were to start on Monday, but Templeton said they will be adjusting the schedule and will release those details later this weekend.
9NEWS+ has multiple live daily shows including 9NEWS Mornings, Next with Kyle Clark and 9NEWS+ Daily, an original streaming program. 9NEWS+ is where you can watch live breaking news, weather updates, and press conferences. You can also replay recent newscasts and find videos on demand of our top stories, local politics, investigations and Colorado specific features.