GOLDEN, Colo. — Golden Police said a suspect in a fire at a townhome complex Friday is now in custody.
Police said 48-year-old James Gambrell Jr. turned himself in to the Jefferson County Sheriff's Office (JCSO) around 11 p.m. on Friday in connection to the Golden townhome fire. Gambrell also turned in an AR-15 and a handgun, according to police.
Police said he was booked on three counts of attempted homicide, three counts of felony menacing and one count of arson.
Golden Police identified Gambrell as a person of interest in the fire on Friday morning and issued a LookOutAlert for him. The police department said he was known to carry firearms and should be considered armed.
Officers responded to a felony menacing around 3:24 a.m. to Building A in the Table Mountain townhomes at 17250 W. Colfax Ave., police said. No one was physically hurt in the incident.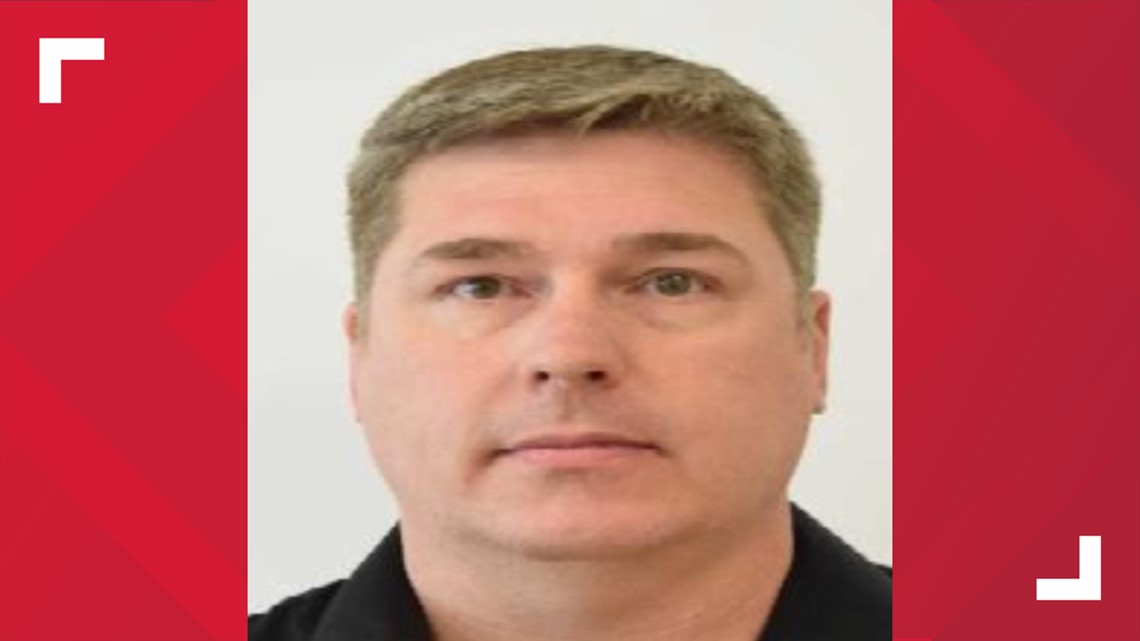 A resident there, Shaun Todd, said he called 911 saying his neighbor knocked a hole in the wall of his unit and stuck a gun in through it. When police arrived, they said they saw a tactical light shining through the hole.
"Pounding on the wall, pounding on the wall and then all of a sudden a hammer comes through my wall," said Todd. "He reached through to make the hole bigger and then he stuck a assault rifle. All I could see was the barrel to the gun and the flashlight on top of the gun that he stuck through the wall and pointed at us."
Todd said the pounding on the wall had been happening for days before this incident. On Thursday, the day before the fire, he said he called police to file a complaint about the noise and disruptions. He said police were not able to make contact with his neighbor.
"They came. They knocked on his door," said Todd. "He didn't answer."
Todd said the fire spread quickly.
"Then all of a sudden, a bright orange light out of nowhere and all I could think is, 'He just lit his house on fire,'" he said.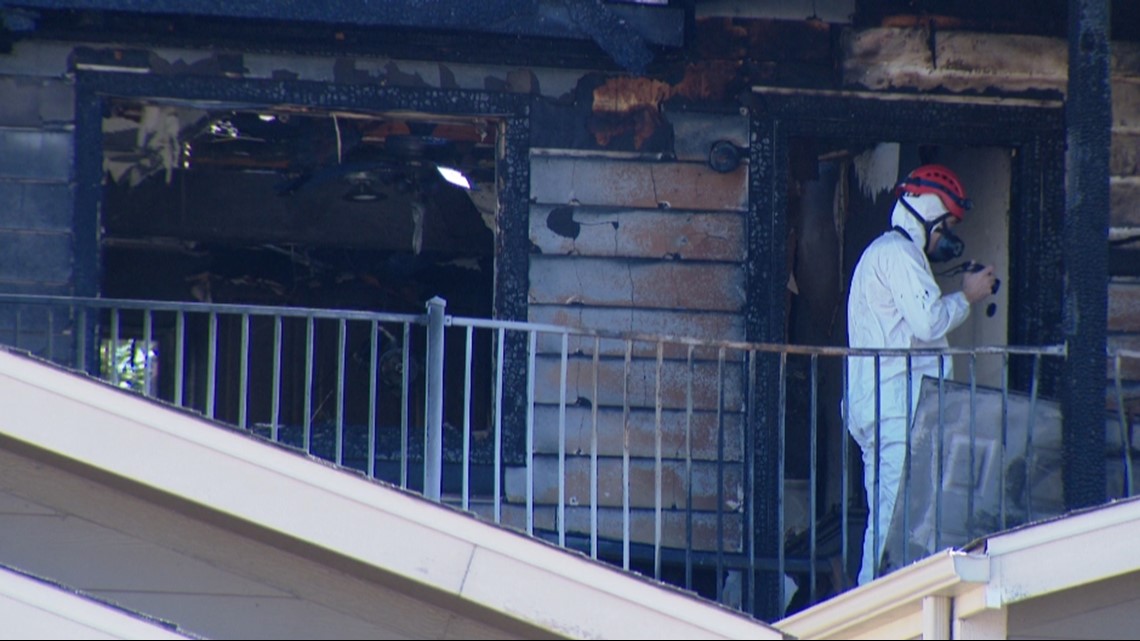 He said he ran back into his unit to rescue his three dogs.
Another resident, Josiah McCloud, lives above from where the fire started.
"It didn't take but 10 seconds. When I walked to the parking lot, I turned around, the flames were already above my apartment like 20 feet up," he said.
He said Todd's call to 911 saved his life.
"If he wouldn't have been the one to call, I don't know... I would've been trapped in there," said McCloud.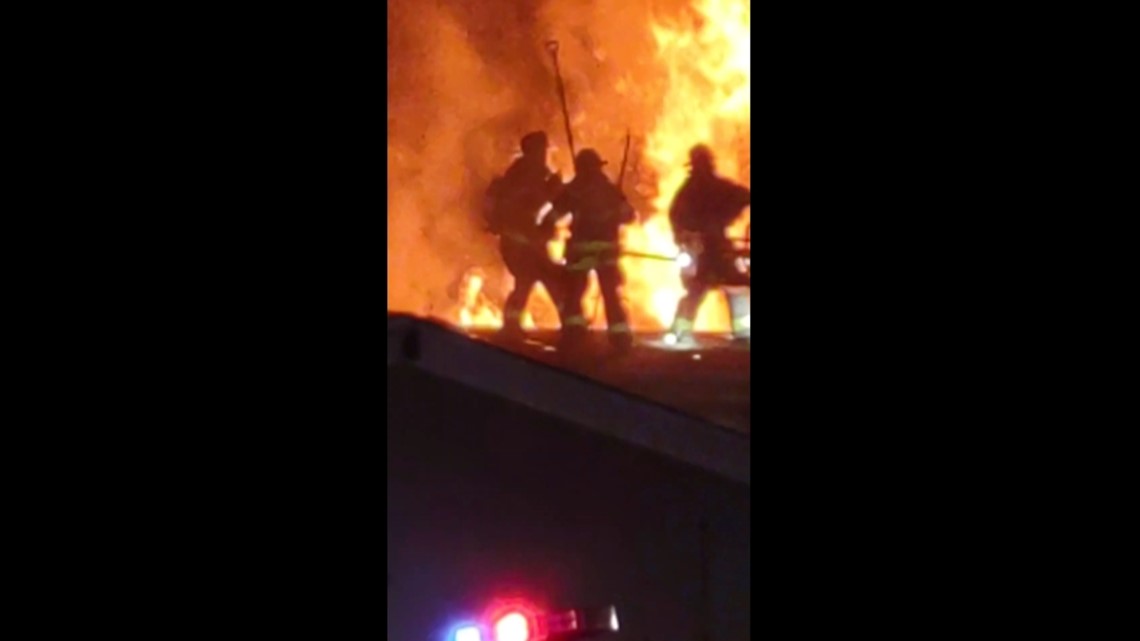 Josh Lumley said he had to escape through the window next to his front door because there was a six foot wall of flames blocking his exit. He said he just moved into his unit three weeks ago.
"Got away with one there," said Lumley.
He said if a police officer hadn't knocked on his door to wake him up, he doesn't believe he'd be here today.
"Thank you to the police and the firefighters," he said.
Just like their neighbor Todd, McCloud and Lumley said they had also heard pounding coming from unit 103, where the gun was stuck through the wall and the fire appears to have started.
"I just thought he was working on his house," said McCloud. "He was hammering for like three days."
None of the residents knew the man.
"In the 8 months I've lived here, I've never seen him once," said Todd. "I've never seen him come outside. I've never seen him at all. I've seen, I believe it's his folks, come and drop off food and they leave it on his doorstep."
He said he's thankful everyone's okay.
"I feel like it's a dream. I'm waiting to be pinched and woken up. Everything I've worked hard for in the last few years is gone within a blink of an eye," said Todd.
Police said seven units were destroyed in the fire. Now those residents will have to find someplace else to live.
"One step at a time, put it back together," said Lumley. "Everything's gone now, but, I have my car and my health and my cat's okay."
Officers evacuated Building A and the Golden Fire Department arrived on scene at 3:55 a.m., along with units from West Metro Fire Rescue, Pleasant View Fire District, Fairmount Fire District, Foothills Fire District and Stadium Medical Services.
The fire engulfed the entire building. People were being asked to avoid Colfax Avenue between U.S. Hwy. 6 and Corporate Drive Friday morning in Golden as crews continued to work.
The American Red Cross responded to assist residents with shelter. Table Mountain Townhomes property management said they have secured a nearby hotel for displaced residents to stay in.
One of the people affected by the fire started an online fundraiser to help displaced residents.
Anyone with information is asked to call Crime Stoppers at 720-913-7867 or visit metrodenvercrimestoppers.com. Tipsters can remain anonymous and may be eligible for a reward of up to $2,000.
Metro Denver Crime Stoppers works by assigning a code to people who anonymously submit a tip. Information is shared with law enforcement, and Crime Stoppers is notified at the conclusion of the investigation.
From there, an awards committee reviews the information provided and, if the information leads to an arrest, the tipster will be notified. Rewards can be collected using the code numbers received when the tip was originally submitted.
Watch more from 9NEWS on the free 9NEWS+ app for Roku and Fire TV.
9NEWS+ has multiple live daily shows including 9NEWS Mornings, Next with Kyle Clark and 9NEWS+ Daily, an original streaming program. 9NEWS+ is where you can watch live breaking news, weather updates, and press conferences. You can also replay recent newscasts and find videos on demand of our top stories, local politics, investigations and Colorado specific features.