DENVER — Grandoozy hoped regular RTD service would be enough to handle the three-day music and art festival at Overland Park Golf Course in Denver.
Bus and light rail service is the same for the festival as it would be on any other Friday, Saturday or Sunday.
On Saturday, RTD revealed that Grandoozy organizer, Superfly, declined an offer to allow the concert tickets to double as free bus and transit passes, while also adding additional service for more capacity.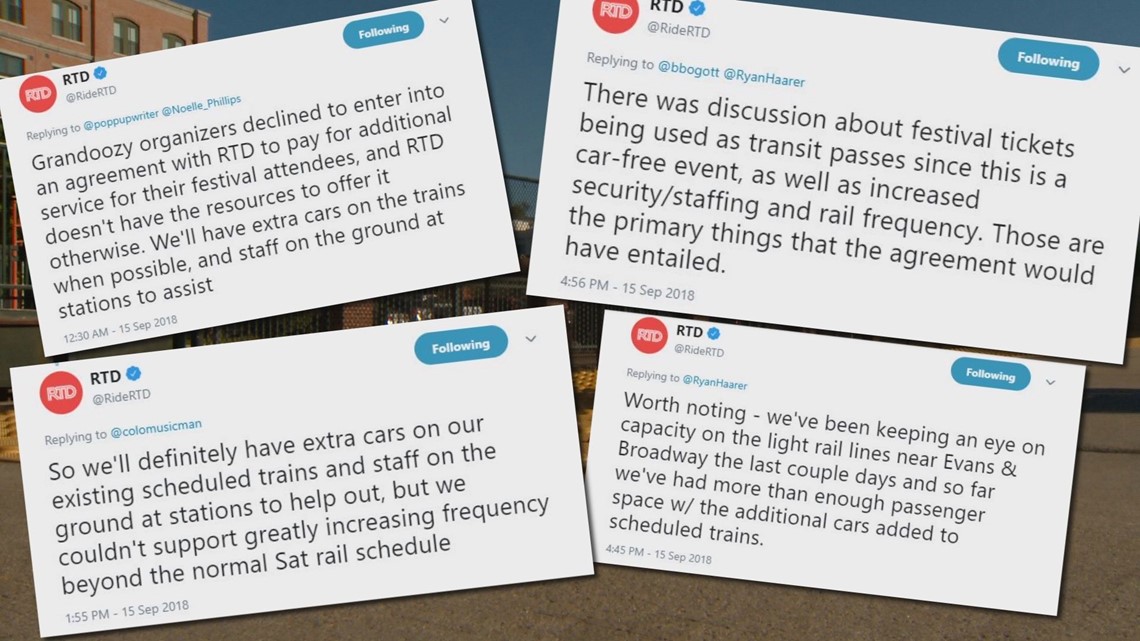 In tweets responding to comments about Grandoozy public transportation, RTD said:
"Grandoozy organizers declined to enter into an agreement with RTD to pay for additional service for the festival attendees, and RTD doesn't have the resources to offer it otherwise. We'll have extra cars on the trains when possible, and staff on the ground at stations to assist."
"There was discussion about festival tickets being used as transit passes since this is a car-free event, as well as increased security/staffing and rail frequency. Those are the primary things that the agreement would have entailed."
According to RTD spokesman Scott Reed, RTD offered additional service, security and personnel costs for $72,000. He said the festival organizers countered with $19,800. RTD came back with $33,000, saying it would barely cover the minimal allocated costs for additional services. Superfly said no.
In an email provided by RTD, the organizers wrote:
"I wanted to thank you for all your work and support in working with Grandoozy on putting RTD on the ticket.
Unfortunately for year one we are going to decline, but once we have year one attendance in the books we would like to re-open discussions in particular with the possibility of using the RTD mobile app for year two of the festival."
"In other experiences with the festivals, we've typically done bus, and they usually have more buses," said Grandoozy attendee Sam Courtain.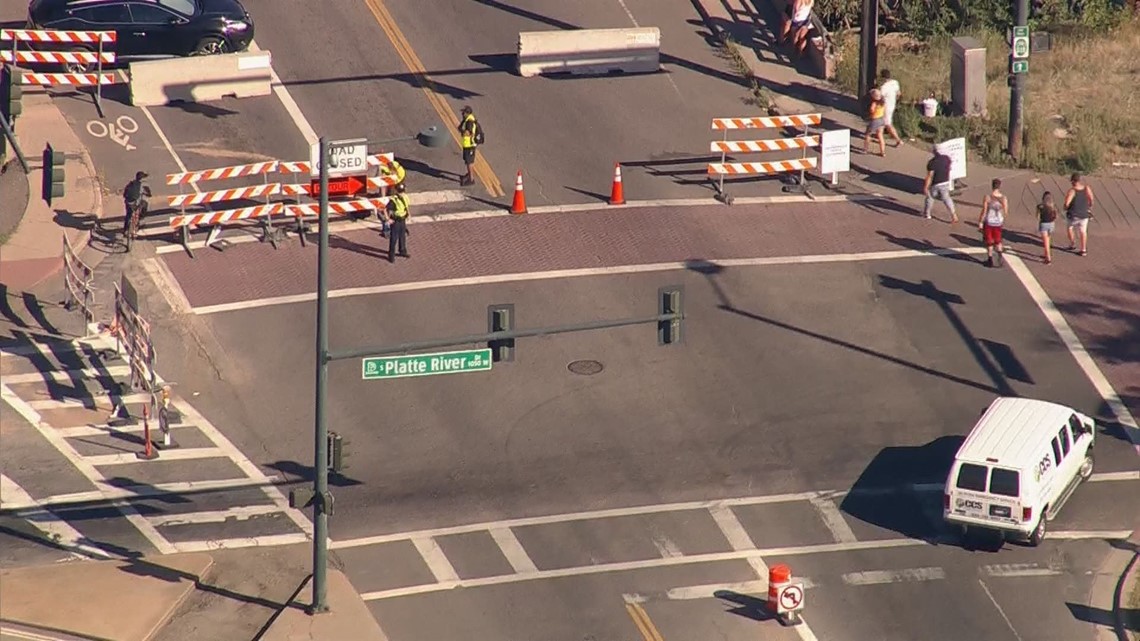 "It's year one of the festival, I feel like you've got to cut down on costs, make it fun," said her friend Katie Schratz.
At a Denver City Council committee meeting in June 2017, the presentation included a transportation plan with the following bullet point: "work with RTD to explore including public transportation in the event ticket."
Late Saturday night, Superfly spokeswoman Megan Adams sent an "official statement from Superfly and RTD:"
"Superfly and RTD initially engaged in a conversation around two separate but related offerings - 1. providing service to Grandoozy attendees and 2. an incentive to increase festival ridership thru a ticket promotion. As it relates to service, RTD's baseline offering includes being able to transport thousands of people per day efficiently, which is in line with Grandoozy's attendance and adequately meets the festival's needs therefore Superfly accepted RTD's standard service. As it relates to a ticket promotion, there were negotiations between Superfly and RTD about including free train service with the festival ticket as an incentive for attendees to utilize public transportation. Unfortunately, we weren't able to come to an agreement that made sense for both parties and Grandoozy decided to move forward with RTD's standard offering and not include said ticket incentive. RTD has added additional cars to the train lines to increase train capacities and help support Grandooy's (sic) public transportation plans throughout the festival weekend."
RTD did tweet that it was adding cars to the light rail trains and had two trains on standby, but it was not adding more frequent light rail arrivals.
For those who used Uber and Lyft, drivers for those rideshare programs were facing possible driving penalties for picking up or dropping off in the wrong areas.
The far-right lane of southbound Santa Fe Drive from Florida to Evans Avenue is blocked off for Uber and Lyft with "No Stopping Any Time" signs throughout.
Some drivers were ticketed for impeding traffic of stopping in a roadway. Those tickets come with a fine and possible points on the driver's license.