KUSA – A junior at Greeley Central High School said it felt like his life flashed before his eyes when a truck struck the school bus he was aboard Thursday afternoon nearly head-on, injuring him and 28 other people.
Seth Salcido was headed home from Elitch Gardens Theme and Water Park with 28 classmates, four chaperones and his bus driver when the crash happened on Weld County Road 49 just north of Hudson. The bus flipped over and landed on its side.
Salcido was taking a nap right before the collision.
RELATED | Company whose truck hit school bus on the equivalent of probation
"I woke up to a big bang and next thing I knew, the whole bus was flipping around," he said. "I saw a lot of people bleeding."
Salcido said he hit his head during the crash and suffered an unknown injury to his arm, which luckily wasn't broken.
Colorado State Patrol said the truck driver who hit the bus, identified as 36-year-old William Carroll of Littleton, likely fell asleep at the wheel and crossed the median.
The company he works for is on the equivalent of probation with the Federal Motor Carrier Safety Administration, 9Wants to Know has learned.
Photos: Weld County school bus crash along County Road 49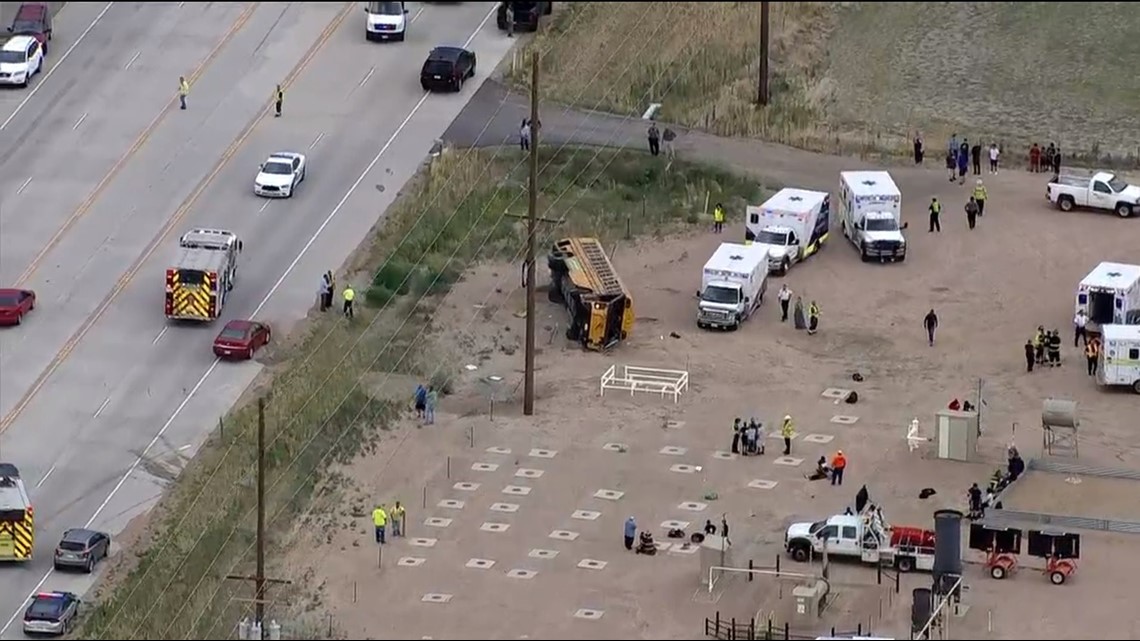 "I am mad at him, but if he was right here with me, I will tell him, 'I forgive you,'" Salcido said. "I'm grateful that no one died that's the thing."
Twenty-five of the 29 people taken to the hospital after the crash have been discharged as of Friday afternoon. The four patients that remain in the hospital are in either fair or good condition.
STORY | Truck driver may have fallen asleep at the wheel before hitting school bus nearly head-on, CSP says
All of the students aboard the bus were part of the Weld County District 6 Student Recovery program that helps boys behind on credits and at risk for not graduating.
"I was kind of terrified cause I could've died back there, we all could've died," Salcido said.