East High cheerleading coach under fire for physically forcing splits
The videos show different East High School cheerleaders pushed into the splits, and sometimes the extended splits, while teammates hold their arms and legs, and their coach holds their shoulders, pushing each girl closer to the ground.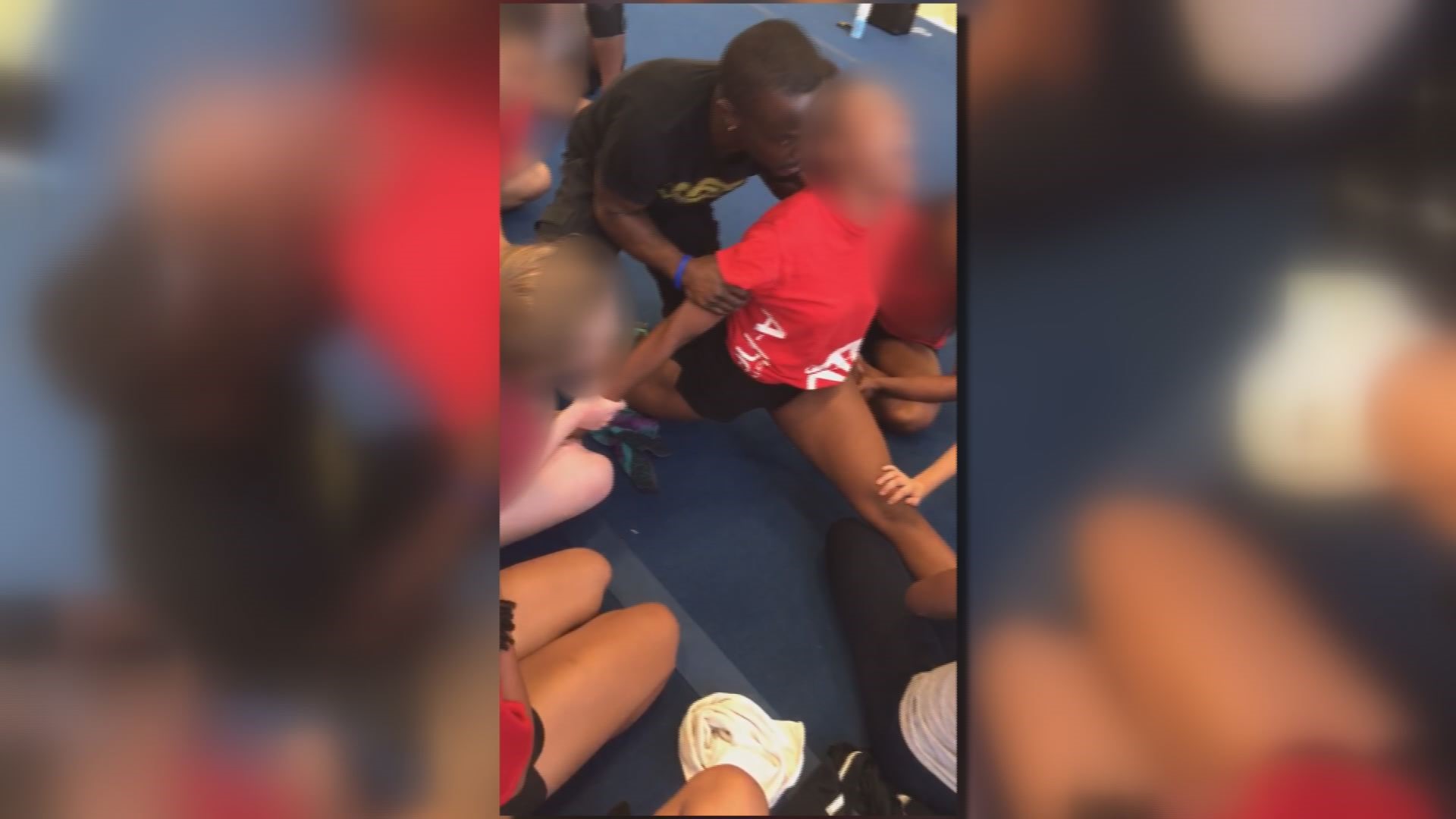 Editor's note: the videos included in this story are difficult to watch and may not be suitable for all viewers.
The East High School cheerleading coach under fire for physically forcing girls to do the splits was dismissed from a similar position at Boulder High in 2016 for doing the same thing, 9Wants to Know has learned.
Ozell Williams, who is on leave from East in the wake of questions raised by 9NEWS, was terminated as a cheerleading consultant at Boulder High in 2016 following a parent's complaint about "breaking" and an incident in which a coach saw him force a girl to do the splits.
Forcing someone to do the splits is sometimes referred to as "breaking."
Two more videos aired by 9NEWS Thursday show the same thing -- teenage girls crying and screaming in agony and begging Williams to stop.
The story led Denver Public Schools Superintendent Tom Boasberg to place Williams, East High Principal Andy Mendelsberg, Athletic Director Lisa Porter, assistant Cheer Coach Mariah Cladis and the district's Deputy General Counsel Michael Hickman on leave.
Thursday afternoon, Boulder High Principal James A. Hill sent a note home to parents, saying he was "horrified" by what he saw in the 9NEWS reports and acknowledging that Williams "unfortunately, had connections to our cheerleading squad."
Williams dismissed from similar position before
:
Williams was a paid consultant for Boulder's cheerleading team in 2015 and 2016.
But after a parent raised concerns, the team's coach let Williams go.
9Wants to Know also learned that the owner of a gym in Brighton considered teaming up with Williams, but changed her mind after a week of watching him work with kids in her program.
"They would go to do things and if they would stop, like they would go into a tumbling pass and they would stop, and he would be like, 'I'm going to punch you in the face if you don't do it next time,'" Julie Ledbetter said. "... You don't tell kids you're going to punch them in the face if they can't pull the skill."
Ledbetter said that she never saw any girls forced to do the splits but she also said she never left her athletes alone with Williams.
The videos
:
The eight videos obtained by 9NEWS were captured earlier this summer and show different East High School cheerleaders pushed into the splits, and sometimes the extended splits, while teammates hold their arms and legs, and Williams holds their shoulders, pushing each girl closer to the ground.
In this following 38-second video, a cheerleader starts in a lunge position, with her front knee slightly bent.
About 13 seconds into the video, her front leg slides into a straight position, and the screaming intensifies.
Her teammates tell her to "squeeze us, squeeze!"
Williams continues to hold her in place, and is seen shoving his knee into her upper thigh to push her lower toward the ground. The girl cries out, "I can't" in apparent anguish.
She begins to bend her front knee and the coach can be heard shouting out, "keep her leg straight."
She continues screaming out, until ultimately, after about 25 seconds, she is pushed out of the position onto her stomach on the mat.
Another video shows a girl screaming as teammates holder her arms and legs and Williams tells her to "stop moving, stay still."
The girl's screaming and crying intensifies.
At that point Williams pats the girl on the shoulder and tells her, "stop screaming."
"Please help me," the girl wails. "Help me up. Help me up. Help me up."
"You stay there," Williams tells her.
Denver Police child abuse detectives are investigating, although it is too early to know whether criminal charges could be filed.
Denver Public Schools Responds
:
In the meantime, Denver's Board of Education members released a statement Thursday that read, in part:
As the elected representatives for Denver Public Schools – and as the moms, dads and family members of DPS students ourselves – we are deeply disturbed by the videos of cheer practices at East High School that came to our attention yesterday. Our district's shared core values start with students first, and that means we put our kids' needs at the forefront of everything we do, with our first and foremost responsibility being our students' physical and emotional safety and well-being.
... DPS does not and will not tolerate athletic or school cultures or practices that place our students in danger.
Denver Public Schools Superintendent Tom Boasberg also issued a statement Thursday night. A portion of it reads:
We have sent notification to our athletic directors emphasizing that DPS does not allow the use of "forced splits" or any other activity that puts a student's physical or mental health at risk, or in which a student is forced to perform an exercise beyond the point at which they express their desire to stop. I want to reiterate that this applies not just to athletics, but throughout our school communities.
Response from national cheerleading community
:
National cheerleading organizations are applauding the families who've come forward and at the same time condemning what was seen in the videos.
Kimberly Archie, founder of the National Cheer Safety Foundation, watched one of the videos obtained by 9NEWS and was highly critical of the coaches and the district.
"It gets worse every time you look at it to see that adults think that this is okay," she said. "It's ok to be competitive, it's not ok for something like this, this is child abuse, this is child maltreatment, it's not ok. The coach should have known it wasn't ok, and the kids should have felt comfortable enough to say, 'Hey stop! What are you doing? Why are you doing this our teammate?'"
She said what was done to the cheerleaders "is asinine, and for the school district? Do nothing? Until journalists get involved? That's even more egregious than the act itself."
She pointed to the fact that other cheerleaders helped Williams as he tried to force girls into the splits.
"The kids who had to watch this … it's like they are part of a hazing event," she said. "Whether they want to participate or not, they are forced into being a part of something."