LARIMER COUNTY, Colo. — On the morning of May 18, 2015, John Jacoby was riding his bicycle on Weld County Road 15 near Weld County Road 72 when he was shot twice. His killing shocked the town of Windsor, where Jacoby was known as the unofficial mayor.
Jacoby's killing was linked to another shooting that occurred on April 22, 2015. In that case, two shots were fired at a young woman as she was merging from Harmony Road onto southbound Interstate 25.
Cori Romero, who was 20 years old at the time, was hit in the neck by one of the bullets. She survived her injuries.
Their cases remain unsolved eight years later.
A task force was formed to investigate the random shootings and then two other shootings happened in the city of Loveland within a couple of weeks of Romero's wounding and Jacoby's killing. In one shooting, William Connole, 65, was killed while he was walking on a Loveland street. In the other case, a motorcyclist said someone shot at them, but they were not hit by the gunfire.
Then in the early morning hours of Sept. 13, 2015, someone fired bullets into Cottonwood Plains Elementary School in Loveland. Later the same day, someone shot into Banner Health Center in Fort Collins. Nobody was hit by gunfire in either of those shootings, which were linked to each other by forensic evidence -- but not to any of the other shootings.
The FBI is offering up to a $50,000 reward for information that leads to an arrest and conviction in Jacoby's homicide.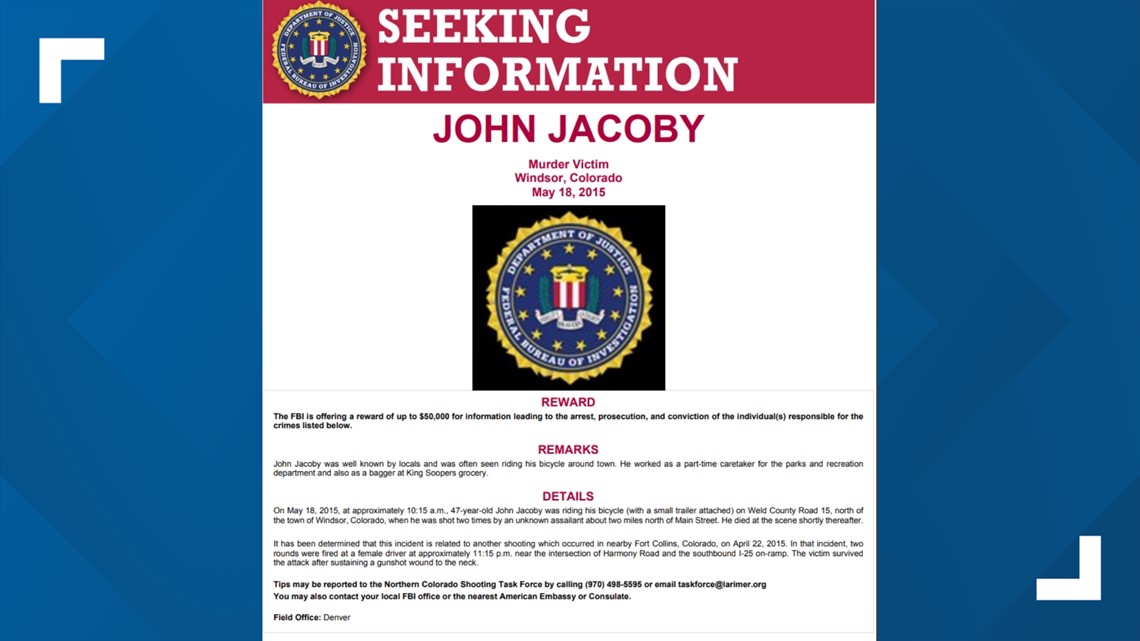 Anyone with information on Jacoby's killing can submit tips to Northern Colorado Crime Stoppers at info@nococrimestoppers.com or 1-800-222-8477.
Calls to the Northern Colorado Crime Stoppers are not recorded and the phone does not have caller ID, according to the NoCoCrimestoppers website. A coordinator completes a tips information form, makes initial inquiries and passes the information along to investigators.
A two-way dialogue system online also allows tipsters to come back and provide additional information and ask questions.
A community board of directors meets regularly to evaluate arrests and determine reward amounts.
The below video is from 2018.