LARIMER COUNTY, Colo. — Out Boulder County is expanding its work to help LGBTQ teenagers in Weld and Larimer counties after a survey showed those young people weren't getting the support they need.
The 2021 Healthy Kids Colorado survey yielded results that gave Joy Sullivan pause.
"Right now what we're really seeing is a mental health crisis among our youth," Sullivan, the CEO of United Way of Larimer County, said. "One in three kids identifies as part of the LGBTQ+ community in Larimer County and of those youth their rates of suicidal ideations thinking about suicide or self-harm are critically disproportionate to their peers."
The Healthy Kids Colorado survey showed about 40% of students surveyed, that identify as gay or lesbian, hurt themselves compared to 19% of straight students that say they do. For Larimer County students that identify as 'other', 58% admitted to hurting themselves.
"You know we've cared about youth for 60 years, that's still the work that we're going but we're really honing in and saying what can we do to support this community of kids that are asking us for help," Sullivan added.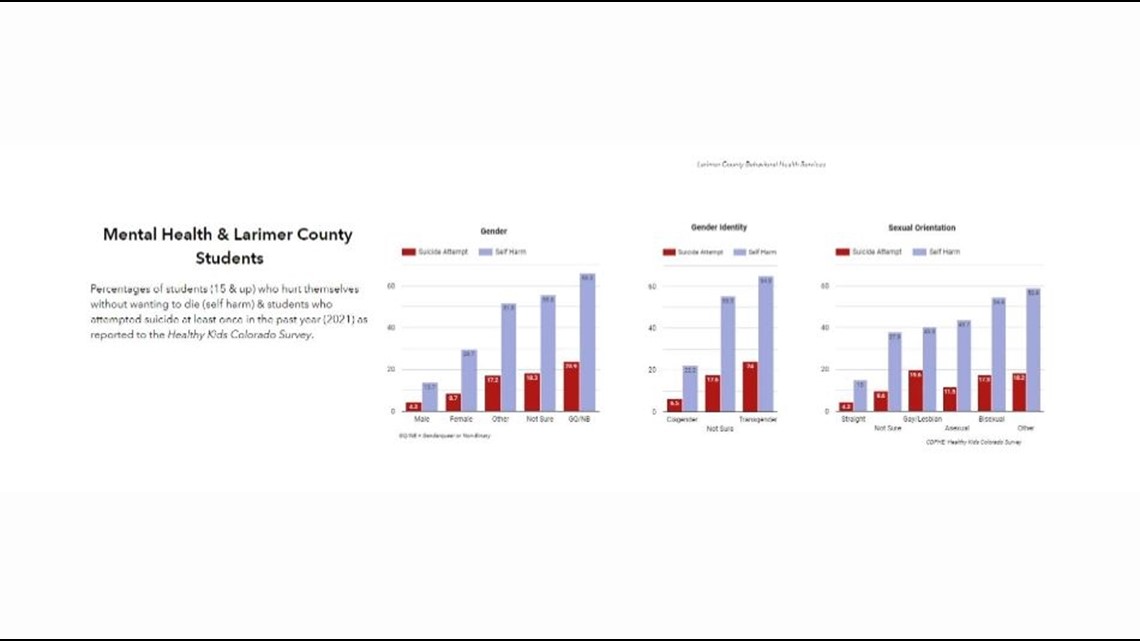 United Way turned to Out Boulder County for help. The nonprofit organization received funding to expand their services and programs to Weld and Larimer counties. Ash Neufeldt is their Northern Colorado community manager.
"Being LGBTQ+ in rural areas is unique and it's special and it deserves to be honored and it deserves to have resources," Neufeldt said. "I think mental health is important for everyone when we look at [the] Healthy Kids Colorado survey we kind of see that youth across the board regardless of gender or sexual identity are struggling but even furthermore when they're trans or nonbinary or unsure about gender identity."
Out Boulder County is hosting a weekend youth leadership retreat for northern Colorado. The goal is to hear from youth and their parents about the needs of the community. The funding the nonprofit received will also forward short-term individual therapy, case management and referrals to long-term providers.
"I think we're hoping for transformation," Neufeldt said. "We want to see infrastructure that's helping people. We want to see the statistics of mental health that are really troubling, go down."
"So we are not the small little quiet communities that we once were and some still think we are," Sullivan explained. "We are growing rapidly and we can't keep pace with the needs for childcare out of school youth support, mental health and specifically some key community groups including LGBTQ+ communities."