DENVER — Hugh McKean, the Republican minority leader in the Colorado House of Representatives, died suddenly early Sunday morning.
The 55-year-old died of a heart attack, the Larimer County Coroner's Office said.
"He's the kind of guy that it didn't matter if you're a Democrat or Republican, he always knew who you were. He knew who your family was. He would ask you how you're doing. Just a bubbly, happy guy," said Rep. Colin Larson, a Republican representing parts of southern Jefferson County, including Littleton and Ken Caryl.
"He talked about his son and daughter constantly, and he was so proud of them. I just hope they know that," Larson said. "I'm honestly still just trying to wrap my head around the fact that he's gone."
McKean was first elected to the Loveland City Council in 2009, before being elected to represent Colorado House District 51, which covers a portion of Larimer County including Loveland, in 2016.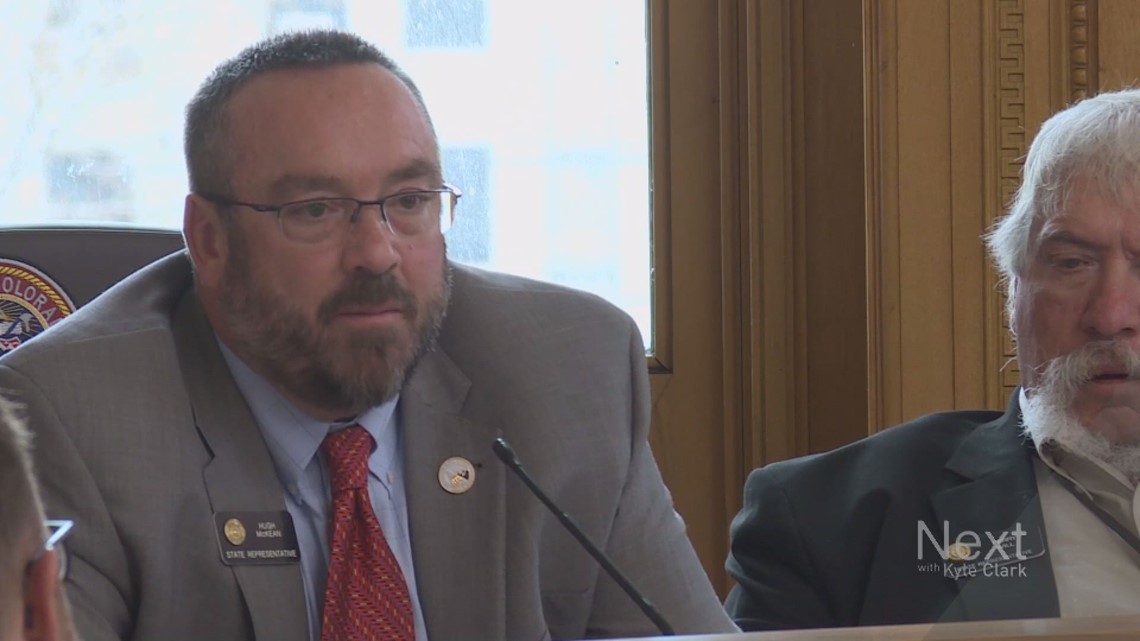 He was elected as Leader of the Colorado House Republican Caucus in 2020.
As the minority leader in the House, McKean worked to rebuild the Republican caucus through a time when Democrats held a strong majority. He had just won a contentious primary election and was set to continue leading the Republican caucus in the next session.
"He loved this state. He thought the air, the mountains, the water were the best thing ever. That God made them just a little bit fresher here than anywhere else," said Roger Hudson, Deputy Chief of Staff for the Colorado House Republicans. "That's who Hugh was. He knew we were going someplace. All we ask is we dare to dream what that looked like. That's all he wanted. To look forward."
McKean was campaigning for Republican candidates as recently as Saturday. People who saw him recently, like Larson, said they had no idea anything was wrong with his health.
"Hugh was fiercely passionate about two things in his extraordinary life; serving the great state of Colorado and spending time with his family, whom he adored -- Aiden McKean, 21, Hanna McKean, 23, and his dearest partner and friend Amy Parks," Colorado House Republicans said in announcing his death.
A vacancy committee established by the Larimer County Republican Party will fill McKean's seat within 30 days. That person will serve the full two-year term, the Secretary of State's office said.
As the mourning begins, someone will soon have to replace McKean as the leader of the House Republican caucus. A meeting is scheduled for Nov. 10, according to Larson.
While Larson could be the one chosen for the job, Sunday, his focus is on remembering his friend.
"I think Hugh has left an indelible mark on this House caucus," Larson said. "Whoever the next leader is will be somebody carrying on Hugh's legacy, because he created it."
Gov. Jared Polis (D) released the following statement on McKean's death:
"I am devastated to hear of Minority Leader Hugh McKean's sudden passing. A family man and a true public servant, Minority Leader McKean had a knack for making everyone feel like they were the most important person in the room. Minority Leader McKean cared deeply for his constituents, always had time for a conversation or a laugh, and truly worked every day to build a better future for every Coloradan. As a dad myself, I can't imagine the pain his children and family are feeling at this difficult time. We are sending thoughts and prayers to all of Hugh's loved ones and take comfort knowing his legacy will be felt in Colorado for years to come."
Funeral services are being planned and will be made public once finalized.