On the eve of a Senate Judiciary Committee hearing in which a woman is expected to testify that Supreme Court nominee Brett Kavanaugh sexually assaulted her in high school, a fourth person has come forward with allegations of misconduct.
Per a transcript from a committee phone call with Kavanaugh dated Sept. 25, an anonymous letter was sent to Colorado's Republican Senator Cory Gardner from a woman in Denver late last week. As detailed in the transcript, the letter states the woman's daughter, from Boulder, saw Kavanaugh shove his date, a friend of the woman's daughter, "very aggressively and sexually" against a wall in 1998 in Washington D.C.
The letter states the alleged victim contacted the witness last week, and they decided to remain anonymous - prompting this letter to Senator Gardner.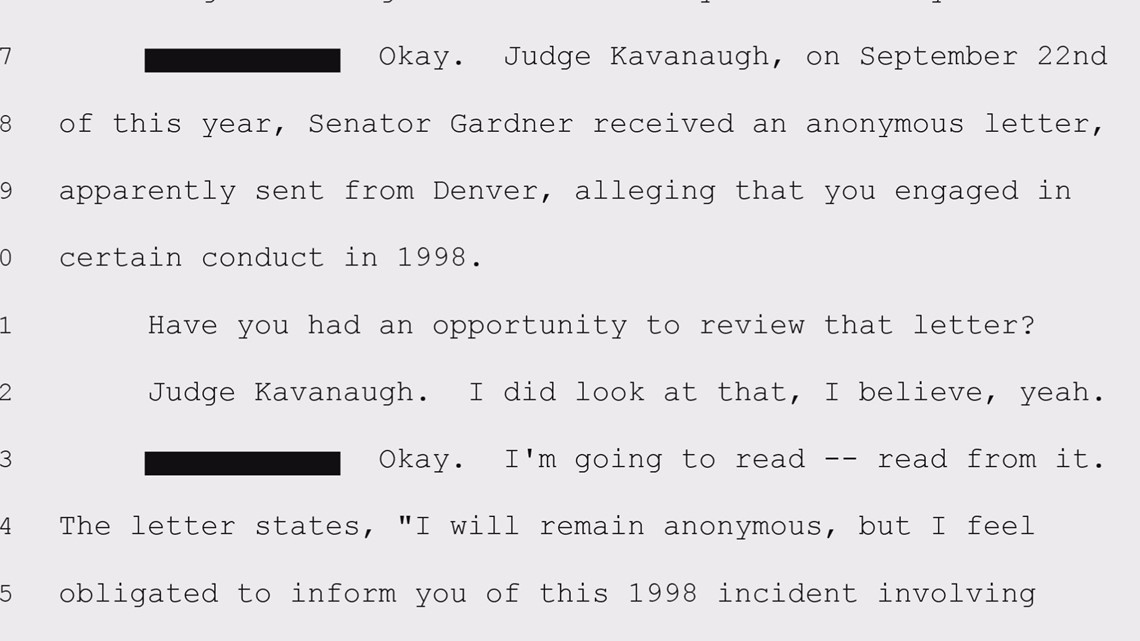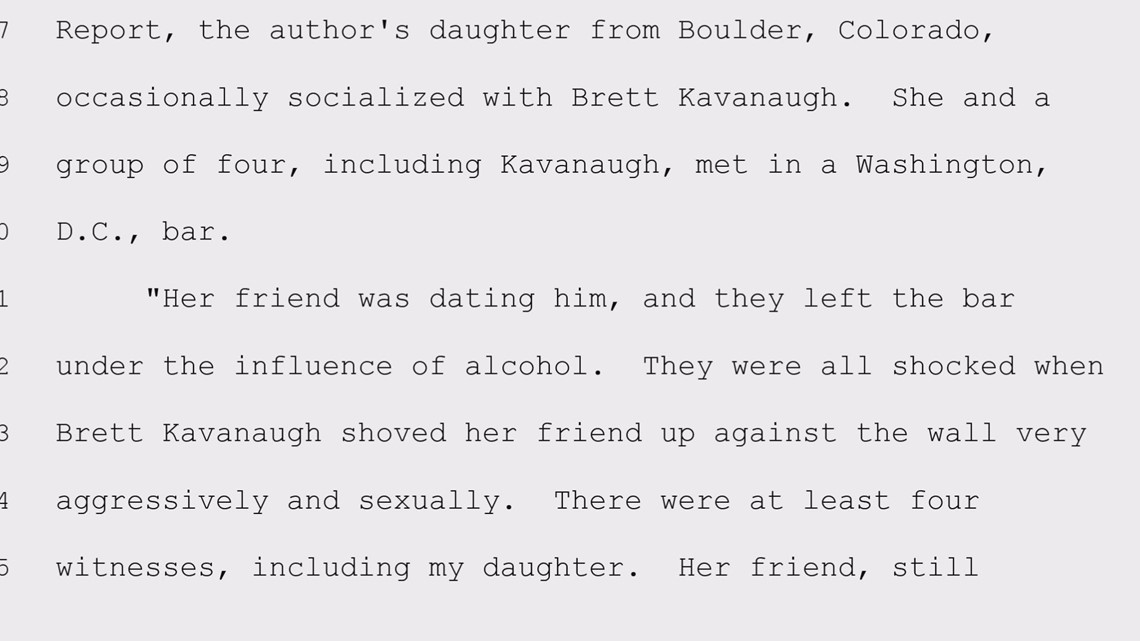 According to the letter, Kavanaugh had been drinking before the alleged incident.
When a member of the committee asks Kavanaugh if this happened, he denies the claim, calling it "ridiculous."
"Total twilight zone. And no, I've never done anything like that," Kavanaugh is quoted as saying, adding that he doesn't recall socializing with anyone from Boulder. "This is crazy town."
9NEWS reached out to Gardner's office, which said that upon receiving the letter, they immediately forwarded the information to the Senate Judiciary Committee. The full statement courtesy Casey Contres, Gardner's press secretary, is below:
"September 24th our Denver office received an anonymous letter in the mail about an alleged incident with Brett Kavanaugh in 1998. The letter contained no names, no address, and no contact info.
"Upon receiving the anonymous letter we immediately notified the Senate Judiciary Committee, which is handling the confirmation of Judge Kavanaugh. The letter was shared with both Republican staff and Democrat staff.
"Due to privacy regarding mail that comes into our office, we do not share the content of correspondence. Additionally, this anonymous letter contained no name or no contact info so our office is unable to contact the individual that sent the anonymous letter."
The statement from Gardner's office said he received the letter on Sept. 24. According to the transcript from the committee, he received the letter on Sept. 22. The letter is dated Sept. 22, meaning the person in the transcript may have misspoken.
Kavanaugh was nominated to the Supreme Court after Justice Anthony Kennedy announced his plans to retire earlier this year. Kavanaugh is an attorney that currently serves as a U.S. Circuit Judge on the U.S. Court of Appeals in D.C. Married in 2004, he has two children.
If he is confirmed, he would be the second justice President Donald Trump has nominated and helped get confirmed to the U.S. Supreme Court - the other being Colorado judge Neil Gorsuch.
Since his nomination, three women have come forward publicly and two people have anonymously to accuse Kavanaugh of misconduct. Dr. Christine Blasey Ford accused Kavanaugh and a friend of holding her down and attempting to rape her at a party in high school. Deborah Ramirez of Boulder said Kavanaugh put his penis in her face while at a dorm party while they were both freshmen at Yale. On Wednesday, Julie Swetnick came forward through her attorney to allege Kavanaugh and a friend would prey on young girls while in high school.
All three accusations stem from the early 1980s.
Kavanaugh denies all claims of misconduct against him.
The Senate Judiciary Committee has agreed to interview both Ford and Kavanaugh on Thursday before a committee vote on whether or not to recommend Kavanaugh for the Supreme Court. Regardless of the committee's vote, the full Senate will vote on whether or not to confirm Kavanaugh. The Senate is split with 47 Democrats to 51 Republicans. Two independents in the Senate usually vote with the Democrats.
Kavanaugh said in the transcript released Wednesday that he was looking forward to the hearing on Thursday.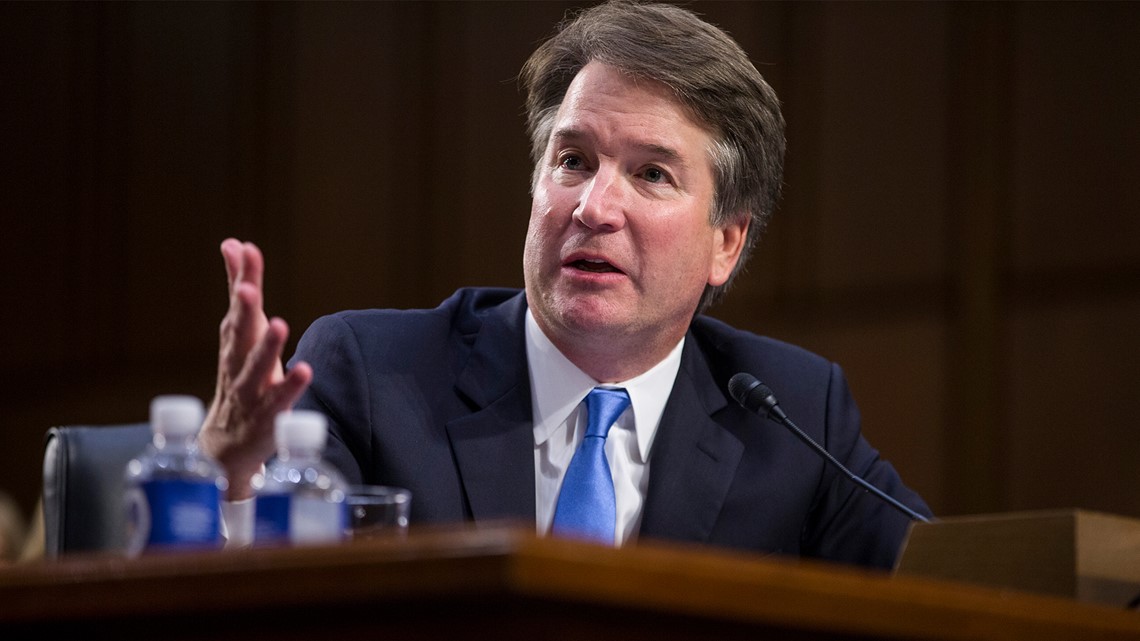 "I am looking forward to it," he told the committee. "...I look forward to defending my name, defending my integrity."
The transcript also allows Kavanaugh to respond to Ramirez's allegations about their time together at Yale. Kavanaugh admits to knowing Ramirez in college and attending a wedding she also did later in life but denies every claim she made against him in a New Yorker article published Sunday.
Earlier in the day on Wednesday, Julie Swetnick, a client of attorney Michael Avenatti, said in a signed statement that while he was in high school, Kavanaugh would drink heavily and "engage in abusive behavior" toward girls.
Swetnick claimed she witnessed Kavanaugh and Mark Judge, who was also mentioned in Ford's allegations, try to get teen girls drunk so they could be "'gang raped' in a side room or bedroom by a 'train' of numerous boys."
Kavanaugh denies the claims.
Avenatti, most known for representing adult film star Stormy Daniels, called for the FBI to investigate Swtnick's allegations.
Also in the committee transcript released Wednesday are was a second anonymous accusation that was recanted that same night.
Starting at 7:30 a.m. on Thursday, Channel 9 will be switching over to an NBC Special Report to cover the Senate Judiciary Committee hearings with Brett Kavanaugh and Dr. Christine Blasey Ford. We'll also be streaming the hearings on 9NEWS.com and on the 9NEWS app.
Editor's Note: This story has been updated to reflect a fifth accuser recanting their story concerning Kavanaugh.