DENVER — What was to be a joint discussion on race with the two remaining Denver mayoral candidates has become competing campaign events after challenger Jamie Giellis withdrew from the roundtable late Friday over concerns about the moderator.
In an email sent at 11:44 p.m. Friday, a staffer for Giellis said she was pulling out of the Colorado Black Round Table event slated for 9:30 a.m. Saturday at the Hiawatha Davis Recreation Center, saying the moderator is a paid agent of current Denver Mayor Michael Hancock.
John Bailey runs Colorado Black Round Table event and has received $9,000 from the Hancock campaign for "consulting" over the past three months, according to elections records from the city. Bailey also confirmed his work for the Hancock campaign to 9NEWS.
Hancock is still expected to attend the roundtable.
Bailey told 9NEWS' Kyle Clark early Saturday that other community members were to run the roundtable forum with the candidates.
"[Giellis] is afraid to go into the community where she might get some questions," Bailey told 9NEWS. "It's easy to go on Facebook."
Giellis and Hancock will face off in a runoff election for mayor, that will also include a "new" ballot question, on June 4. In the May 7 election, Hancock received nearly 40% of the vote, while Giellis received almost 25%.
The third- and fourth-place finishers in the May 7 mayoral election — Penfield Tate III and Lisa Calderón — have rallied behind Giellis in an attempt to unseat Hancock, who is running for his third term.
Giellis' campaign said she will hold a "conversation with African-American voters" Saturday and kick off her "Unity Tour" with a Facebook Live that's meant to be a conversation with the black community. The event is not open to public and is in lieu of the Colorado Black Round Table event.
This comes after Giellis gave the wrong answer Tuesday when asked to define the acronym "NAACP." In a statement later, Giellis said the acronym's meaning came to her seconds after the hour-long interview. She also said in a tweeted statement that she intends to join the organization.
Within hours, Giellis announced a tacos and lowriders fundraiser at a Mexican restaurant in Denver.
Twitter users also noted that Giellis' personal Twitter account, under her maiden name Jamie Licko, contained a 2009 tweet in which the urban planner questioned the prevalence of Chinatown neighborhoods in cities across America.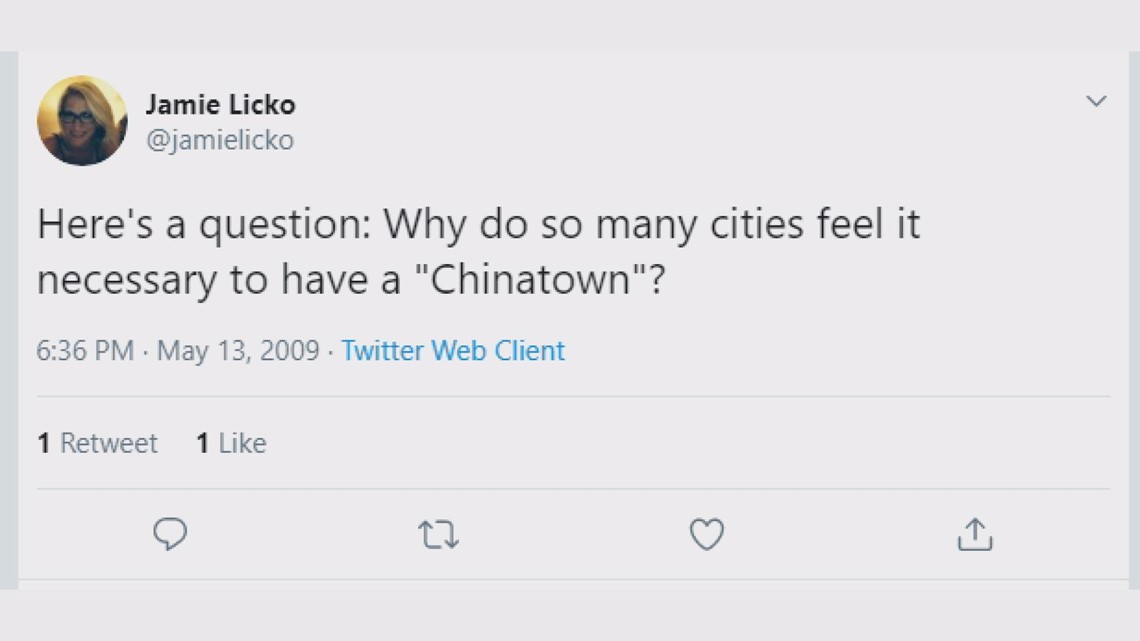 The Chinatown tweet was deleted late Wednesday, and Giellis' personal Twitter account was deactivated minutes later. Her campaign's Instagram account was similarly deleted Wednesday night, as was Giellis' personal Instagram account. The campaign account went live again Thursday.
Giellis said she spoke to Calderón and Tate on the phone Thursday. Both reaffirmed their support in a Twitter thread after the conversation.
"Nobody can come into this job having every bit of knowledge and experience that you think you're going to need to face whatever challenges are coming. Nobody will. The mayor didn't. None of our mayors have. So, the point here is, am I willing to surround myself with people that will challenge me and push me? Absolutely. I've demonstrated that in the past week. And are people who have been formerly rivals or opponents with me willing to come to the table and be part of that? Yes, absolutely," Giellis said.