DENVER — When you're reelected by nearly 20 points and your party owns a hefty majority in the state legislature, you don't have to give a long State of the State address, right?
Gov. Jared Polis (D) spoke for 70 minutes on Tuesday during his fifth State of the State speech at the Colorado State Capitol, laying out for the state legislature his priorities over the coming year. Based on the order of his speech, his top policy issues are housing and limiting property tax hikes.
9NEWS declined to participate in a series of one-on-one interviews with Polis, because of a precondition that 9NEWS also interview pre-selected supporters of the governor on a topic of the administration's choice.
But here's what the governor touched on during his address and in a subsequent press conference.
Crime
It took 58 minutes into his speech for Polis to bring up what was one of the top issues during the election.
In this section, he talked about wanting to expand the state's red flag law to allow district attorneys to petition for an extreme risk protection order, which allows a judge to temporarily take weapons from someone deemed a threat to themselves or others.
He also talked about cracking down on ghost guns, which are homemade untraceable guns.
There was no reference, however, to the soon-to-be-introduced bill that would define what assault weapons are and make them illegal.
While still in Congress, Polis co-sponsored the Assault Weapons Ban of 2018, a bill that did not go anywhere before he became governor.
At a news conference following the State of the State, Colorado Sun reporter Jesse Paul first asked about Polis' take on the assault weapons ban proposal.
"There's many proposals that you and I wouldn't know any more about than we've heard them discussed. We, specifically looking at the data, believe that extreme risk protection order can work better," Polis said. "We're happy to discuss other ideas from Republicans and Democrats about how we can improve gun safety in Colorado, and honor our Second Amendment rights as citizens of the United States of America."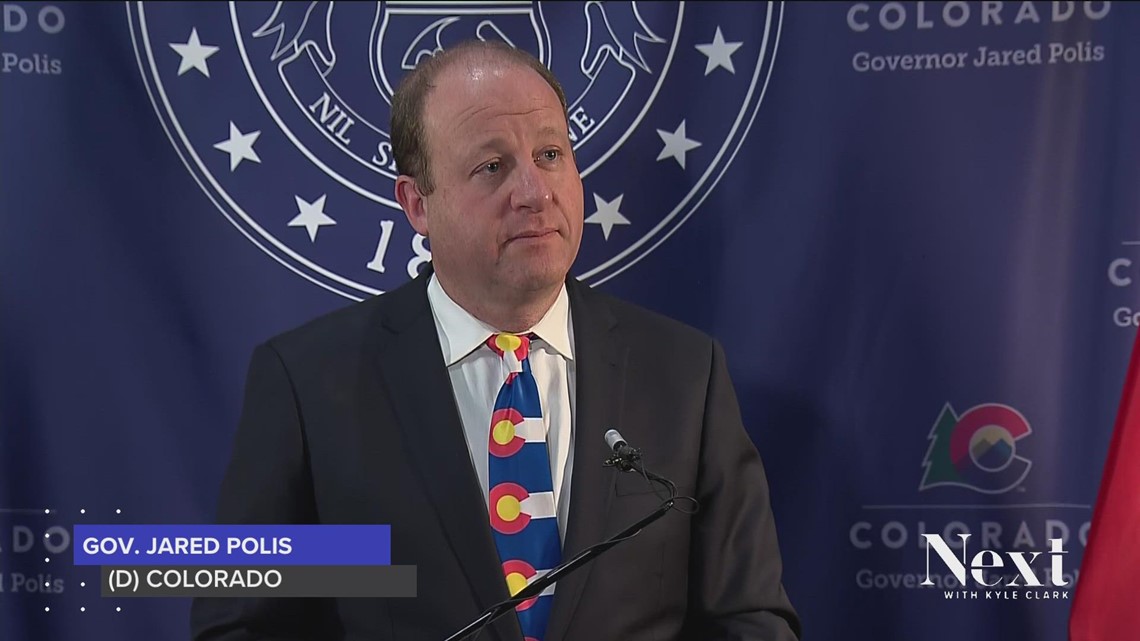 At the end of the news conference, we asked Polis if he no longer supports an assault weapons ban, like he did in Congress.
"I think that there's a lot that we should do federally, and don't get me started on that. I'll give you a perfect example, and to start with, is universal background checks. We're proud of our universal background checks in Colorado. We have a good system. But even if you're a convicted felon in Colorado, you can drive an hour-and-a-half to an open-air gun show in Wyoming, and with no background check at all purchase several weapons and bring them back to Colorado," Polis said.
That is true of private sales, but if a person goes to buy a gun in Wyoming from a federally licensed firearms dealer, like a gun store, a background check is required. But private sales in Wyoming are not required to utilize background checks.
"I do think, as a nation, we need to do more. There's limits to what states can do," Polis said.
FULL VIDEO: Polis gives 2023 State of the State address
TABOR Refunds
Regarding the bill that would ask voters to let the state keep future TABOR refunds, Polis did not give a direct answer on his thoughts on the bill, but kind of did in a roundabout way.
"I think the real question is is that something the voters of Colorado support? It sounds similar to a proposition that recently failed a few years ago in the state of Colorado," Polis said.
That is a reference to Proposition CC, which failed by 8 points in 2019. Prop CC asked voters to allow the state keep TABOR refunds for schools and roads.
"If we have a budget surplus, it means that our taxes are too high. So we should simply reduce our taxes so we don't have that kind of surplus," Polis said.
Everything else
During his address from the House chamber, the governor also touched on immigration.
"People have always come to America in search of freedom, safety and economic opportunity, often escaping brutal oppression from authoritarian, communist dictators like Maduro in Venezuela," Polis said. "But we as a country haven't always lived up to those values. We are doing our part in Colorado to support migrants, and a special thanks to the City of Denver, Larimer County and so many nonprofits including Organizacion Papagayo, Vive Wellness and The American Friends Service Committee, for being great partners in ensuring every migrant coming to our state is treated in the most humane way possible."
The governor's address then moved to the need for more affordable housing in Colorado.
"Many Coloradans are struggling to find a place where they can afford to live," he said. "Many more are being forced out of their neighborhoods with no hope of ever living close to where they work. This means more traffic, lost time and money spent on long commutes, more air pollution, and greater economic and workforce challenges."
Polis said that Coloradans can look at California to see what decades of poor planning have done for those communities.
The governor then talked about steps that have been taken to improve transportation across Colorado.
"Together we have laid the foundation for a statewide road and transit system that meets the needs of Coloradans," Polis said. "First, with investments from the historic Senate Bill 260, and then with the creation of the Front Range Rail District, which is scheduled to deliver a draft service plan by 2024. Thank you to President Fenberg, Sen. [Faith] Winter and Sen. [Rachel] Zenzinger, for your leadership on those bills. Over the next few years, we will continue working toward that vision, and I am asking CDOT to work with local transit partners to identify and take the next steps towards better lower cost transit options."
Polis then addressed property taxes and the need to prevent steep increases in the future.
"Last year we saved Coloradans more than $700 million through historic property tax relief for homeowners and businesses, while protecting funding for schools thanks to the work of Sen. [Chris] Hansen and Rep. [Mike] Weissman," Polis said. "But residential values grew more than 26% over the last two years, much more than most people's incomes went up during the same period. If we don't act, property taxes will go up by hundreds, even thousands, of dollars. We need to prevent these steep increases by taking decisive action."
"We should also make the senior homestead tax exemption portable," Polis added. "Our seniors should be able to downsize without having to pay higher property taxes, freeing up their larger old homes for younger, growing families."
The attention then shifted to addressing and combating homelessness.
"Making our state more affordable and creating more housing now is truly one of the most effective ways to reduce homelessness," Polis said. "We continue seeking proposals from local governments to utilize the $200 million that this legislature invested last year to reduce homelessness. Thank you to Representatives Woodrow and Valdez, and Senators Gonzales, Hansen, Fields, and Coleman for your work securing that transformational funding. There are many approaches that have worked in other states, and we hope to see those proven models replicated here."
Polis mentioned energy goals that the state has achieved and new goals for the future.
"We have already secured more than 80% renewable energy by 2030," Polis said. "By the time Colorado is 150 years old, we look forward to having a clear path to 100% renewable energy by 2040.
"But we also remain focused on investing in clean transportation, accelerating the use of renewables, reducing oil and gas emissions and holding polluters accountable," Polis added.
When talking about the state's energy future, he mentioned work being done at Colorado Mesa University and their project to provide more geothermal energy.
"As chair of the bipartisan Western Governors Association, I am championing geothermal energy through our Heat Beneath our Feet initiative," Polis said. "And I'm excited that my budget request provides funding for Colorado Mesa University to expand campus-wide geothermal heating and cooling systems, with a goal to become the first university in America to be fully powered by geothermal heating and cooling."
Another issue the governor addressed is the rising costs of health care.
"Together we've reduced costs for health care coverage through Reinsurance, the Colorado Option, Omni Salud and expanded Medicaid and CHIP," Polis said. "Just last week we learned that more than 34,000 people have enrolled in Colorado Option plans, saving Coloradans millions of dollars and surpassing original estimates for enrollment.
"But we have a lot more work to do," Polis added. "The United States spends far more on health care than our peers around the world, and our results are no better. Meanwhile, Coloradans still pay some of the highest costs for health care, particularly hospital care. Sadly, we are among the top 10 states for hospital cost, price and profit. Let's change that."
Colorado Hospital Association pushes back on governor's finance claims
Polis then addressed the cost of child care and access to education.
"Thanks to Representative McLachlan, Senator Bridges and Senator Fields, free, full-day kindergarten saves families thousands of dollars every year," Polis said.
"And thanks to Representative Sirota, Senator Buckner, President Fenberg, so many others, and of course, the people of Colorado, free preschool – launching this fall – will save families at least $6,000 per year and give our children the best possible start in life," Polis added.
"Let's ensure that every student has access to career-connected learning while they are in high school, and let's reward those schools that are doing more to help their students succeed in the workforce and in life," Polis said. "Whether it's dual and concurrent enrollment, career and technical education, work-based learning and apprenticeship, or even receiving an industry certification or associate's degree."
Finally, the governor addressed crime rates in the state.
"Right now, Colorado falls in the middle of the pack on crime rates, but that's not good enough," Polis said. "We can and we must do better. I want to commend our legislators who helped pass last year's public safety package especially Senator Janet Buckner, Representative Valdez, Representative Ricks, Representative Bacon, and so many others. From investments in recruitment and retention for local law enforcement to physical improvements in our communities and support for proven crime prevention strategies – this bipartisan collaboration is already beginning to have an impact."
"We're also investing in proven crime prevention strategies, expanding the capacity of the Colorado Bureau of Investigation and improving school safety by helping our schools make necessary security improvements, expanding threat assessment training and creating a one-stop shop to help schools and parents get the resources they need," Polis said.
The governor asked for a moment of silence during the address to recognize the victims who lost their lives during the shooting at Club Q in Colorado Springs: Daniel Aston, Kelly Loving, Ashley Paugh, Derrick Rump and Raymond Green Vance.
He also took time to recognize two individuals in attendance, who helped stop the shooting.
Subscribe to our daily 9NEWSLETTER for top stories from 9NEWS curated daily just for you. Get content and information right now for can't-miss stories, Next and Broncos content, weather and more delivered right to your inbox.
HOW TO ADD THE FREE 9NEWS+ APP TO YOUR STREAMING DEVICE
ROKU: add the channel from the ROKU store or by searching for KUSA.
For both Apple TV and Fire TV, search for "9NEWS" to find the free app to add to your account. Another option for Fire TV is to have the app delivered directly to your Fire TV through Amazon.