DENVER — Colorado voters gave an overwhelming mandate to Gov. Jared Polis (D).
He won reelection in November by nearly 20 points.
During his second inauguration on Tuesday, Polis made few policy statements during his 12-minute speech. Then again, his fifth state-of-the-state address is next week, when he lays out for the legislature what he wants over the next four months.
Through the pomp and circumstance, Polis did highlight some of what his second term will focus on, including one area both Democrats and Republicans emphasized throughout the campaign.
"We're going to tackle crime head on. Yes, by holding criminals accountable, but also by preventing crime before it happens to make our neighborhoods safer," Polis said.
No, this is not a reference to Minority Report and predicting crime before it happens. In his budget, Polis has proposed using another $18 million, on top of $15 million set aside last year, for grant money for the following:
Money for nonprofits, mental health centers and law enforcement to address areas where crime is high
Law enforcement recruiting and training
Hiring officers who look like the people they serve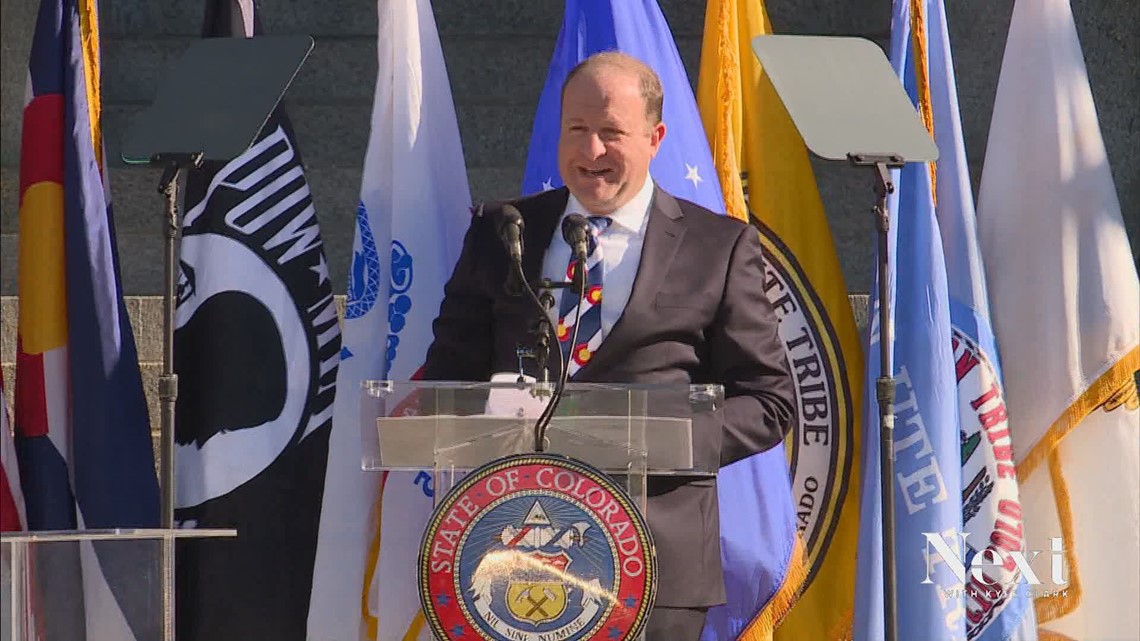 Four years ago, Polis pushed for universal kindergarten funded by the state. Twice on Tuesday, he brought up universal preschool.
"We're very excited about implementing free preschool for every family that wants it this coming fall," Polis said.
Voters in 2020 helped provide the money to make that happen. Proposition EE increased the tax on tobacco products, and that money will fund the bulk of universal preschool.
Another part of his speech highlighted areas he plans to focus on in his second term.
"We're going to keep using every tool we've got to save Coloradans money. Lower taxes, lower transportation costs. Lower medical bills. Lower business fees and, of course, lower housing costs," Polis said.
Let us take a look back at the last four years on some of those areas.
Lower taxes
The state income tax is lower, but not because of Polis. Voters approved Proposition 121 in November, lowering the state income tax rate to 4.4% from 4.55%.
As we reported in a Truth Test in September, he cannot quite say that he lowered them yet.
It is not likely that your property taxes went down. A bill passed by the legislature, and signed by Polis, changed the math equation that determines your property tax, meaning they probably went up, just not as much as they would have without the bill.
Lower transportation costs
Polis and the legislature delayed a gas fee that was supposed to start in July 2022. That new two-cent per gallon gas fee will now start in April, and increase to three cents per gallon in July, increasing one cent every year.
The bill that created the gas fee in the first place also included a 27-cent delivery fee and 30-cent rideshare fee (reduced to 15 cents if the rideshare is electric), which were never delayed.
The one transportation cost that did go down, temporarily, is the vehicle registration fee. The fee was reduced $11.10 this year, and will be reduced by that much this year, before that reduction goes away.
There is also a $29 state parks fee that is added to vehicle registration fees, if not opted-out by the vehicle owner.
Two people in local government suggested Polis could have referenced paving new roads and making roads and bridges in a condition that would not cause you to have to repair your vehicles as often.
This was Polis' final inauguration, unless he sets his sights on higher office, which Rev. Dr. James D. Peters, Jr. alluded to in his invocation.
"I have watched as the federal government has taken people who are doing a great job where they are, in state government, to work for the federal government. But let me warn you. He is our governor. So, my message to Washington is back off," Rev. Peters said.
Polis will deliver his State of the State address on Jan. 17 at 11 a.m.