DENVER — The security lines at Denver International Airport (DIA) can wrap all the way to baggage claim. Fixing the long waits might not be so easy. The airport and the TSA both said they're not responsible for the reason the lines are so long.
After 9NEWS asked DIA and TSA about the crazy long lines, both pointed fingers at the airlines.
"Airlines are banking their flights into smaller windows of time. This means that there are more departures happening in smaller windows, which means more passengers," the airport told us.
DIA said it doesn't control the flight schedule and therefore can't do anything about it.
"This doesn't look too bad today," said Steve Weierbach, traveling to New Jersey on Tuesday.
Midday on a Tuesday might just be the best time to fly out of Denver.
"I've seen it way busier than that," Weierbach said. "It's mayhem. The lines are way past the markers there."
TSA acknowledged DIA is set up in a specific way that makes it prone to long waits. All the airlines use two main security checkpoints and one smaller one. In other airports, individual airlines have their own checkpoints.
TSA warned the waits could get long between 6 and 10 a.m., 11 a.m. and noon, and 2 and 4 p.m. They also said it's the airlines' fault for scheduling flights so close together.
"Due to the high travel volumes at DEN, there will be periods during the day when the number of passengers who need to be screened exceeds the capacity of the checkpoint for a period of time. That is what drives the security lines and wait times. However, the flight departure schedules that drive these wait times are set by the airlines," a TSA spokesperson told 9NEWS in a statement.
TSA declined an interview with 9NEWS.
Frontier now sends passengers notices before their flight out of DIA that TSA wait times could take up to 70 minutes some days, a statement the TSA disputes.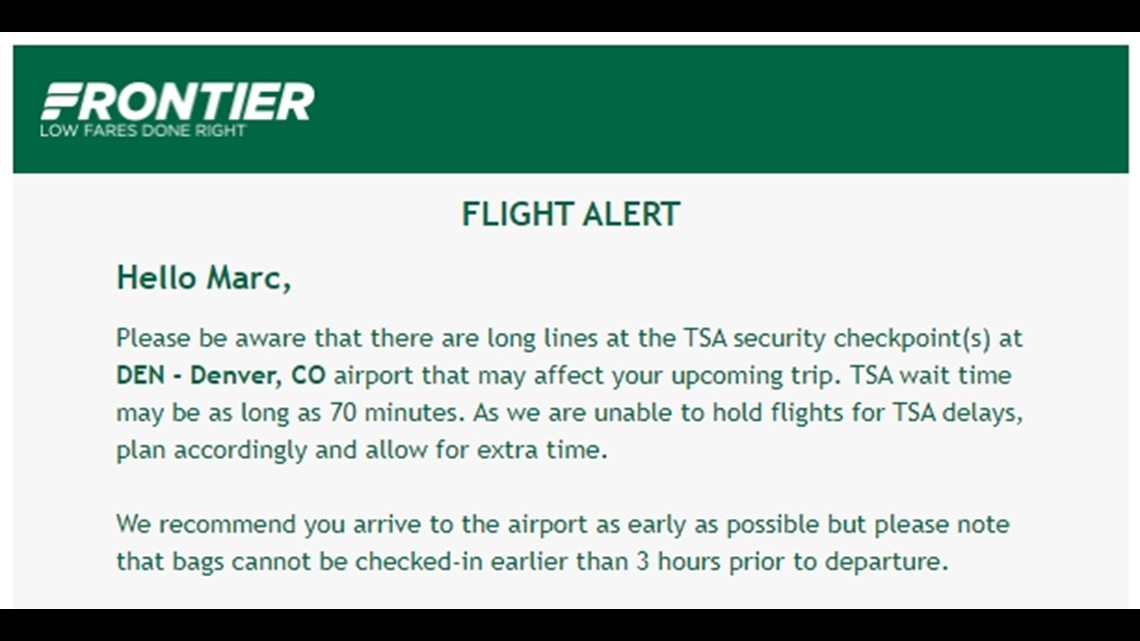 "We coordinate closely with airports and air carriers to prepare for the projected increase in travel times," the TSA statement said. "We also measure wait time standards, which is 30 min or less for standard and 10 min or less for TSA PreCheck, not the length of the line. It's the length of time you're in the line."
There might be some good news coming soon. DIA said they're working to add four additional TSA lanes they hope will be ready to open in June.
TSA said staffing is not an issue for them right now.
"I'm just one of those people that will get here two hours early just to see how the lines are. Even then the lines are usually long," said Kereomel Ignacio as he walked through the airport. "Everyone is going on the same planes. It's just a matter of who can wait the longest. It's a test of patience."
9NEWS reached out to United and Southwest Airlines.
"United has long operated our schedules on a bank structure, which means we have windows of time throughout the day where our planes are arriving and departing – this is not new. We regularly share our flight schedule and passenger numbers with the TSA so they may plan accordingly," a statement from united read.
Southwest did not respond with an on-the-record statement.