JEFFERSON COUNTY - A former FBI special agent and crime scene reconstruction expert claims that a child predator framed Michael Blagg for his wife's murder and his daughter's disappearance.
John Larsen, an expert who testified for Michael Blagg's defense on Thursday, says the evidence lies in the fact that even though it was obvious 34-year-old Jennifer Blagg had been killed, both she and 6-year-old Abby were gone. This meant that the ensuing investigation focused on both of them — and immediately shifted the blame to the most obvious suspect.
"I would have looked at Mr. Blagg right off the bat, that's gonna be my focus, because if I can find mom, I can find the child," Larsen said.
PROSECUTION THEORY | Crime scene expert: Jennifer Blagg's killer staged the bedroom
PREVIOUS STORY | Felon on 'joyride' said he saw Abby Blagg at gas station after disappearance
Photos of Michael, Jennifer and Abby Blagg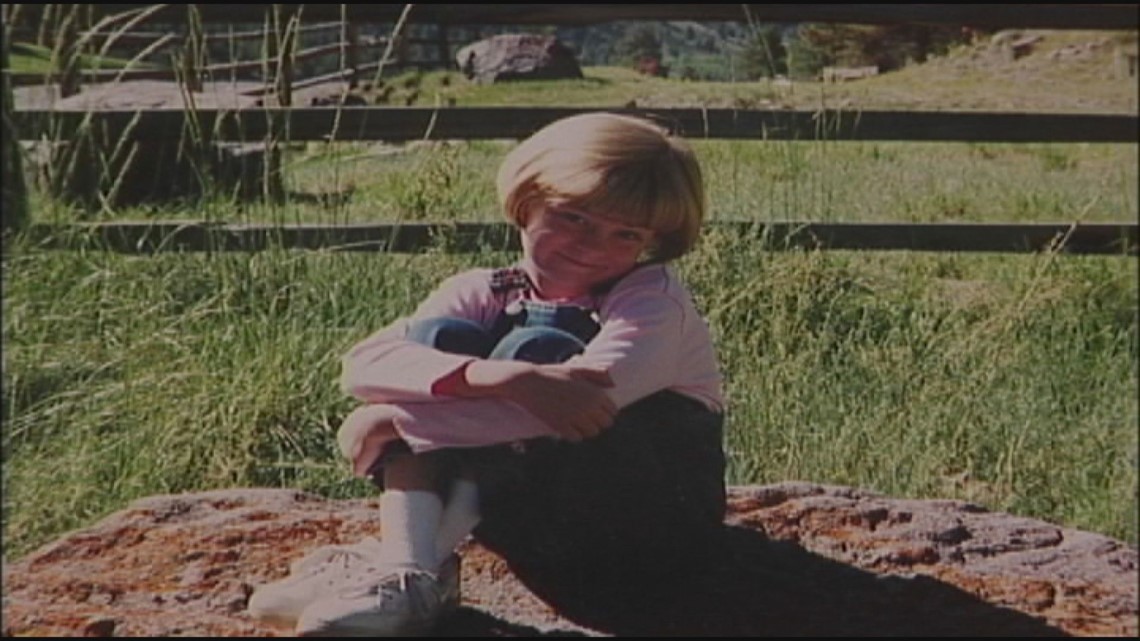 The body of Jennifer Blagg was found on June 4, 2002. Her husband was arrested two days later, and found guilty of her murder in 2004. That conviction was overturned a decade later after a juror was caught lying on her questionnaire about being the victim of domestic violence — and now, the case is being retried in Jefferson County, where it was moved due to its notoriety on the Western Slope.
Abby Blagg hasn't been found to this day. And Larsen said this is an important fact in the case that some investigators didn't consider.
Had Jennifer Blagg's body still been at the crime scene when it was discovered on Nov. 13, 2001, the focus would have immediately shifted to her missing little girl, Larsen said.
"All the sudden her little picture is in every truck stop, every 7-Eleven, fast food place, the focus is on her," Larsen said. "But if the body's not there of the mother, the tendency is if it's a violent scene, you've got to find mom, you've got to find the child. It's been well thought out."
He says a child predator would have been focused on getting out of Grand Junction at all costs — and it wouldn't happen if there was a widespread search for a kidnapped little girl.
RELATED | What Michael Blagg said when police weren't around
Courtesy Mesa County Sheriff's Office
"All the sudden you have police pulling every van over, every truck over, talking to every little 6-year-old child," Larsen said.
His testimony is contrary to two experts for the prosecution, who argued that the scene was a "staged domestic homicide." They say the proof is in the box of jewelry thrown on the floor of the master bedroom.
Larsen agreed that this part of the scene was staged — but said that a smart kidnapper would have done it to mislead law enforcement.
"I thought the process of what happened in this scene was very organized," Larsen said. "I thought the way the physical elements of the scene played out, this person had done it before."
Investigators who responded to the Blagg home on Nov. 13, 2001 found a jewelry box knocked over in the master bedroom of the home and a large splatter of blood on Jennifer Blagg's side of the bed.
Larsen says he views what happened as "murder-abduction case" and that Abby Blagg was the primary target.
PREVIOUS STORY: 'I was under a lot of stress:' Michael Blagg addresses behavior after wife's murder
PREVIOUS STORY | 'I knew I was innocent:' Michael Blagg takes the stand in his second murder trial
"I'm looking at the fact they found no source of DNA that would show there's a violent act toward her, and her room was pretty much … when you look at that video, immaculate," Larsen said. "[The way] it was set up — it seemed everything had been in order."
Prosecutors claim that sometime early that morning, Michael Blagg shot his wife in the face while she was sleeping, wrapped her in a tent, loaded her into the family minivan and then threw her into the dumpster at his office, Ametek Dixson.
Iris Dalley, a crime scene reconstruction expert for the prosecution, claimed that bloodstains found in the minivan belonging to Jennifer Blagg indicate that her body could have been there. Larsen disagreed.
"I would have expected to see … 145 pounds wrapped, and if it's leaking, you're going to get swipes, where the blood is coming down and the object is going through it," Larsen said. "I would expect to see a number of those things in that vehicle.
"If you're going to have blood spatter on the threshold [of the van], where did that come from? It was so minute and small compared to what should have been going on inside the van."
Michael Blagg's public defenders say that a child predator killed Jennifer and kidnapped Abby, and that the ensuing investigation has since been tainted by the false assumption that it's "always the husband."
RELATED| Wife's body was put in landfill on different day than trash from Blagg's office, defense expert says
MONDAY MORNING STORY: Judge weighing testimony from expert claiming blood from CBI agent was at Blagg crime scene
Larsen said it's possible there could have been a third-party suspect inside the home based on the unknown fingerprints and hairs found by investigators. Witnesses for the prosecution have said that they didn't have known fingerprints or a confirmed hair set for Jennifer and Abby Blagg, and that they would have expected quite a bit of evidence found in the home to be unidentifiable because of this.
More than 75 percent of the fingerprints found inside the Blagg house after the crime belonged to Michael Blagg, according to the Colorado Bureau of Investigation.
The defense in Michael Blagg's second trial has worked hard to poke holes in CBI's processing of the crime scene in the days after Nov. 13, 2001. One of their key points of contention is a spot of blood found on the step to the garage of the Blagg home that had apparently been contaminated with the DNA of CBI Investigator Matt Saluto.
"It's really pointing to something that's going on within that scene," Larsen said. "Because we know that the CBI … they did a thorough job in processing using Luminol for blood to try and follow where blood was in this crime scene. So all the sudden they have blood and a DNA hit on the step, and all the sudden you have blood and are kind of questioning 'how did it get there?'"
"If you can figure out who put it on the step it could be the same person who put it in the van."
RELATED| Defense asks for mistrial amid testimony from Jennifer Blagg's mother
RELATED| No mistrial in Michael Blagg case
Larsen pointed to the fact that Saluto was the one who took the crime scene photos — including photos that depicted the inside of the family minivan. Before that, he stood on the bed where Jennifer Blagg was shot.
He claims that Saluto could have picked up some of her blood while taking photos in the bedroom and brought it out to the minivan.
"He's going from one thing to another, and leaving his own trail behind," Larsen said.
Larsen also claimed that law enforcement risked contaminating the scene from the get-go. He says too many people went into the scene without the proper clothing, and that a sergeant's decision to pull some of Jennifer Blagg's underwear from the master bedroom so a dog could track it was a huge mistake, since it's a room they shouldn't have touched.
"That's just off-limits to everybody," he said. "You go into the front closet, you look for shoes. There's a lot of different ways you can go about it. Because if you go into that scene and disturb it or move it, they don't know you moved it. That's a real problem."
The prosecution has claimed that Michael Blagg and his wife had multiple arguments about his use of online pornography and that he displayed odd behavior at work the day of the disappearances, as well as in the weeks and months after that. Investigators have claimed Jennifer Blagg's body was found amid a "plume" of trash from Ametek Dixson that they used to guide their landfill search.
The defense has tried to dispute the location of Jennifer Blagg's body in relation to the Ametek Dixson trash, as well as try to repeatedly admit evidence that could link the crime to an alternate suspect.
So far, the judge has not allowed this. It will likely be up for debate again later this afternoon as both sides discuss the expected testimony of a DNA expert and the possibility an unknown profile was found at the crime.
Testimony is expected to wrap up on Friday and closing statements are slated for Monday.
The prosecution will cross-examine Larsen on Thursday afternoon about his claims regarding the child predator.
9NEWS is in the courtroom and will post updates to 9NEWS.com during breaks.
National Center for Missing & Exploited Children