JEFFERSON COUNTY – Michael Blagg is more than a decade into what was supposed to be a life sentence for the 2001 murder of his wife, but that conviction was overturned after a juror was caught lying on her questionnaire about being a victim of domestic violence.
That means the now-55-year-old's fate is once again in a jury's hands – and attorneys on both sides of the now-five week trial will make their closing arguments on Monday morning inside the Jefferson County courthouse.
PREVIOUS STORY: Michael Blagg's public defenders say DNA evidence could indicate alternate suspect
PREVIOUS STORY: Bloodstained mattress, urgent prayer request seen by jury in Michael Blagg trial
Photos of Michael, Jennifer and Abby Blagg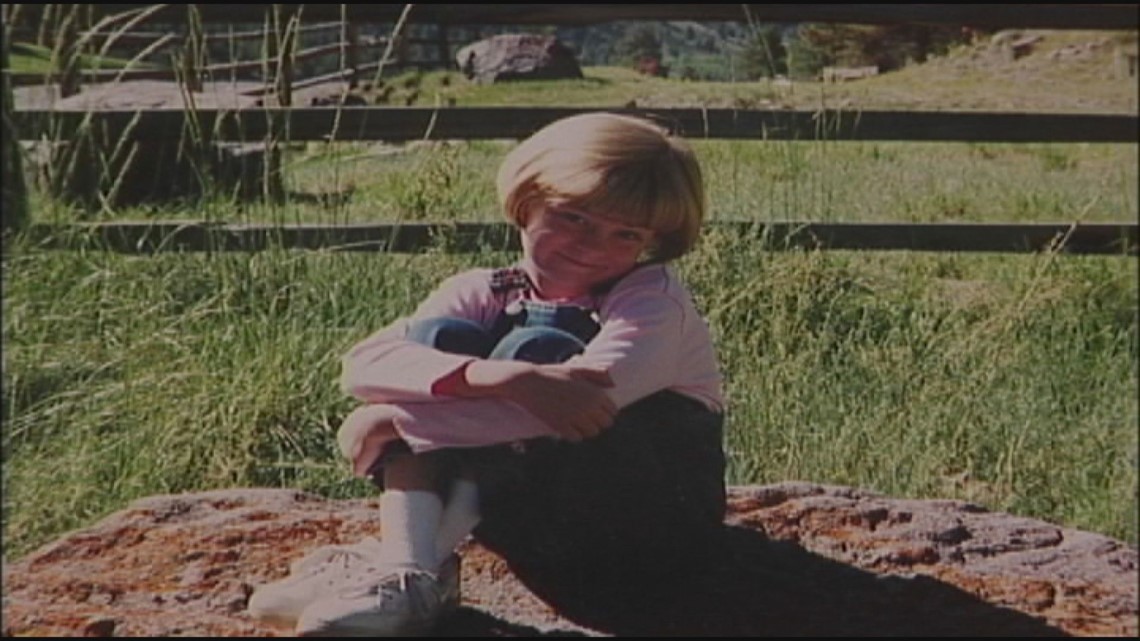 The saga started at 4:21 p.m. on Nov. 13, 2001. Michael Blagg called 911 and said he came home from work to find the back door to his quiet two-story home just outside of Grand Junction ajar. He said nothing else was amiss except for the master bedroom, where there was a jewelry box thrown onto the floor. There was a large splatter of blood on his wife's side of the bed that had dripped onto the clean white carpet.
Jennifer Blagg, 34, and the seemingly perfect couple's 6-year-old daughter Abby were gone.
RELATED: Investigator: Only thing that seemed out of place in Blagg home was master bedroom
RELATED: Michael Blagg joked about being single after wife, daughter's disappearance
During Michael Blagg's second trial, the former naval pilot's coworkers at Ametek Dixson testified about what they said was odd behavior in the weeks following his wife and daughter's disappearance. He joked to two female coworkers about being single, and was caught stealing furniture from his office.
When left alone during an interview with investigators, Michael Blagg was heard saying "please, please, please find them."
RELATED: 'There is no way on Earth to get away from God': Interrogation focuses on porn, marital troubles
RELATED: What Michael Blagg said when police weren't around
RELATED: 'We have a wonderful marriage': Michael Blagg talks about day wife, daughter disappeared
The self-professed "born again Christian who was an open book to investigate" took the witness stand in his own defense, and had to read from a pages-long list of porn websites found on his browser history. He claimed that he and his wife would watch porn together, but during a 10-and-a-half-hour-long interrogation in February 2002, admitted his browsing habits were a source of friction in his nearly decade-long marriage. In a letter found near the crime scene, he apologized to his wife for giving "the devil a foothold."
The day after the interrogation, Michael Blagg attempted to take his own life. Investigators found an open Bible near the bathtub where he had slit his wrists, as well as a photo of his wife and daughter.
RELATED: 'I knew I was innocent:' Michael Blagg takes the stand in his second murder trial
RELATED: 'I was under a lot of stress:' Michael Blagg addresses behavior after wife's murder
In May 2002, investigators began combing through the Mesa County landfill for evidence related to the missing persons case. Two days after the beginning of their search, Michael Blagg moved to Georgia to live with his mother. He was unemployed and suddenly one of the most notorious people on the Western Slope.
And on June 4, 2002, an excavator that investigators claim was following a "plume" of Ametek Dixson trash found the decomposed body of Jennifer Blagg, which had been wrapped into a tent. She was still wearing the retainer she wore to bed every night.
RELATED: How searchers found Jennifer Blagg's body in the Mesa County landfill
RELATED: Wife's body was put in landfill on different day than trash from Blagg's office, defense expert says
Michael Blagg was arrested two days later. And in April 2004, he was found guilty of killing his wife. That conviction was overturned a decade later, and the case has since been moved to Jefferson County due to its notoriety on the Western Slope.
Prosecutors claim that sometime during the early morning hours of Nov. 13, 2001, Michael Blagg shot his wife in the face while she was sleeping, wrapped her body in a tent in the garage, loaded her into the family's red minivan and then threw her into the dumpster at Ametek Dixson.
RELATED: Crime scene expert: Jennifer Blagg's killer staged the bedroom
RELATED: 'There's no smoking gun:' Prosecution rests its case in the Michael Blagg trial
Courtesy Mesa County Sheriff's Office
They say there were splatters of blood in the minivan and evidence of a cleanup at the couple's home. An expert for the prosecution called what happened a "staged domestic homicide" and said a real intruder would have made off with credit cards, money and guns – not just insured jewelry.
But Michael Blagg's defense claims that this argument is proof of a "contaminated" investigation, and that he has been the victim of both a nightmare situation and the false assumption that it's "always the husband."
Michael Blagg's public defenders have pointed to the fact that a CBI agent's DNA was found in a stain of blood in the garage as proof that investigators were sloppy.
RELATED: Three-quarters of the fingerprints found at the crime scene belonged to Michael Blagg
RELATED: Child predator may have framed Michael Blagg for his wife's murder, defense expert says
And a defense expert argued that the scene at the Blagg home looks like a "murder-abduction," where a smart child predator killed Jennifer Blagg and kidnapped her daughter – but made it look like Michael Blagg was responsible to throw off investigators and to prevent a large-scale search for a missing child.
The judge has overruled the defense's attempts to introduce an alternate suspect named Philip Bruinsma, who is currently in prison in Montana for crimes against children.
RELATED: Felon on 'joyride' said he saw Abby Blagg at gas station after disappearance
One person who was allowed to testify was Thomas Furry, who is serving a prison sentence for child molestation and who claims he saw Abby Blagg at a gas station in Utah days after she first disappeared. A woman the five-time felon was with claims he was lying – and that's why investigators say they didn't follow this lead.
No trace of Abby Blagg has been found to this day.
Closing arguments in Michael Blagg's second trial are slated to begin at 8:30 a.m. on Monday. After that, his fate will be in the hands of a jury one again.
9NEWS is in the courtroom for closing arguments and will provide updates on 9NEWS and 9NEWS.com when they become available.
National Center for Missing & Exploited Children