JEFFERSON COUNTY - On Nov. 16, 2001, Thomas Furry was on a self-described "cross-country joyride of the West" in a stolen vehicle when he thought he saw a little girl who is still missing more than 16 years later.
Furry's trip started in Pennsylvania. He and a lady companion drove to Las Vegas, and were headed back east on Interstate 70 when they pulled up to a Texaco in Utah at around 8:30 p.m. so she could use the restroom. Furry says he didn't notice the little girl at first. Instead, it was the woman she was with that caught the now-five-time felon's eye.
RELATED: What Michael Blagg said when police weren't around
Photos of Michael, Jennifer and Abby Blagg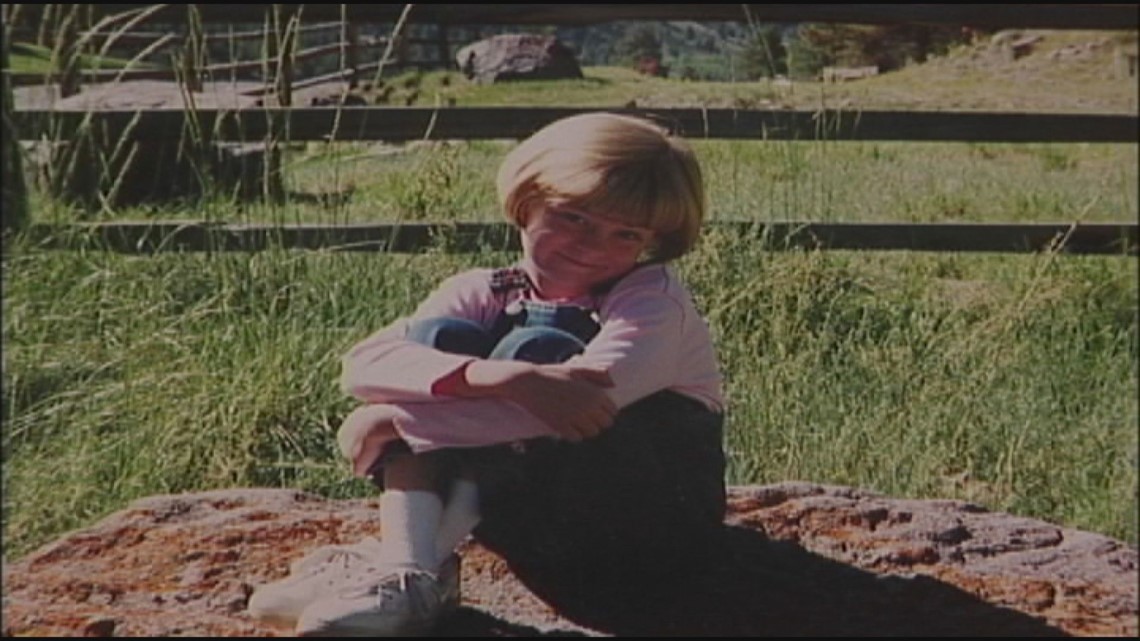 "The only reason I looked at her was because she had big breasts," Furry said via a video conference call that was transmitted to a jury in a Jefferson County courtroom. "She had blonde hair."
The next morning, Furry was arrested and brought to the Mesa County Sheriff's Office. He saw a flyer on the wall and says he immediately recognized the little girl as the same one he saw walking out of the gas station in Utah with the woman, who he says was holding the child's arm before they got into a dark blue Chevy sedan with an American flag decal on the back.
"Her face was reddish, kinda … you can tell when a child's been crying. Nose is red," Furry said.
The little girl on the flyer was 6-year-old Abby Blagg.
PREVIOUS STORY: 'I was under a lot of stress:' Michael Blagg addresses behavior after wife's murder
PREVIOUS STORY | 'I knew I was innocent:' Michael Blagg takes the stand in his second murder trial
Furry, who is currently serving a prison sentence in Louisiana for child molestation, testified Wednesday afternoon for the defense of that little girl's father Michael Blagg during his second trial for the murder of his wife.
Both Jennifer and Abby Blagg were reported missing on Nov. 13, 2001. Michael Blagg said he came home from work that afternoon and found the backdoor of the family's Grand Junction home ajar. A jewelry box had been thrown on the floor of the master bedroom. There was a large splatter of blood on his wife's side of the bed that had dripped onto the clean white carpet.
Michael Blagg said his wife and daughter were gone.
The prosecution alleges that sometime early in the morning the day his wife and daughter disappeared, Michael Blagg shot Jennifer Blagg in the head while she was sleeping, wrapped her body in a tent, carried her out to the garage and into the family minivan, and then threw her into the dumpster at his office, Ametek Dixson.
Jennifer Blagg's decomposed body was found in the Mesa County landfill on June 4, 2002. Michael Blagg was arrested two days later, and found guilty of killing his wife in 2004. That conviction was overturned after a juror was caught lying on her questionnaire about being the victim of domestic violence.
RELATED| Wife's body was put in landfill on different day than trash from Blagg's office, defense expert says
MONDAY MORNING STORY: Judge weighing testimony from expert claiming blood from CBI agent was at Blagg crime scene
Fourteen years later, the case is being retried in Jefferson County — where it was moved because of its notoriety on the Western Slope. Michael Blagg's public defenders say a child predator killed Jennifer and kidnapped Abby, and that in the years since, the investigation has been tainted by the false assumption that it's "always the husband."
In part, this is why they worked so hard to bring Furry back to the virtual witness stand.
He says the little girl in the gas station wasn't crying. She looked like she was being defiant, but wasn't screaming for help. But he also said he was fairly certain she was the same girl as the one on the missing persons poster in the Mesa County Sheriff's Office.
"I'd say 99 percent sure," was Furry's response when asked by Public Defender Tina Fang.
During cross-examination, the prosecution called Furry out for inconsistent statements made about the make of the car (a Chevy Corsica or Cavalier, he said), contrary descriptions of seeing them walk into the gas station versus not walk in, a previous report in which he said he was "pretty much sober at the time" and the fact he couldn't remember exactly how many felony convictions that he had or even what he did to get them.
RELATED| Defense asks for mistrial amid testimony from Jennifer Blagg's mother
RELATED| No mistrial in Michael Blagg case
Lisa Norcross, an investigator with the Mesa County Sheriff's Office who has been assisting the prosecution during the trial, received a report about what Furry saw on Nov. 17, 2001 — the same day he told law enforcement.
She was called to the witness for the second time right after Furry — this time by Fang, who grilled her about not issuing a "Be on the Lookout" for the car Furry had described and not following up with local law enforcement about his report.
Norcross said there were some obvious reasons why she hadn't followed up with Furry.
"The information contradicted itself," she said.
The woman Furry was with said he was lying. Norcross said their investigation further revealed that while Furry claimed he went right from an exit on eastbound I-70 to get to the Texaco where he claims this happened, there's no Texaco on this side of the highway.
Fang asked Norcross about how she sent the missing persons flyer for Abby Blagg to law enforcement agencies in Utah via the mail. She also received a tape of surveillance video from a Texaco that was dated for the wrong day she didn't follow up with.
Fang asked Norcross about another lead in the case: a psychic, who she eventually went to the crime scene with for a couple of hours.
Furry says he was never contacted about his report until the defense called him 17 years later.
Testimony in the Michael Blagg case will resume at 3:20 p.m. 9NEWS is in the courtroom and will post updates as they become available.
Courtesy Mesa County Sheriff's Office