JEFFERSON COUNTY - He has already stood trial once in 2004 for the murder of his wife more than 16 years ago. It ended in a guilty verdict.
Now more than a decade into what was supposed to be a life sentence, Michael Blagg is facing a jury once again — and this time, he took the witness stand to offer his explanation for what occurred before, during and after Nov. 13, 2001, the day that this former Navy pilot's life changed forever.
"I was destroyed, it was the low point in my life," Blagg said.
He said he didn't kill his wife and that he didn't harm his daughter. He said he loved them "with all my heart" and has been on trial for a crime he didn't commit.
The now-55-year-old's hair has gone grey in the years since he became a central figure in one of Mesa County's most notorious crimes. Tuesday marked the first day of week five of his second trial, a second chance at freedom Michael Blagg was given after a juror was caught lying on her questionnaire about being a victim of domestic violence.
Photos of Michael, Jennifer and Abby Blagg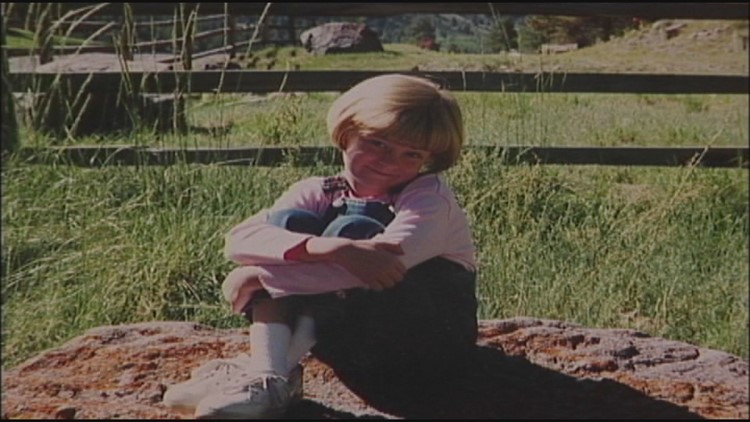 Michael Blagg did not testify in his first trial. In a surprise move, he said that would not be the case on Tuesday morning, moments before the jury arrived. And that's how he became the possible final witness for his defense.
He smiled at the jury when he walked up to the witness stand, and made eye contact with the family members who have sat on his side of the courtroom for the entire trial.
Michael Blagg testified that he was born in Sherman, Texas, and that his father was in the Air Force and the family moved once every three years.
"There was not a whole lot of emotional outpourings in my family as I was growing up," Blagg said. "Mainly we just kind of internalized it, we didn't really express our grief very much."
"Even to this day, I do the same sorts of thing. I hold it in and I don't express my feelings very well," Blagg added.
At 4:21 p.m. on Nov. 13, 2001, Michael Blagg called 911 and said that when he came home from work, the back door to his quiet two-story home just outside of Grand Junction was ajar. There was a jewelry box thrown on the floor of the master bedroom and a large splatter of blood on his wife's side of the bed that had dripped onto the clean white carpet.
His wife Jennifer and their 6-year-old daughter Abby were gone.
"I was very worried, very scared, very distressed that something horrible had happened in that house," Blagg said.
Their disappearance happened on a Tuesday. That Friday was supposed to be the couple's 10-year anniversary. During his testimony, Michael Blagg's public defenders brought out a wrapped package — earrings he had bought for his wife the weekend before, that he said he would give to her after the pair went out to dinner and maybe dancing.
That would never happen. Michael Blagg said after getting home from work on Nov. 13, 2001, he knew something was amiss.
He said his daughter didn't run to greet him, like she normally did. It didn't smell like his wife was making dinner, like it normally did.
After finding the crime scene in his bedroom, the then-38-year-old called 911. It wasn't until the dispatcher asked that he checked on his daughter and went into his room.
"An empty room and her clothes for school for the day were still laid out," Blagg said. "She had never put them on. And her bed was unmade."
Prosecutors say sometime during the early morning hours of Nov. 13, 2001, Michael Blagg shot his wife in the face while she was sleeping, wrapped her body in a tent, loaded her into the family minivan and then threw her into the dumpster at his office, Ametek Dixson.
Jennifer Blagg's decomposed body was pulled from the Mesa County landfill on June 4, 2002. It was the 17th day of a search through tons upon tons of waste during one of the hottest summers on record.
Michael Blagg says he learned his wife had been found when he received a phone call from a reporter in Denver. He said he bought a one-way plane ticket back to Grand Junction for June 6, 2002. That was the same day he was arrested and charged with first-degree murder for the death of his wife.
His public defenders say over the course of the investigation, Michael Blagg has been the victim, someone who has been tainted by the false assumption that it's "always the husband" and that law enforcement has ignored leads that could point them to an alternative suspect.
During his testimony, Michael Blagg said he felt this way in the days leading up to Feb. 4, 2002, when he was interrogated by the Mesa County Sheriff's Office and FBI for nearly 11 hours. He tried to take his own life one day later.
It was the result, he said, of his growing anger with the Mesa County Sheriff's Office and his feeling of "hopelessness."
"Because they had not shared any information with me that they were even headed in the right direction with Jennifer and Abby," Blagg said. "They focused more and more on me as the time went by, and I knew I was innocent."
He said the interrogation was the first time he realized his wife and daughter were never coming back.
At the end of his testimony, Public Defender Tina Fang asked him if he killed 6-year-old Abby, a girl who loved "Beauty and the Beast" who he described as "just a joy to be around."
"No, I did not," he said.
Fang asked him if he killed his wife.
"No ma'am," Michael Blagg responded.
Before the lunch break, the defense showed a final photo of the Blagg family together.
Michael Blagg will face the prosecution for cross-examination this afternoon.
9NEWS is in the courtroom. Check to 9NEWS.com for updates during the breaks.