JEFFERSON COUNTY - Was Michael Blagg a man who had murdered his family and was trying to hide it when he called 911 on Nov. 13, 2001 … or the victim of a heinous and seemingly random crime committed by a nameless child predator on their quiet cul-de-sac just outside of Grand Junction?
A jury of seven women and five men is now deliberating the answer to this very question. A decision that comes at the culmination of five weeks of testimony in Michael Blagg's second trial for the death of his wife, Jennifer. He was found guilty of her murder and sentenced to life in prison in 2004, but that conviction was overturned after a juror was caught lying on her questionnaire about being the victim of domestic violence.
The couple's 6-year-old daughter Abby Blagg remains missing to this day.
Photos of Michael, Jennifer and Abby Blagg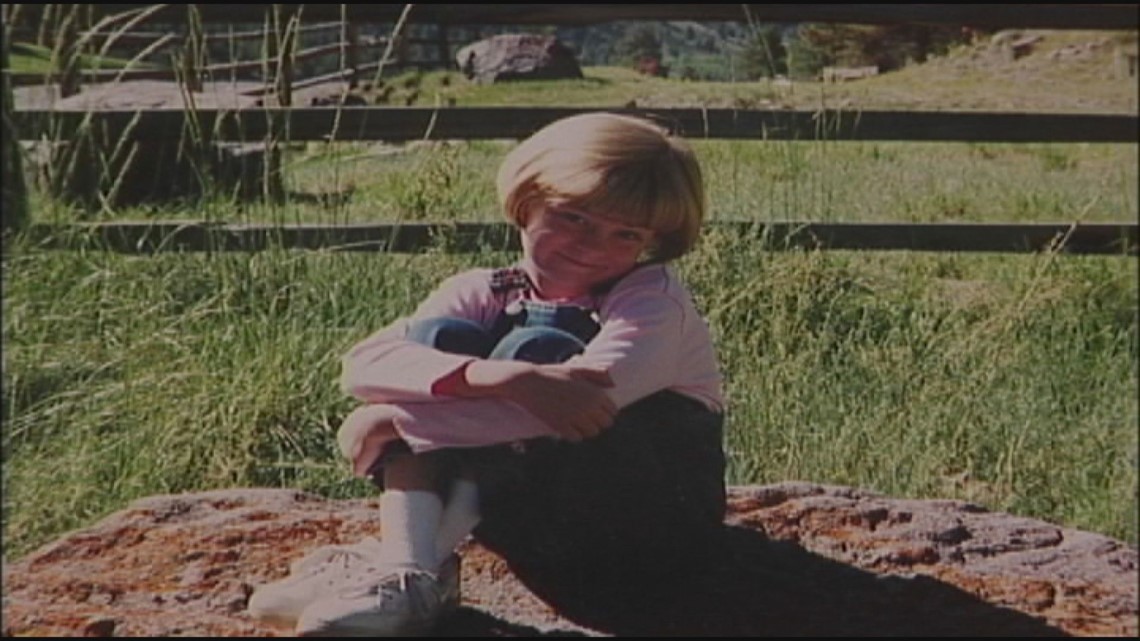 PREVIOUS STORY: Michael Blagg's public defenders say DNA evidence could indicate alternate suspect
PREVIOUS STORY: Bloodstained mattress, urgent prayer request seen by jury in Michael Blagg trial
The prosecution and defense each got 90 minutes to deliver their closing arguments in a packed-to-capacity courtroom in the Jefferson County Courthouse Monday morning.
Investigators claim that Michael Blagg killed his wife in the most intimate manner imaginable.
"Jennifer [Blagg] lay sound asleep while her husband retrieved the gun, filled it with a bullet, pulled the trigger while she slept soundly, covered her face so she wouldn't have to watch it happen, and ended his wife's life," Deputy Mesa County District Attorney Trish Mahre said. "He had all night to make decisions about what to do with her body, what to do with Abby."
But the defense claims that this is a false assumption that lacks real evidence. Instead, they say what occurred was a perhaps an even more nightmarish situation.
"For 16 years, Michael Blagg has lived with the real and horrifying truth that a serial pedophile, a serial killer, someone, took his wife and daughter," Public Defender Tina Fang said.
RELATED: Investigator: Only thing that seemed out of place in Blagg home was master bedroom
RELATED: Michael Blagg joked about being single after wife, daughter's disappearance
What both sides can agree on is that at 4:21 p.m. on Nov. 13, 2001, Michael Blagg's life changed forever. The former naval helicopter pilot and operations manager at a manufacturing plant said he came home from work to find the back door of his idyllic two-story home ajar. At first glance, there was nothing amiss — until he took a glimpse down the hallway.
A jewelry box had been thrown on the floor of the master bedroom. There was a large splatter of blood on Jennifer Blagg's side of the bed that dripped onto the couple's clean white carpet. She would never be seen alive again — and neither would Abby.
But the 911 call itself is a point of contention between the opposing sides.
Mahre claims that Michael Blagg never gave the operator his address, that he didn't actually look for his daughter until the dispatcher told him to. He had no scruples about going into the home, she says. The prosecution says he already knew that his wife and daughter were dead.
"It would take parents four seconds to look for their 6-year-old child," Mahre said. "He knew there was no suspect in the home."
RELATED: 'There is no way on Earth to get away from God': Interrogation focuses on porn, marital troubles
RELATED: What Michael Blagg said when police weren't around
RELATED: 'We have a wonderful marriage': Michael Blagg talks about day wife, daughter disappeared
But Fang argues that a cold-blooded killer who had a staged a crime scene would have a better "script" when they made that first 911 call. Instead, she says Michael Blagg was just a devoted father and husband who was in shock.
"We all think we know what we would do if one of us came home to this," Fang said. "Hopefully none of us ever will."
She says in his call, he was "literally living from breath to breath. He's sobbing."
The prosecution claims that Michael Blagg called 911 more than 12 hours after he shot his wife in the head while she was sleeping, wrapped her body in a tent, loaded her into the family minivan and threw her into the dumpster at a place convenient for him: his office, Ametek Dixson.
Mahre pointed to the fact that some neighbors were awoken in the middle of the night on Nov. 13, 2001 — and one of them even saw the floodlights on at the Blagg home and the garage door open.
RELATED: 'I knew I was innocent:' Michael Blagg takes the stand in his second murder trial
RELATED: 'I was under a lot of stress:' Michael Blagg addresses behavior after wife's murder
As night turned into day, Mahre claims that the multiple neighbors who testified saw nothing else unusual, no evidence that there was a kidnapping occurring in their midst.
Mahre kept repeating that they "saw nothing, heard nothing, because nothing unusual was happening at that time."
But the defense claims that something unusual was happening — and that it was the work of a seasoned criminal who killed Jennifer Blagg, kidnapped her daughter and escaped via the backyard. This was a smart criminal, Fang claims, one who knew he would have to make the mother disappear to ensure there wasn't a large-scale hunt for a missing little girl.
There may have been physical evidence to back this up, Fang said, if the Mesa County Sheriff's Office and Colorado Bureau of Investigation hadn't bungled the investigation and hadn't gone in with the false presumption that it's "always the husband."
"Slowly but surely, every aspect of this case has become contaminated," Fang said, "whether it's contaminated perceptions, and thinking, and beliefs."
RELATED: How searchers found Jennifer Blagg's body in the Mesa County landfill
RELATED: Wife's body was put in landfill on different day than trash from Blagg's office, defense expert says
Fang claims that when the Mesa County Sheriff's Office arrived at the crime scene, Sgt. Wayne Weyler took a pair of underwear from the bedroom where Jennifer Blagg was killed. She argues that a "rookie" CBI agent named Matt Saluto tracked in blood from the bed to the minivan as he took crime scene photos.
And she claims that along the way, investigators lied and didn't follow leads that they should have, and only focused their attention to one man: the man who has been sitting in the courtroom for five weeks and who took the witness stand himself.
"For 16 years, Michael Blagg has been answering questions including and up to last week," Fang said. "Now it's time for them to answer questions: Why after 16 years is there no direct evidence of Michael Blagg's guilt?"
Mahre says not so fast, that the evidence overwhelmingly proves that no one else could have killed Jennifer and Abby Blagg other than someone who was comfortable in the family's home.
RELATED: Crime scene expert: Jennifer Blagg's killer staged the bedroom
RELATED: 'There's no smoking gun:' Prosecution rests its case in the Michael Blagg trial
She cites problems in the Blagg marriage stemming from his use of online pornography — something he admitted said gave "the devil a foothold." Mahre also showed an urgent prayer request from Jennifer Blagg written the day before she was killed.
Mahre says the proof of Michael Blagg's guilt lies in the crime scene.
"It's undisputed that this is staging," she said. "This is staging … most often found in domestic homicides.
"Staging is often used to deter investigations from the true suspect."
Investigators questioned Michael Blagg months following his wife and daughter's disappearance. He would go on to lose his job for stealing furniture and attempt to take his own life following a 10-and-a-half-hour-long interrogation from an FBI agent.
RELATED: Three-quarters of the fingerprints found at the crime scene belonged to Michael Blagg
RELATED: Child predator may have framed Michael Blagg for his wife's murder, defense expert says
In May 2002, law enforcement began searching the Mesa County landfill for evidence related to the case. Two days later, Michael Blagg moved to Georgia to live with his mother. His lease in Grand Junction had expired and he had suddenly become one of the most notorious people on the Western Slope.
Jennifer Blagg's body was found in the Mesa County Landfill on June 4, 2002 — the 17th day of a search through medical waste, human excrement, orange Home Depot flyers and animal carcasses during one of the hottest summers in recent memory. Her husband was arrested two days later. The prosecution claims that her body's proximity to trash from Ametek Dixson is proof of Michael Blagg's guilt.
But the defense says that this is another case of contaminated thinking, that if you look critically at where her body is found, you'll see the opposite. And then, there's what wasn't found.
RELATED: Felon on 'joyride' said he saw Abby Blagg at gas station after disappearance
"Finding Jennifer Blagg's body was like finding a needle in a haystack, driven by determinations of if they were finding Ametek garbage," Mahre said, adding that the excavation process tended to mix up trash in their search area.
"Where is Abby? They searched high and low in that landfill for her, they didn't find her in that landfill because they couldn't have … they didn't find her in that landfill because she wasn't there," Fang said. "They did not find her in that landfill because Michael Blagg did not do this. Michael Blagg is innocent."
Michael Blagg's public defenders have argued that the community and the investigation has been biased against a man who has been described as a devoted father and a devout Christian.
But the prosecution has argued that there was something more sinister bubbling beneath the surface, behind the closed doors of this reclusive family's home.
The jury will ultimately decide which of these two conflicting portraits of the grey-haired man who has been sitting across the courtroom from them for more than a month to believe.
Deliberations started on Monday afternoon. There is expected to be an hours notice when a verdict is reached, and 9NEWS will post updates from the courtroom when that happens.
National Center for Missing & Exploited Children