Many of the witnesses called to the stand in Michael Blagg's second trial for the murder of his wife Jennifer had a difficult time remembering exactly what happened on Nov. 13, 2001.
It's been a long time — more than 16 years. Many of the witnesses have since started new jobs or graduated from school and moved away from Grand Junction. Some are retired.
And a few of the people who testified during Michael Blagg's first trial in spring 2004 have died or are so sick they can't return to the witness stand.
The prosecution was allowed to show videos of the testimony these witnesses gave in Mesa County in 2004, with the caveat that the jury was specifically instructed not to infer anything from the fact there's been another trial.
PREVIOUS STORY: 'We have a wonderful marriage': Michael Blagg talks about day wife, daughter disappeared
Michael Blagg was found guilty of killing Jennifer Blagg in 2004 and sentenced to life in prison. However, that conviction was thrown out after a juror was caught lying on her questionnaire about being the victim of domestic violence.
That means a jury will once again decide Michael Blagg's fate — this time in Jefferson County, where the case was moved because of its notoriety on the Western Slope.
The prosecution alleges during the early morning hours of Nov. 13, 2001, Michael Blagg shot his wife in the head while she was sleeping. He wrapped her body in a tent from the garage and loaded her into the family minivan, according to prosecutors. They say he then drove her to Ametek-Dixson, where he worked, and put her body in the dumpster.
That afternoon, Michael Blagg called 911 and said when he got home from the office, the back door was open. There was debris scattered on the floor of his wife's room and a massive bloodstain on her side of the bed.
RELATED | Bloodstained mattress, urgent prayer request seen by jury in Michael Blagg trial
Their 6-year-old daughter Abby was also gone, and still hasn't been found.
Michael Blagg's defense says a child predator broke into the family's two-story home across the river from Grand Junction, killed Jennifer and kidnapped Abby. They say the investigation has been tainted from the beginning by the false assumption that it's "always the husband."
Investigators found Jennifer Blagg's decomposed body in the Mesa County landfill on June 4, 2002. Michael Blagg was arrested two days later and has been in custody ever since.
Opening statements in his second trial started on Tuesday following three and a half days of jury selection. Ten women and five men were chosen as jurors. Twelve of them will participate in deliberations; the other three are alternates. Who is a juror and who is an alternate will be unknown until after closing statements.
National Center for Missing & Exploited Children
The jurors returned back from the lunch break on Thursday to video testimony from the witnesses who are no longer alive.
Two of those witnesses — Leonard and Helen Weidner — lived right next door to the Blaggs. They were in their 80s, and say the couple seemed nice, but they hardly knew them.
RELATED | Five stories of Nov. 13, 2001
Neither of the Weidners saw anything amiss the morning of Nov. 13, 2001, other than landscapers at the house across from where the Blaggs lived.
Carole Bullick, another neighbor, also testified in 2004. She too never really knew the Blaggs.
"I talked to Michael Blagg one time, and it was inviting him to a neighborhood party," she said.
She said the Blagg's blinds were always closed. So was their garage door — both a little contrary to what neighbors did.
Bullick also noticed the landscapers across the street from the Blaggs. She said she was home all day and didn't see anything strange at the house that would prove to be a crime scene.
Carla Marsh delivered papers for the Grand Junction Daily Sentinel. In her 2004 testimony, she said she saw a group of joggers on Greenbelt Drive behind the Blagg home.
RELATED | 'It's always the husband': Opening statements in the case against Michael Blagg
She said she never saw the Blagg's red minivan and didn't deliver a newspaper to their house.
The final video of 2004 testimony shown by the prosecution was that of Peter Martinez, who picked up the trash at the Blagg home.
He said the only thing he saw he noticed in their quiet cul-de-sac were the landscapers across the street, and how their equipment blocked part of the road.
Martinez said there was nothing unusual about the trash at the Blagg home, and if they threw away something particularly large, he would have noticed it and checked it.
The day Jennifer and Abby Blagg were reported missing, Martinez said he went to the Mesa County landfill multiple times to drop off trash he collected from hundreds of homes.
The testimony of witnesses who were unable to return in 2018 was followed by the words of a man who has been sitting in the courtroom for the past week, albeit silently.
Michael Blagg's hair has gone grey, and he's noticeably older than he is in the 2001 video the prosecution showed to the jury late Thursday afternoon.
The video encompasses the five-and-a-half hour interview Blagg gave to investigators hours after he called 911.
Photos of Michael, Jennifer and Abby Blagg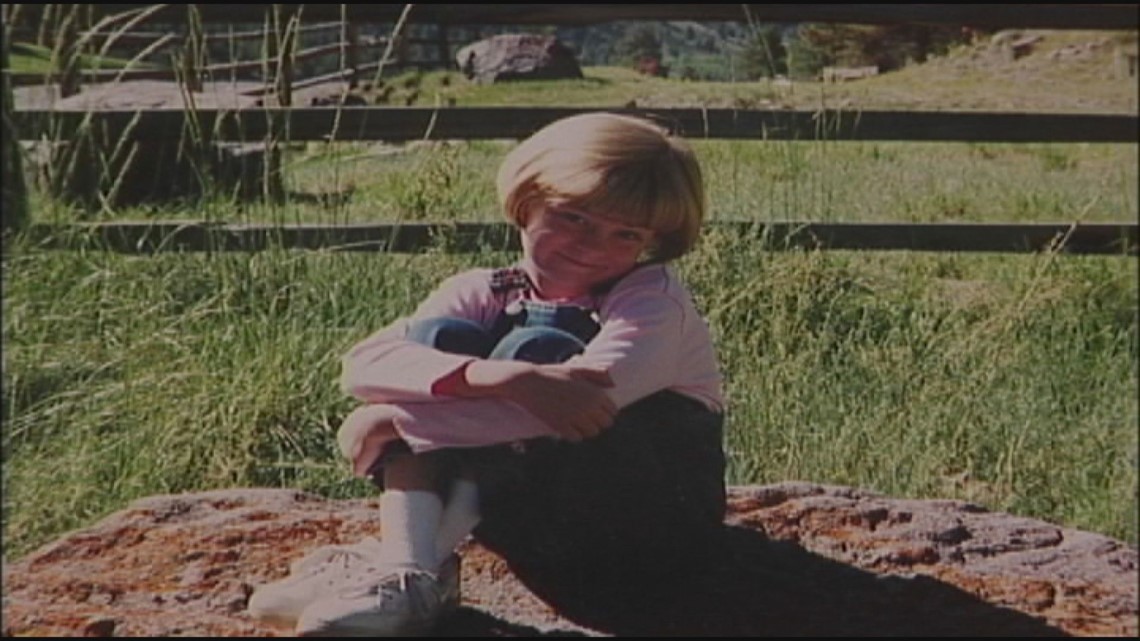 The jury heard the first hour on Wednesday afternoon and got to follow along with transcripts. The recording is difficult to hear at times and staticky. Blagg told investigators about what he did the day of Nov. 13, 2001, and what his family was like.
He discussed his wife's hysterectomy and their medications, as well as her pregnancy and depression.
Michael Blagg also told investigators about how 6-year-old Abby would sometimes run to greet him at the door when he got off work every day, and how the night before his wife and daughter disappeared, he had been watching Monday Night Football.
In the interview, Michael Blagg speaks in calm, measured tones. At one point, he asks police if they think there was any chance Jennifer was alive.
"My question is, why do you think she's dead?" the deputy responded.
"I saw lots of blood, more blood than I've seen in my life," Michael Blagg said. "I'm scared."
And as for his daughter, he said he didn't want to think about the scenarios that nevertheless kept going through his head.
"One or two looks at my daughter, and you'd fall in love with her," he said. "That's how pretty she is: she's wonderful. And her attitude is every bit as contagious."
He told the deputy that having a missing child was harder than you could imagine — and that he couldn't imagine a life without his wife.
"I love my daughter Abby to pieces," Michael Blagg said in the interview. "But they always say your wife comes first."
Blagg echoed this same statement when the investigator asked him why he called 911 on Nov. 13, 2001, before he checked Abby's room to see if she was there.
The prosecution is expected to continue playing the five-and-a-half hour interview with Michael Blagg when court resumes on Friday morning. 9NEWS has a reporter in the courtroom and will post updates to 9NEWS.com during breaks.