JEFFERSON COUNTY - The defense expert who presented the theory that a child predator framed Michael Blagg for his wife's murder and kidnapped his young daughter admitted during cross-examination that he had never actually seen a case like that during his decades-long law enforcement career.
"Have you ever been involved in a case where the child is the intended target and a family member was killed and a child was removed from the home?" Deputy Mesa County District Attorney Mark Hand said.
EARLIER TESTIMONY | Child predator may have framed Michael Blagg for his wife's murder, defense expert says
Photos of Michael, Jennifer and Abby Blagg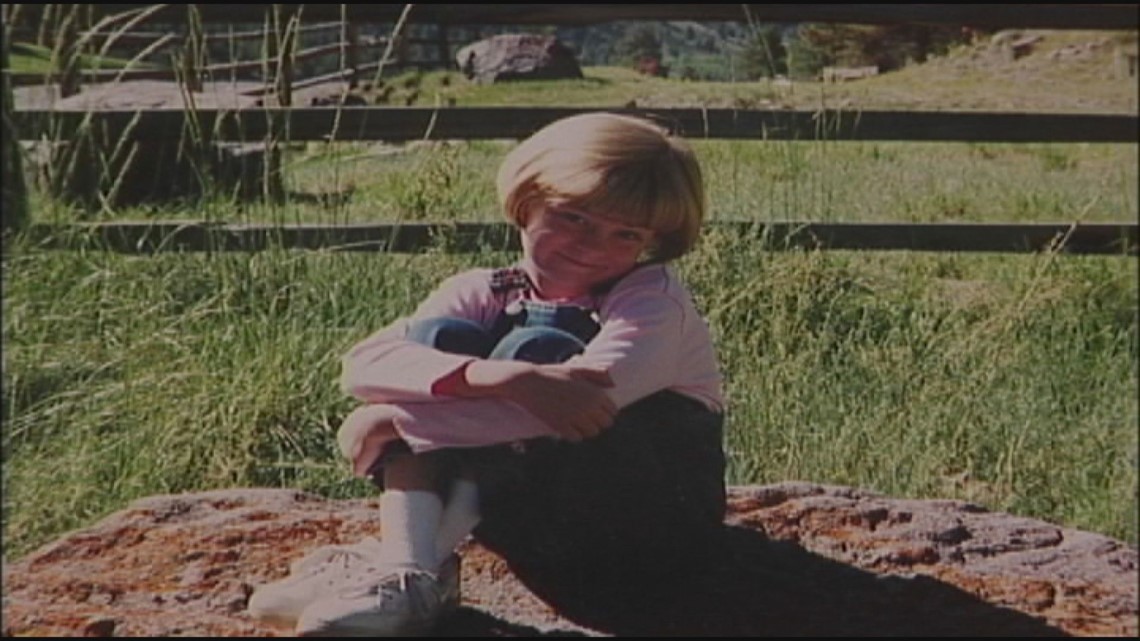 "No," responded John Larsen, a crime scene reconstruction expert and former FBI special agent based out of Chicago.
But earlier Thursday morning, that's exactly what Larsen — who has investigated serial killers, kidnappings and was one of the dozens who processed the United 93 crime scene — said could have happened on Nov. 13, 2001.
That day at 4:21 p.m., Michael Blagg called 911 and said when he got home from work, he found the backdoor of his quiet two-story home just outside of Grand Junction ajar. Nothing else was amiss — except for the master bedroom, where there was a jewelry box thrown on the floor. There was a large splatter of blood on 34-year-old Jennifer Blagg's side of the bed that had dripped onto the clean white carpet.
Michael Blagg's wife of 10 years and their 6-year-old daughter were gone. While Jennifer Blagg's decomposed body was found in the Mesa County landfill on June 4, 2002, Abby Blagg hasn't been found to this day.
Photo: Courtesy Mesa County Sheriff's Office
PROSECUTION THEORY | Crime scene expert: Jennifer Blagg's killer staged the bedroom
PREVIOUS STORY | Felon on 'joyride' said he saw Abby Blagg at gas station after disappearance
"We still don't know how Abby was removed [from the crime scene]," Larsen said.
Larsen said this is why it could be possible that a child predator who didn't want to be the subject of a highly-publicized kidnapping case would have killed Jennifer Blagg and hid her body — so that the search focused equally on the mother and daughter. And given the intimate nature of that sort of crime, it's only logical that law enforcement would narrow their focus onto Michael Blagg, he theorized.
During cross-examination, Hand worked to expose some potential flaws in Larsen's alternative theory.
Prosecutors say during the early morning hours of Nov. 13, 2001, Michael Blagg shot his wife in the face while she was sleeping, wrapped her body in a tent, loaded her into the family minivan and then threw her into the dumpster at his office.
Larsen's hypothesis is that the perpetrator took Jennifer Blagg's body into the backyard of the house and somehow was able to get the 140-pound woman over a six-foot fence. He says the suspect then placed her into some sort of vehicle that was parked on the street behind where the Blaggs lived.
Hand questioned him about this theory, and how likely it would be that a perpetrator could actually pull that off on what he called a fairly busy road — especially if that person, like most criminals, didn't want to take unnecessary risks. Larsen said previously that he believed there was only a single person responsible for the crime.
RELATED | What Michael Blagg said when police weren't around
"That is a speculation," Larsen said.
In Larsen's report, Hand brought up a specific section in the beginning that indicated he had been hired specifically to formulate an alternative theory to the one presented to the jury by prosecution expert Ron Walker, who called the crime scene a "staged domestic homicide."
On the witness stand, Larsen disagreed with this interpretation of what his purpose was.
"My task was to gather the facts, physical facts, lay them out and see what … you know, develop theories of the case and see if they support theories of both parties, the prosecution and the defense," Larsen said.
While Larsen criticized some portions of the Colorado Bureau of Investigation's handling of the crime scene, he conceded to Hand that he thought they did a good job. But, one portion of his direct examination dealt with a piece of blood evidence on a step leading to the garage that had been contaminated with the DNA of CBI Investigator Matt Saluto.
PREVIOUS STORY: 'I was under a lot of stress:' Michael Blagg addresses behavior after wife's murder
PREVIOUS STORY | 'I knew I was innocent:' Michael Blagg takes the stand in his second murder trial
Larsen said it was possible Saluto, who took photos of the crime scene, could have tracked some of the blood from Jennifer Blagg's bed into the garage and to the door of the family minivan.
Hand showed multiple photos of the blood splatters on the crime scene, and emphasized how it was in multiple parts of the car — including the steering wheel, a part of the vehicle where Saluto had never been.
During redirect examination, Public Defender Tina Fang had Larsen go through a sequence of Saluto's crime scene photos — and they showed how he got on top of the bed where Jennifer Blagg was killed and later got inside the minivan.
Contamination of the crime scene has been a key focus for the defense, which claims that a child predator killed Jennifer Blagg and kidnapped Abby, and that ever since, the investigation has been tainted by a false assumption that it's "always the husband" and incompetence by CBI and the Mesa County Sheriff's Office.
Fang brought up how a Mesa County sergeant removed a pair of Jennifer Blagg's underwear from the master bedroom to use as a scent article for dogs. Larsen said this was a big no-no, that this room of the house should have been off-limits.
RELATED| Wife's body was put in landfill on different day than trash from Blagg's office, defense expert says
MONDAY MORNING STORY: Judge weighing testimony from expert claiming blood from CBI agent was at Blagg crime scene
To Hand, Larsen conceded that investigators found themselves in a fraught situation on Nov. 13, 2001.
"Time was of the essence to find these two missing people, is that correct?" Hand asked.
"Correct," Larsen responded.
Nevertheless, Larsen said he still believes that what occurred was a "murder-abduction" situation at the Blagg home — albeit with a staged crime scene in the bedroom in the form of the knocked-over jewelry box.
And that's one factor that both Walker and Larsen agree on.
"I still think it was a staged homicide," Larsen said.
RELATED| Defense asks for mistrial amid testimony from Jennifer Blagg's mother
RELATED| No mistrial in Michael Blagg case
Just before the jury left for the day, Judge Tamara Russell ruled that defense expert Dr. Phil Danielson would be allow to testify. This was up for debate — he hadn't handed over the materials the prosecution requested for months until this week, and new information from him came up as recently as Wednesday.
Danielson conducted independent testing on the DNA gathered in the case.
A prosecution DNA expert will listen to his testimony and be allowed to offer a rebuttal. He will stay on the witness stand on Friday morning and is likely the final witness for the defense.
Testimony in Michael Blagg's second trial is slated to resume at 8:30 a.m. on Friday. This is expected to be the last day before closing statements. 9NEWS is in the courtroom and will post updates during breaks.
National Center for Missing & Exploited Children