JEFFERSON COUNTY - Michael Blagg had dozens of conversations with police in the days, weeks and months following Nov. 13, 2001.
Two of those conversations that were especially notable took centerstage in the courtroom on Wednesday morning during the now-55-year-old's second murder trial. The first happened hours after Michael Blagg called 911 at 4:21 p.m. on Nov. 13, 2001 and said he came home to find the back door of his quiet two-story house just outside of Grand Junction ajar. He said there was a jewelry box thrown on the floor of the master bedroom, and a large bloodstain on his wife's side of the bed.
His wife Jennifer Blagg and their 6-year-old daughter Abby were gone.
Photos of Michael, Jennifer and Abby Blagg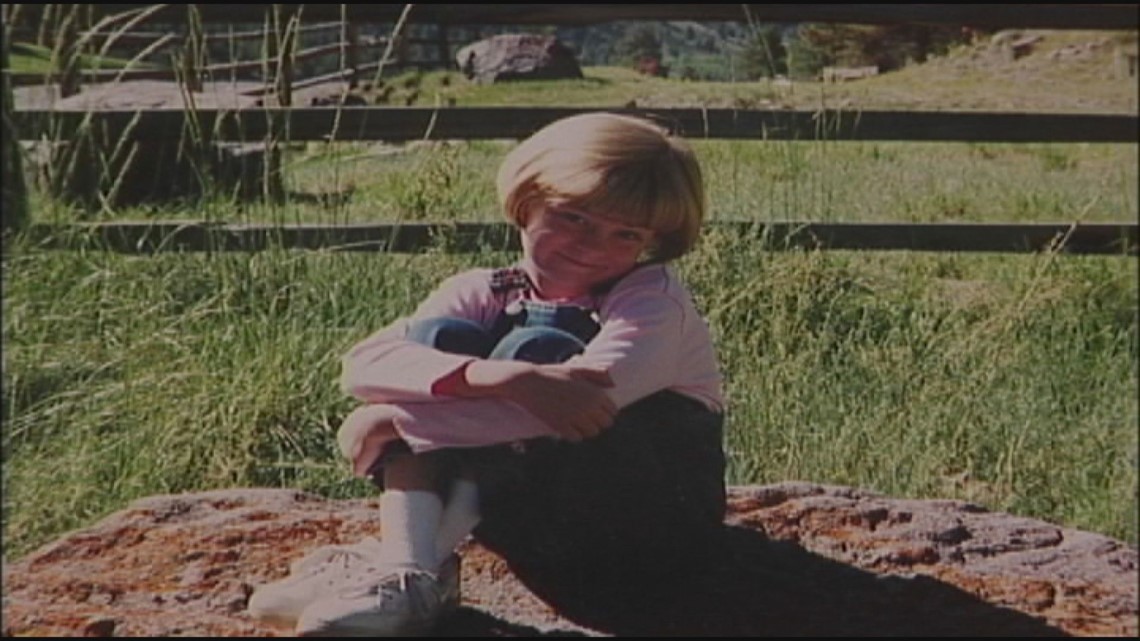 PREVIOUS STORY: 'I was under a lot of stress:' Michael Blagg addresses behavior after wife's murder
PREVIOUS STORY | 'I knew I was innocent:' Michael Blagg takes the stand in his second murder trial
Shortly thereafter, Michael Blagg went to the Mesa County Sheriff's Office for a voluntary interview. The jury saw all five and a half hours of this conversation during the beginning of what's become a more than five-week trial. A seconds-long, barely audible snippet of that interview was the focus of the defense's argument on Wednesday morning.
Ed Primeau is an audio forensic expert who analyzes recordings and enhances some snippets of them. Michael Blagg's public defender asked him to analyze the inaudible things he whispered as police left the room. Most of them were impossible to decipher. One of them wasn't.
"Please, please please find them," Michael Blagg is heard saying in an enhanced version of the recording where Primeau increased the volume by 300 percent.
"Find them," he says again.
Michael Blagg is standing trial for a second time for the murder of Jennifer Blagg. He was found guilty of killing his wife of nearly 10 years in 2004, but that conviction was overturned after a juror was caught lying on her questionnaire about being the victim of domestic violence.
RELATED| Wife's body was put in landfill on different day than trash from Blagg's office, defense expert says
MONDAY MORNING STORY: Judge weighing testimony from expert claiming blood from CBI agent was at Blagg crime scene
Clare Peterson is Michael Blagg's older sister. When she and her mom heard about the disappearance of "the girls," they booked flight to Grand Junction immediately to be with their brother.
They arrived on Nov. 15, 2001, Peterson testified on Wednesday morning. She hadn't seen her brother since their father's funeral in 1996.
"When we saw Michael in our hotel room, he … put his arms around my mother and he sobbed," Peterson said. "I put my arms around both of them and felt his body shuddering and just tried to offer the comfort that a sister and a mother could offer to him at that time."
She said in public, Michael Blagg was calm and reserved. He was more emotional with just his family around. His demeanor after his wife and daughter's disappearance has been one of the key points of contention in the trial. Prosecutors claim he was too calm for a man who had just lost his family.
Peterson said she helped Michael Blagg find a new place to live — and that the new address seemed perfect because it as a "place that a family might be able to heal together." In the years that her brother has been serving what was supposed to be a life sentence, she has kept boxes with some of his possessions — including still-wrapped Christmas presents for her niece.
RELATED| Defense asks for mistrial amid testimony from Jennifer Blagg's mother
RELATED| No mistrial in Michael Blagg case
Jennifer Blagg's body was found in the Mesa County landfill on June 4, 2002. Her husband was arrested two days later.
Abby Blagg hasn't been found to this day.
Prosecutors allege that sometime during the early morning hours of Nov. 13, 2001, Michael Blagg shot his wife in the face while she was sleeping, wrapped her body into a tent, loaded her into the family minivan and then threw her into the dumpster at his office, Ametek Dixson.
The defense claims that a child predator killed Jennifer Blagg and kidnapped Abby, and that since, the investigation has been tainted by the false assumption that it's "always the husband."
Part of the testimony on Wednesday dealt with a 10-and-a-half-hour-long interrogation an FBI interrogator conducted with Michael Blagg on Feb. 4, 2002. The courtroom has heard from the interrogator himself — and now, an academic with an expertise in interrogations and coerced confessions weighed in one the conversation.
Courtesy Mesa County Sheriff's Office
The prosecution emphasized how at the tail end of Michael Blagg's interrogation, he broke down crying. When asked to tell them what happened to his wife and daughter, he said "I can't."
Richard Leo, a professor of law and psychology at the University of San Francisco, said the length of the conversation and implication of guilt could be problematic.
"In my opinion, this was a psychologically coercive interrogation technique," he said.
Interrogations like this, Leo said, could force people to say things that they don't mean to.
"It can cause people to make or agree to false or unreliable statements," Leo said.
During cross-examination, he admitted he didn't know much about Michael Blagg's background in nuclear engineering or as a helicopter pilot for the Navy, where he received training for how to respond to interrogations.
Wednesday could be the third to last day of testimony. Judge Tamara Russell told the jury that she expects both sides to finish presenting witnesses by Friday, with closing statements and jury instructions on Monday.
Testimony in the Michael Blagg trial will resume at 1 p.m. 9NEWS is in the courtroom and will post updates during breaks.
National Center for Missing & Exploited Children