EL PASO, Texas — Editor's note: All the quotes in this article were originally spoken in Spanish and translated into English.
Thousands of migrants have made their way to Denver. For some, it's been a stop on the journey, and others want to call Denver home in the future. The large majority traveled through El Paso, Texas, on the journey to the Mile High City.
More than 4,300 migrants have made their way to Denver so far, most of whom are from Venezuela. As of Feb. 2, more than 800 were being sheltered in emergency shelters and partner shelters throughout the city.
The Journey to El Paso
The journey for many lasted several months. Most traveled through at least seven countries, much of the journey done on foot. Some traveled through as many as 11 countries.
In the midst of the journey, they encountered obstacles such as the Darién Gap, cartels, human traffickers, gangs and other dangers to finally arrive in the United States.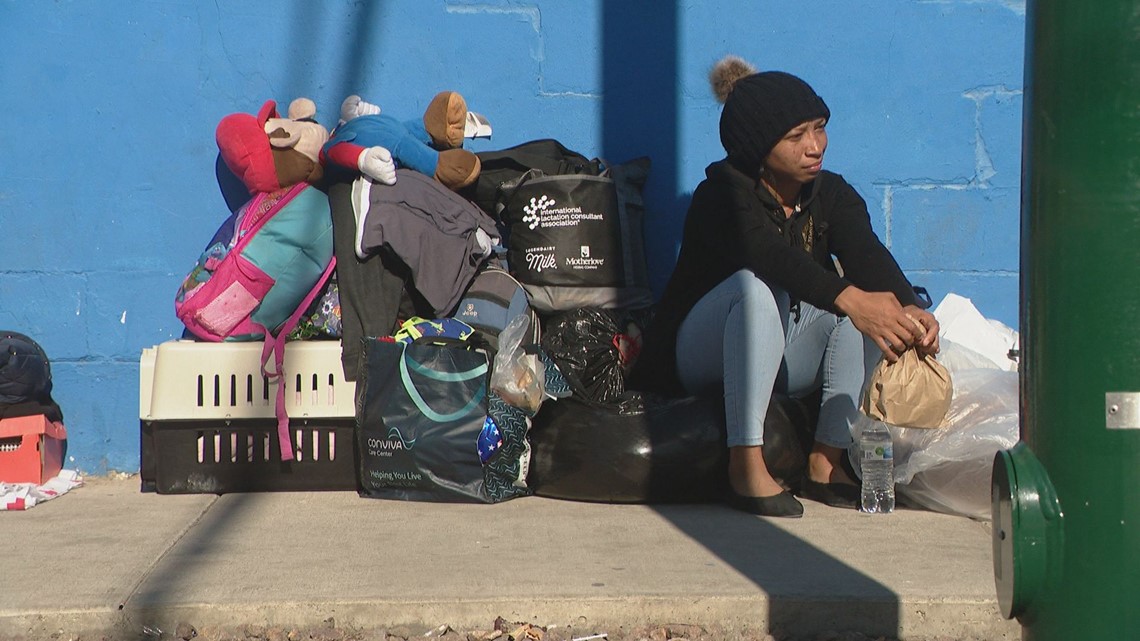 'It was really difficult'
Maria traveled with her husband, two kids and dog to make it to El Paso. The decision to make the journey was a difficult one.
She felt like she had to weigh what was more difficult – traveling with two kids on a dangerous 3,000 mile journey or staying in Venezuela.
"I came with my kids, my husband, my sister, my brother-in-law and my nephew," Maria said. "It was really difficult. We have been traveling for four months since we left, through the jungle. Mexico was really difficult."
Her son suffers from hyperglycemia and struggled through the Darién Gap, a jungle that could take 10 days or more to travel through. The jungle has no roads and is described as one of the most difficult parts of the journey between Colombia and Panama.
That particular stretch was really difficult on her son. He continued fainting and didn't have access to medical care.
"On the journey, we didn't have good food, and we were on the street, so it affected his metabolism and he always feels weak. He tends to faint," Maria said.
After the family crossed into the United States, they slept at Sacred Heart Church in El Paso, a church that transforms into an overnight shelter, located close to Paso del Norte International Bridge between Mexico and the United States.
Now that her family has made it, she said she knows it's not an option to return, not after all the risks and struggle in arriving in the first place.
"Of course, it was difficult to make the decision because I had to sell all my things since I traveled with children on a long trip," Maria said. "We had to sell all of them. That is why we thought that returning is not an option for us because we left all of our things behind, selling everything to get here, and then if we return, it's worse. I have nothing to offer my children returning there."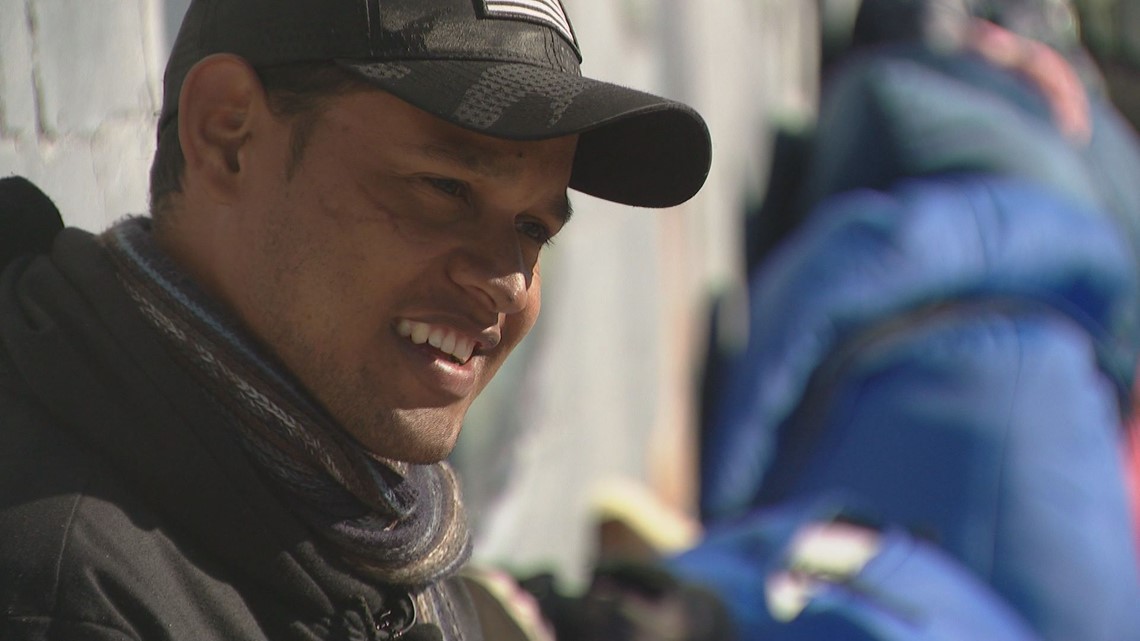 'Here, there are possibilities'
Jesus crossed the border with hopes that he will eventually make it to California. A friend there offered to sponsor him as part of the asylum process.
"The journey was really difficult," Jesus said. "The truth is that we went through things that you wouldn't wish on any human being because we faced danger."
Like many Venezuelans, he decided to make the difficult trek in search of a better life.
"Here there are (future) possibilities," he said. "There are opportunities for me in my life, but in Venezuela, due to the lack of resources, the regime, they prevented us from many things. You can neither study nor work."
Jesus and friends crossed the U.S.-Mexico border together. They then found themselves on the street, sleeping outside of Sacred Heart Church in El Paso. Women and families receive priority to shelter overnight inside, while single men often sleep on the street surrounding the church.
Many wait days or weeks at Sacred Heart Church in hopes of finding a safe plan for moving forward.
"At this moment, no (I don't have a plan) because the truth is that I don't have money or a way to get there," Jesus said. "I'm opting to stay here, so that I can find work and gather a few resources to move forward."

'We have hope'
Jefferson has family who relocated to the United States and always had a dream that he would, too.
"I had a dream, a hope that I would be here, and I decided to get this tattoo," he said as he showed a tattoo of the Statute of Liberty on his forearm. "I'm still waiting for that to become a reality."
After traveling through the jungle, and passing cartels and other dangers, Jefferson felt the relief of finally making it to U.S. soil.
"The moment was just extraordinary," he said. "I just remember coming to this place, this area, and I started crying after everything that had happened."
Now after such a treacherous journey, he feels stalled in El Paso.
"The truth is that we have hope, and we haven't lost faith. I will either go to New York or also Colorado," Jefferson said. "The Colorado government is looking for a solution for migrants."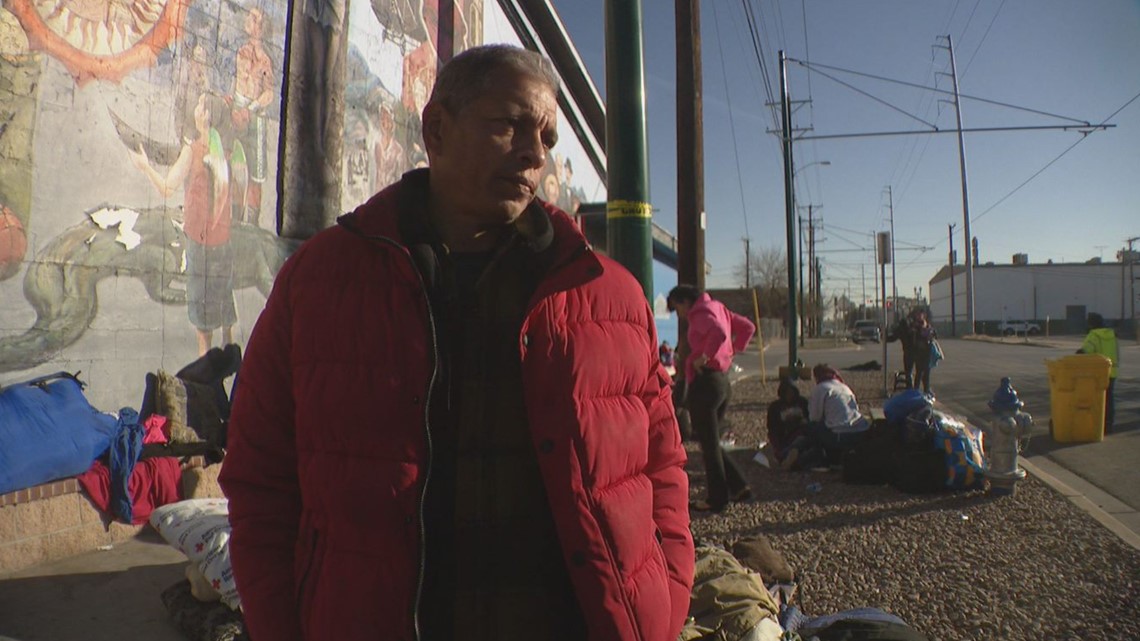 'We live in anxiety'
Roberto traveled with his wife and other relatives from Venezuela. He said he hopes eventually to make it to Canada.
"Yes, I feel calmer now, but we live in anxiety," Roberto said, as he hopes to come up with a plan for travel. "The truth is that we are in state of uncertainty because we don't know what we should do. We are afraid of taking the bus to Albuquerque, then to Denver. It's a total risk to both stay here and to take the bus."
Most families and people often travel first to Albuquerque and then to Denver if they cannot make it directly from El Paso. There are also multiple immigration checkpoints throughout a 50-mile radius surrounding the city that prevents them from moving forward.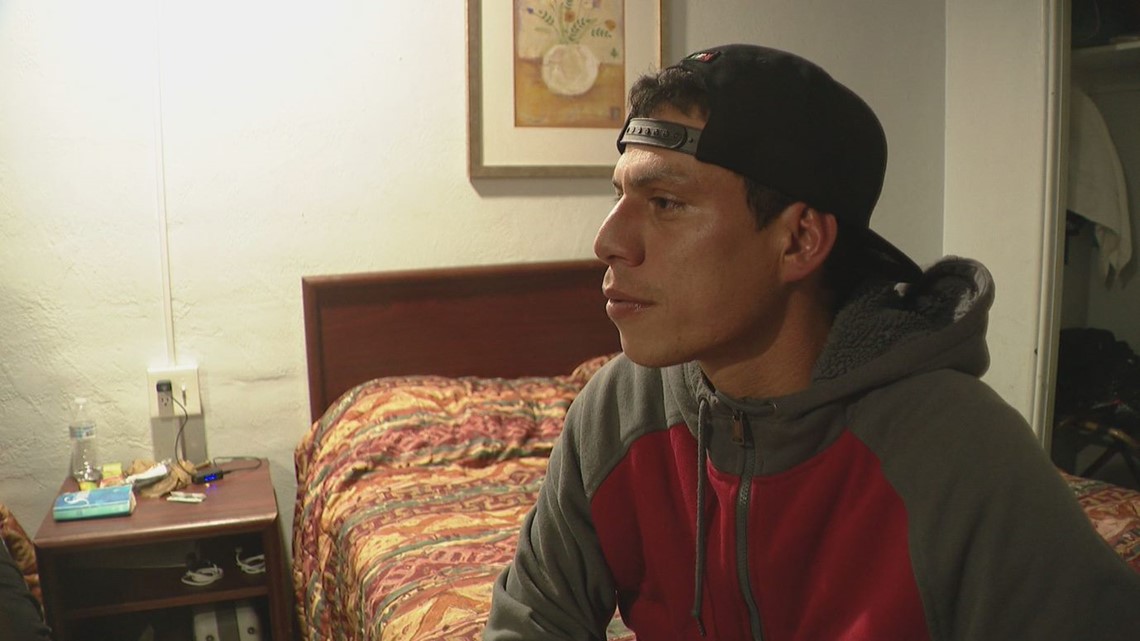 'In El Paso, it was rough, too'
Maurio and his family also crossed in El Paso. When they originally arrived, he and his family were unable to find shelter at Sacred Heart Church.
"In El Paso, it was rough, too," he said. "Sometimes we went into a hole when immigration came, we would go back again. We even slept there for about two days with the children, waiting to decide if we could continue."
"We didn't all fit in the church because we were many immigrants," Maurio said. "We had to sleep on this side, on that side, another slept in the corner, and immigration would arrive. They would take them without asking anything, and only those who were there in the church were saved. They were the only ones who had privileges."
Their family decided it would be safer to stay in Las Cruces, New Mexico, a town about 40 miles further north. It's situated between El Paso and the next immigration checkpoint.
They hope to eventually make to final destinations, but right now don't have the money to purchase a ticket.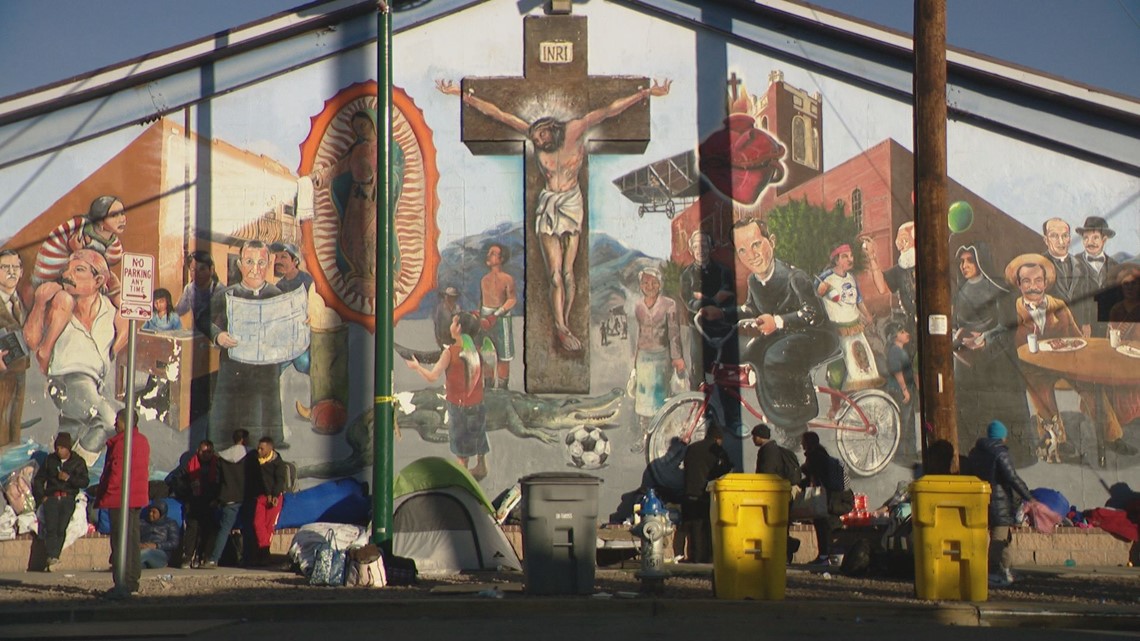 Editor's note: This story has been updated to remove the last names of migrants to that this story does not interfere with the asylum process.
9NEWS+
9NEWS+ has multiple live daily shows including 9NEWS Mornings, Next with Kyle Clark and 9NEWS+ Daily, an original streaming program. 9NEWS+ is where you can watch live breaking news, weather updates, and press conferences. You can also replay recent newscasts and find videos on demand of our top stories, local politics, investigations and Colorado specific features.