DENVER — The sound of dental picks scraping on bones may raise the hair on your arm if there's a dentist digging around in your mouth, but at the Denver Museum of Nature and Science's fossil prep lab, that scratchy sound raises intrigue.
A young visitor asked, "So you guys can find actual bone?"
"Yea right here, and right there," answers 77-year-old Don Brandborg as he digs around a giant plaster bowl filled with dirt.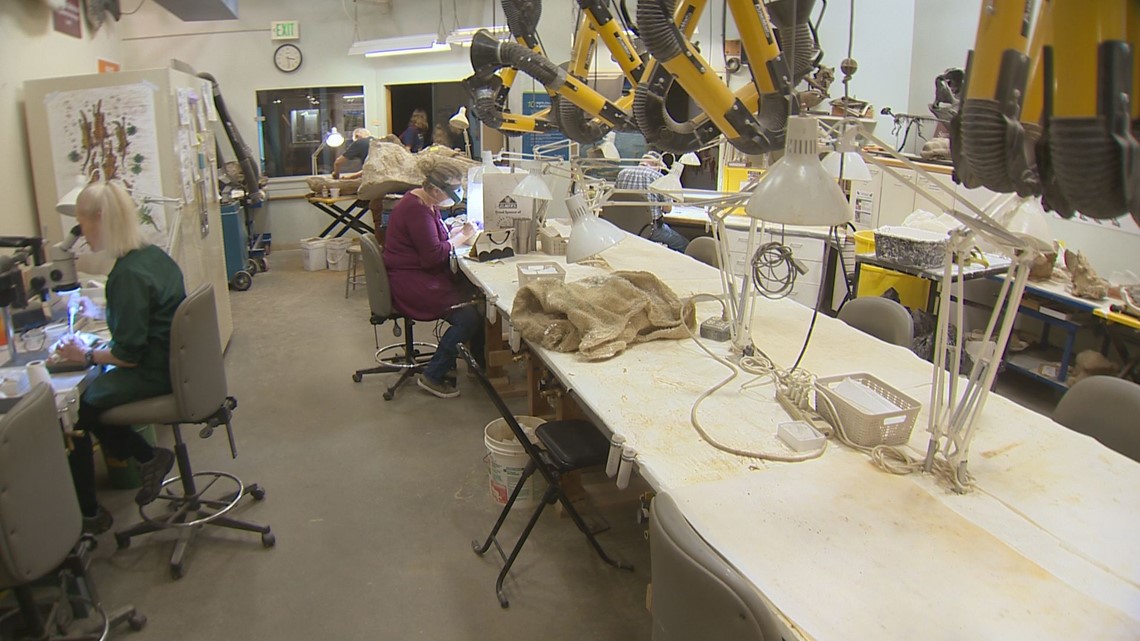 The retired railroad engineer is one of nearly 200 volunteers who work in the prep lab. That's a small portion of the 1,800 that make up the museum's total volunteer team. It's one of the largest of its kind in the country. They are all trained and overseen by professionals in their individual fields.
"I started in 1996," Brandborg said. Over the course of his time at the museum he's worked in the geology department, here in the prep lab, and in the field on fossil dig sites like the one in Highlands Ranch. As of today, the museum has found 30-35 bones at the site, some are already back in the prep lab. One is being worked on by Brandborg, and as he cleans away, eager minds walk by and pepper him with questions.

"How often do you guys find bones," asked a young boy.
"Well every year we find new dinosaurs," Brandborg said "
What dinosaur are you digging up right now," said a young girl.
"We think it's a triceratops or a torosaurus," explained Brandborg.
This intrigued photojournalist wondered how Brandborg gets so much done, and answers all these questions at the same time. "Is it ever tough to work when you have people and news cameramen coming by?" Brandborg quickly answered with a smile, "No you just shut the window."
The crews in the field wrap the bones in plaster to protect them while being transported to the museum. Once there, they are stored and incrementally run through the prep lab to be cleaned and readied for storage. Don estimates the specimen he is working on will take at least a couple weeks to clean up.
It's slow work. Some may call the drilling, brushing, and sweeping of ancient dinosaur bones tedious. Don is not one of those people. Don loves the work and sharing what he learns as a volunteer at the museum for a pretty simple reason. "Just working with Dinosaurs," he said with a laugh before posing his own question. "Nothing wrong with that is there?"